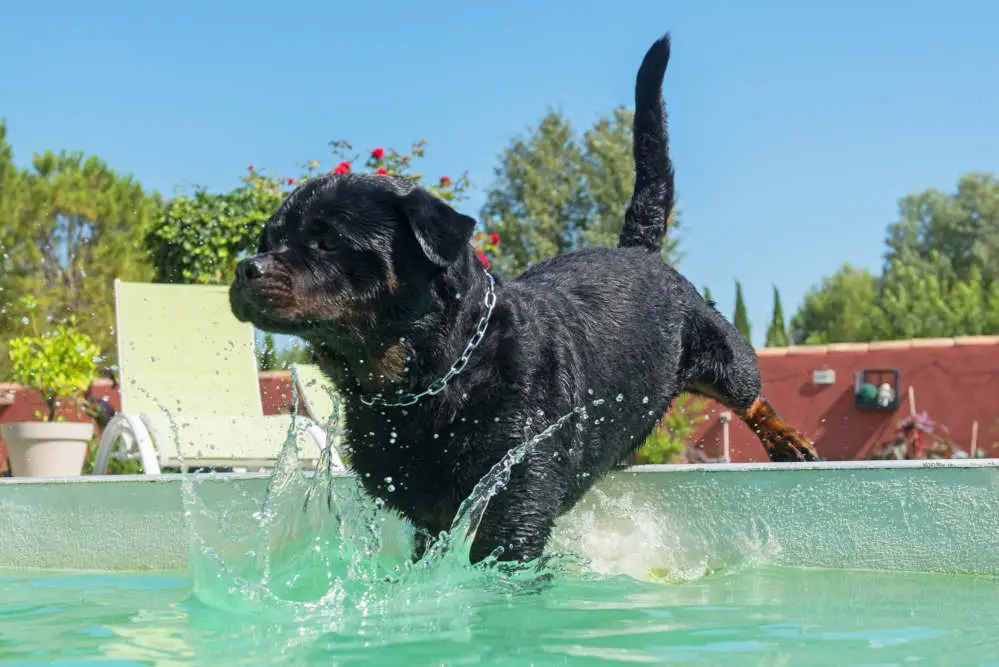 Two very cute Rottweilers get to spend time with their aunt when their mom isn't home. One Rottweiler, in particular, loves when his aunt comes over because she is the fun aunt. The caption of the video says, "He knows I'll allow him to break the rules." And yes, Meg, his fun aunt, let one Rottweiler who loves to swim jump in the pool and swim.
A TikTok video was uploaded to the TikTok channel @megatronliv. The video begins with a Rottweiler staring into the camera and panting. Meg says, "You're gonna get me in trouble, but I feel bad. Okay. Don't tell your mommy. You want to go? You want to go swimming?" Geno, the Rottweiler, looks toward the pool and then back toward Meg before running and jumping into the pool.
A second Rottweiler remains on the pool deck. Geno, the Rottweiler inside the pool, swims and stays on a ledge to splash water enthusiastically. Meg says, "At least you'll be tired by the time your mom gets home." The video ends with the Geno splashing water.
Geno sure loves the water. Watching him jump into the water and then splash around made me laugh and smile.
TikTok viewers loved the swimming Geno. @_thee_fox said, "That is such a beautiful doggo! The fur and smile!" @loverboy.094 said, "This is the cutest thing ever!" @montanacold1 said, "Oh my gosh! He had so much fun!" @jojosecret69 wrote, "See, this is why I want one. They are soft, hilarious, and energetic." @michelepaije said, "OMG, the splashing@ Are you kidding." Overall the majority of TikTok commenters left positive comments for this video.
Read More From Pawesome
This was great. I love watching dogs as they play. This video was so enjoyable because the Geno had such fun playing in the water.