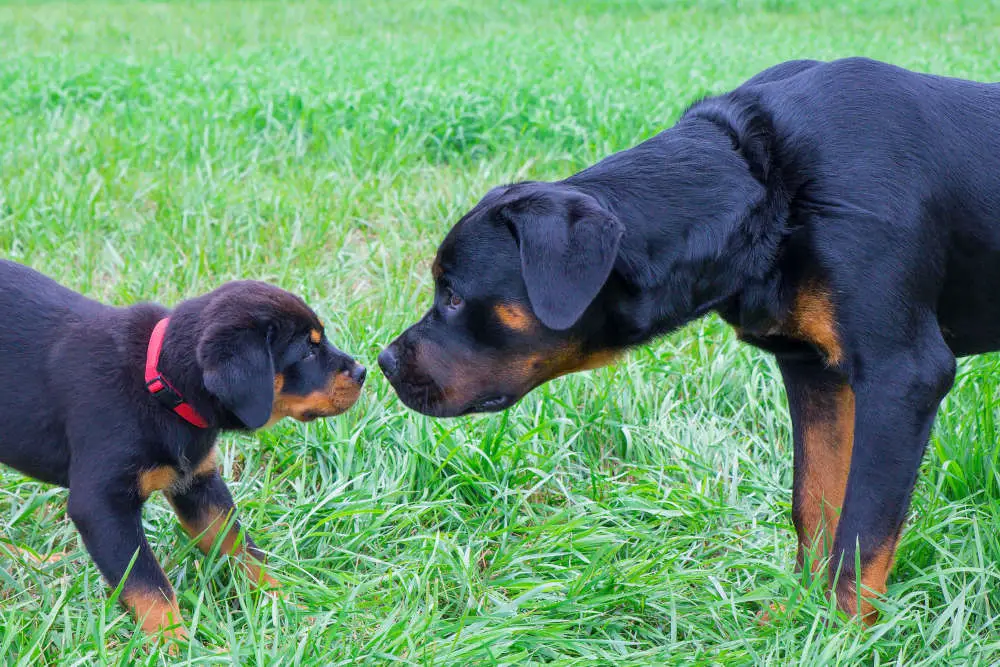 Only some dogs are used to interacting with a puppy. However, a new puppy is an exciting time for everyone in the household. In addition, an adult dog may have trouble adjusting to a much smaller, younger dog. But with time, all dogs can learn to get along.
Recently, @thedodo uploaded a video featuring Dozer, a Rottweiller, meeting his new sister, an adorable French Bulldog puppy. The TikTok video starts with a tiny French Bulldog puppy standing in front of the couch. The French Bulldog looks up to see a large Rottweiller standing on the couch. Dozer, the Rottweiller, is trying to avoid interacting with the puppy. Dozer's owner mentions that Dozer was scared of the French Bulldog initially. The scene changes, and we see Dozer lying on the floor with the French Bulldog barking and trying to initiate playtime. The French Bulldog chases Dozer, and he jumps on the couch to avoid her. It looked like he didn't know what to do. The video continues, and we see Dozer and The French Bulldog running and playing together with a third dog.
The video continues, and Dozer and The French Bulldog are playing tug of war. Dozer is very gentle when he plays with his sister. In the next scene, Dozer lets The French Bulldog win tug of war and releases an orange dog toy to the Frenchie. Next, we see Dozer and the French Bulldog on the floor near each other. Dozer licks the French Bulldog and opens his mouth. The puppy then inserts its small head into Dozer's mouth. Yet Dozer is very gentle and doesn't harm the Frenchie. The video ends with Dozer and the French Bulldog playing.
The relationship between Dozer and the French Bulldog has changed, and by the end of the video, we can see that they are best friends. Though Dozer feared the French Bulldog puppy, he overcame his fear. Dozer is a gentle Rottweiler that enjoys spending time with his small sister.
Viewers who watched this TikTok video were amazed at the relationship between a large Rottweiler and a small French Bulldog. Viewer @screamiceshavedice said, "This is the most adorable pet video I've seen," While @nobodyknowsmeh5 commented, "Rottweilers are the most beautiful animals. And @kelisjp said, "This is literally my two dogs' love story."
Read More From Pawesome
Friendship and socialization are essential for dogs. So it's great that Dozer overcame his fear and now plays with a tiny French Bulldog.