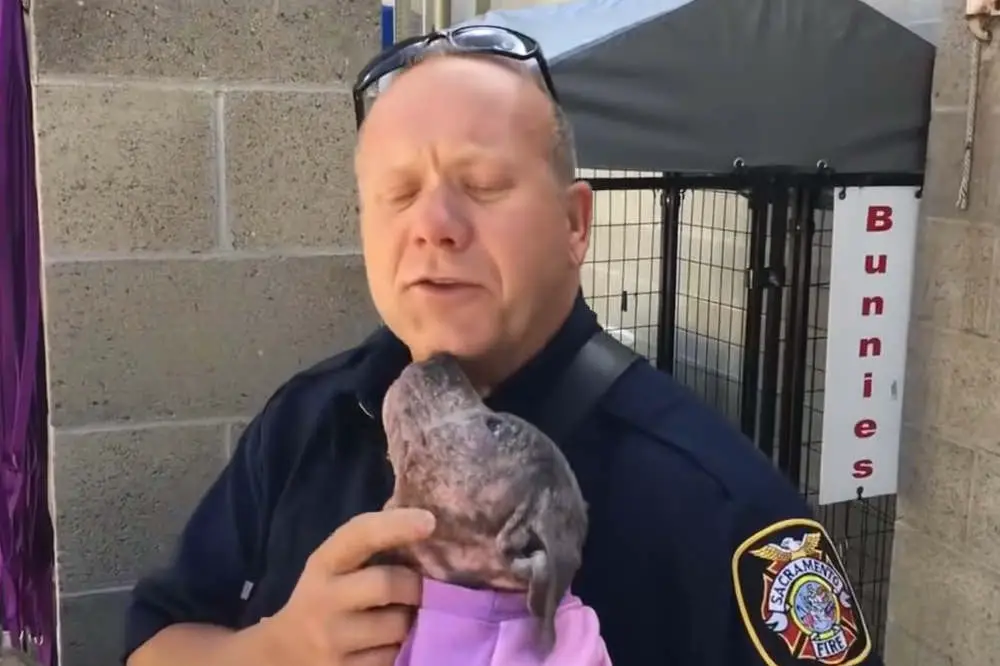 In a heartwarming story from Sacramento, California, firefighter Mike Thawley from Fire Station 14 rescued a sick Pit Bull puppy named Chunk, who was found tied up in the rain. After cleaning her up, Mike took her to the Front Street Animal Shelter for medical attention and care.
The following day, Mike visited Chunk at the shelter, and their sweet reunion was captured on video. The grateful puppy recognized her rescuer right away, wagging her tail and wanting to be petted.
As Mike picked her up and dressed her in an adorable pink sweater, it was evident that a strong bond had already formed between them. When Mike walked away, Chunk even tried to follow him.
But the story doesn't end there. Mike, along with his wife Carla and their three daughters, decided to foster Chunk while she underwent treatment for a noncontagious form of mange. They later permanently adopted her, as they had all fallen in love with the little pup.
Mike shared that the family knew from the start of her foster care that Chunk was meant to be a part of their family. Their heartwarming story has captured the hearts of thousands of people online, showcasing the incredible difference a few acts of kindness can make in the life of an animal.
Read More From Pawesome
Chunk's tale of rescue and love serves as a reminder of the importance of compassion and the impact one person can have on an animal's life. The Thawley family's actions have not only changed the course of Chunk's life but have also inspired countless others to support animal rescue and adoption.