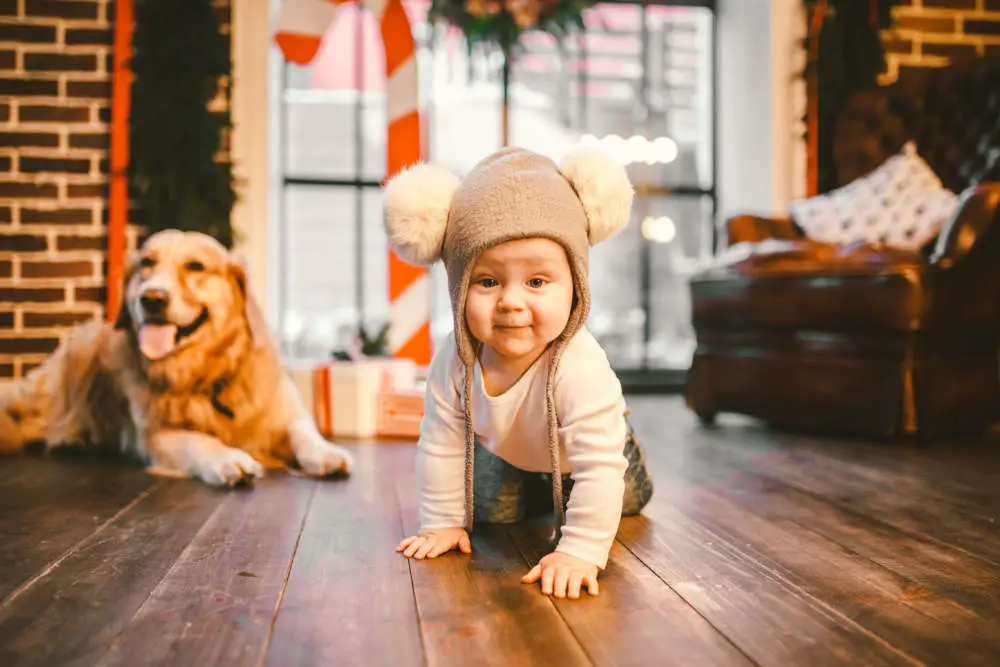 The relationship between a dog and his human sibling is special. It's even more special when the human sibling is a baby because it allows both the dog and baby to grow up together. A Golden Retriever named Palmer loves his baby brother Ford. Ford and Palmer have the best relationship.
The relationship between Palmer and his human brother is chronicled in the TikTok channel @fordandpalmer, where their mom uploads videos of their life. Ford and Palmer's mom uploaded a video of Ford meeting Palmer when he was a two-month-old baby.
The video begins with puppy Palmer lying in a stroller next to his two-month-old baby brother Ford. The text overlay says, "Things people don't warn you about when you get a puppy with a two-month-old baby." The scene changes, Ford and Palmer, are now lying on a bed. Palmer looks like he is hugging Ford.
The text overlay says, "They become inseparable best friends." Ford seems to be holding on to one of Palmer's paws. The video ends with Ford and Palmer sleeping side by side.
This is the cutest relationship that I have ever seen. Palmer and Ford love each other and seem to be the best brothers. This is so sweet.
TikTok viewers expressed many opinions about this video. @fielddaysocial said, "The way Ford holds Palmer's Paw." @brodiekruz said, "The dog thinks it's his baby." @niki_weinstock said, "This is it. The most precious thing on the internet." @alexamichele72 replied, "Right? I agree." @bloodyt2198 said, "It's at least top three holy cuteness." @ljclassy said, "They are so cute together." @katedyephoto said, "Not me, pregnant with my third and considering getting a puppy too." @sarahmblevins responded, " We got a puppy when I was 36 weeks pregnant. Perfect time frame to potty train the puppy! I definitely don't regret it. My baby and dog love each other."
Read More From Pawesome
Many TikTok viewers agreed that it was that pregnancy was the perfect time to get a puppy, but it may not suit the mother as training a puppy is a lot of work. However, the end result of having a baby and a puppy grow up together is worth it. Both the dog and the human baby love each other and will be great companions for each other.