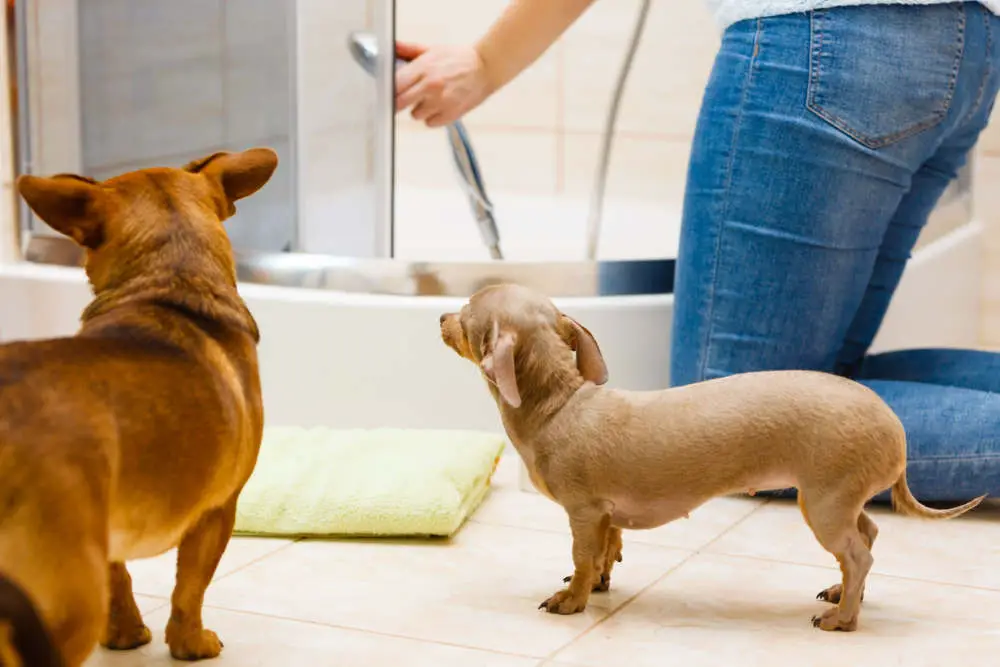 All dogs feel differently about bath time. Some dogs love the water, while others try their best to avoid it. For example, Layla, the boxer, and Luna, an Australian Shepherd, don't like bath time and do everything in their power to avoid it, but sometimes, no matter how much you try, you can't avoid getting a bath.
Layla and Luna's mom upload a TikTok video to the channel @_layla_the_boxer of the two dogs trying to avoid getting a bath. The TikTok video begins with Layla and Luna's mom joining them on the couch. Sitting between Layla and Luna, their mom lifts the remote control, then suddenly turns and smells Layla. She turns to look at Luna and makes a face of disgust at the smell. Layla's mom stands up and heads over to the bathroom. She opens the shower curtain. Layla and Luna walk down the hallway and peek into the bathroom.
They see her turning on the tub's faucet and placing towels along with dog shampoo on the tub's edge. Layla and Luna run when their mom starts walking toward the door. Their mom looks for Layla and Luna in the living room. Layla and Luna watch her from the hallway and then run away. Layla and Luna's mom continues to look for them and turns to see them looking at her from the hallway. The chase is on. The scene changes to Layla and Luna sitting in the bathtub and getting a bath. The video's caption said, "You can run, but you can't hide." And sure enough, The video ended with both dogs getting a bath.
Layla and Luna's antics to avoid bath time was hilarious. However, their mom was determined to give them a bath, and ultimately, she achieved her goal. Poor Layla and Luna didn't want to get a bath, but they needed it.
TikTok viewers left varied comments on TikTok @rosemaryk72 said, "This is the best. I love the side eye and hiding from mom." While @scottdickson469 said, "I had a Boston that would disappear at bath time." And @_layla_the_boxer replied, "Haha, mysterious." And @itsmaliaahh commented, "My dog always does that, lol." Finally, @weratedogs commented, "Once the water turns on, they turn into magicians.'
Read More From Pawesome
Layla and Luna are the sweetest little escape artists. Too bad they got caught in the end. Oh well, it's just bath time.