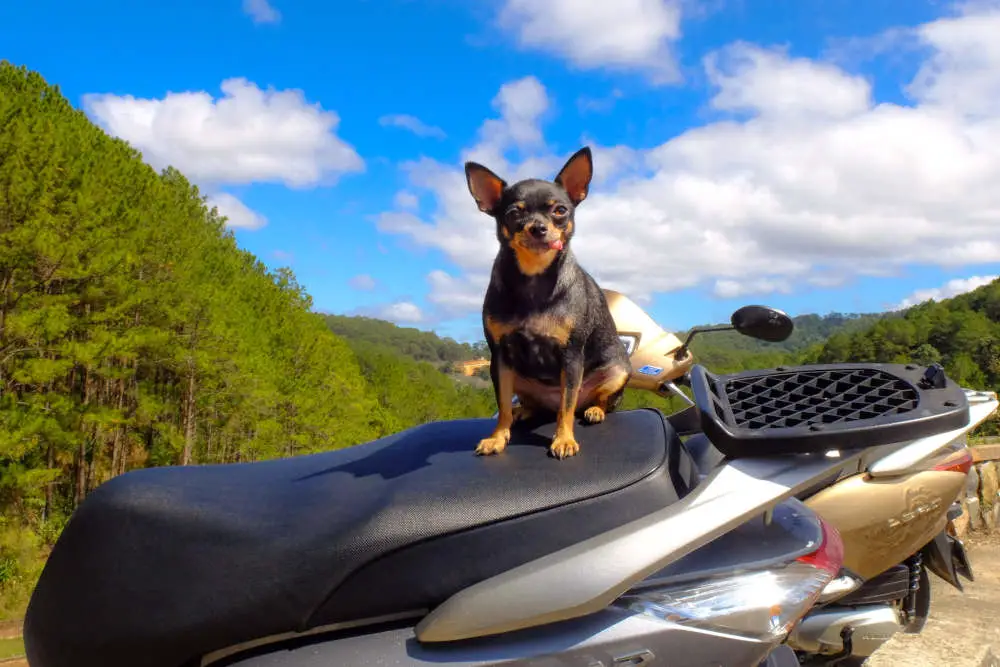 Two Chihuahuas named Momma and Butters love going for rides with their dad. These two pups are living the adventurous life speeding down the street on a motorcycle. But they aren't just adventurous. They are fashionably and appropriately dressed for a ride.
Butter's and Momma's dad uploaded a TikTok video to his channel @two_chihuahuas89 featuring his pre-check routines before all three rides on his motorcycle. The TikTok video begins with the dog's dad sitting on a motorcycle with both dogs in harnesses and strapped to his body. Both Chihuahuas and their human are wearing helmets. The dog's owner checks the harnesses and makes sure both dogs are secure. He checks that all straps are secure and their paws are okay. Then, the scene changes, they are riding on the motorcycle on their way home after running errands at Lowe's, and he lowers the dog visor. The video ends with them riding on the motorcycle.
These two dogs are definitely adventurous. Most dogs would be very scared to ride on a motorcycle and would fight to get off. But these two pups are used to riding with their dad. I love how both dogs are wearing doggy jackets and little helmets. So cute! This dad is serious about the safety of his Chihuahuas.
The TikTok viewers had mixed reviews. Some viewers were concerned about the dog's safety. @asaf_asap said, "It's all fun and games until you pat your back and nothing is there." But the owner checked, and his Chihuahua was securely strapped to his back. Other viewers just loved the video. @brneyewarrior said, "Omg, I seriously love how cute they look, and they are so content." And @iamoliviaponton said, "This makes me so happy." And@two_chihuahuas89 replied, "Happiness all around." While @savannahrayne00 commented, "This is equally cute as it is funny." And @chineycricket agreed, "Oh my gosh, this is the cutest thing."
Read More From Pawesome
These two little Chihuahuas enjoy riding along the open road with their dad. Have fun, Momma and Butters.