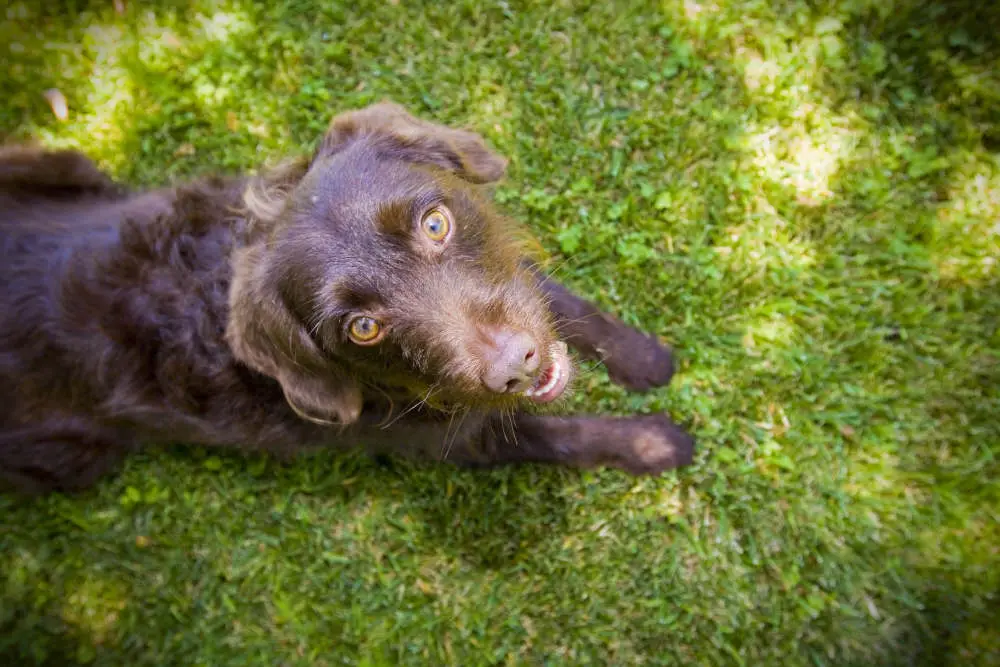 A sweet angel in human form adopted a Labradoodle named Bruno. Poor Bruno was petrified with fear when he was first adopted, but he was on his way to a good home with his new mom Taylor. This poor boy had suffered abuse but was on his way to a better life with a mom who loved him.
Bruno's new mom uploaded a TikTok video to her TikTok channel @taylorshelah. Though this was a happy occasion because it showed Bruno was adopted and going to a good home, it was also heartbreaking. The TikTok video begins with a Taylor patting the car seat and arranging all of the supplies she needs to pick up Bruno. Taylor puts a bowl with water bottles, a leash and harness, a bag of kibble, and a towel on a car seat. The video continues, and we see a malnourished Bruno shaking in fear. He was afraid while getting pets and was scared of what the future held. Next, we see Bruno in a hallway, and the caption says, "He was used to falling standing up." We next see one-year-old Bruno falling asleep on his mom's lap. The video ends with Bruno on his mom's lap, trying to stay awake and falling asleep.
Taylor did a fantastic thing by adopting the abused Labradoodle. Thank's to her, Bruno had the opportunity to overcome his abuse and live in a safe, loving home.
TikTok viewers had many comments about this video @idkbutyeah said, "Thank You for taking him. He must have been traumatized. Poor doggo. At least he is better now." @xjesuxsisking said, "I started to cry. Oh my gosh, my heart." And @humphreysmom said, "This makes me so angry. How can anyone hurt a dog? Bless you, for loving him already." @1luvrobin said, "Some people don't deserve dogs. I'm so glad he's in the right home now." The TikTok viewers were glad that Bruno now has a safe home.
Read More From Pawesome
Though this video was heartbreaking, Bruno is now living a safe, happy life with his new mom Taylor and Bruno's new doggie sister Sasha. Bruno is so loved by his new family and has the nickname of the "little prince." Have a wonderful life, Bruno.