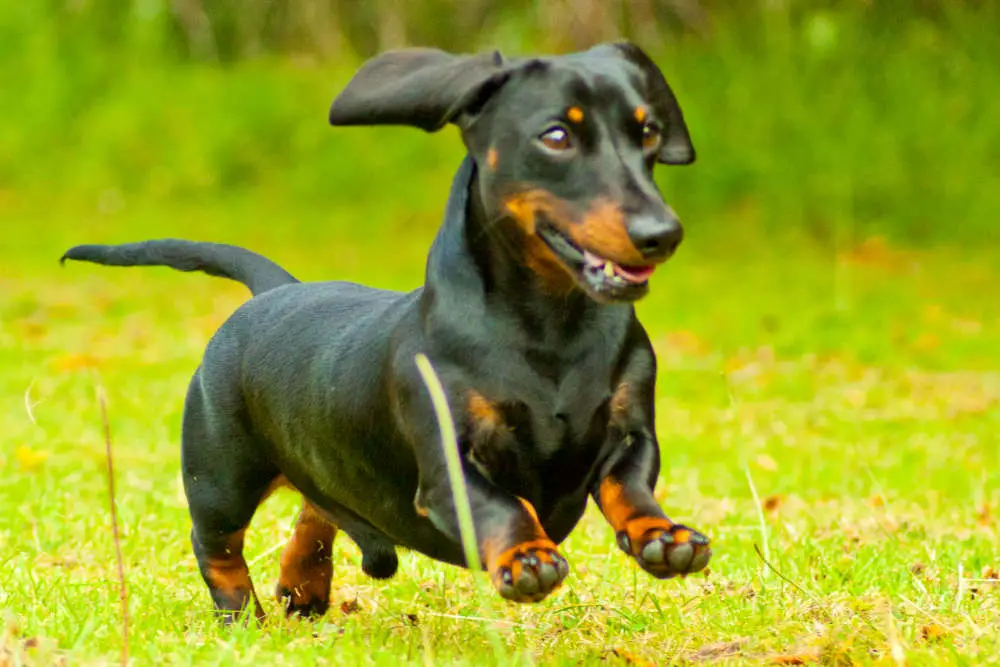 Sometimes you get an A+ for effort. One small Dachshund gave it his all as he ran his heart out in a relay race dominated by larger breed dogs with shorter legs than his other doggy teammates. The Dachshund ran as fast as he could and jumped each hurdle in his way. This little Dachshunds' athletic performance hits you right in the feels, and your heart melts at the cuteness.
This footage featuring athletic canines was shared by Tiktok user @wildgoofballs, who has a Tiktok channel that highlights pets and wild animals in a range of situations, everything from cute, adorable, and just astonishing. In this particular video, we see several dogs running a relay race. The race begins with a Parsons Russell Terrier starting off the relay race at a brisk pace and is followed by a Border Collie jumping hurdles and running to complete the relay. An American Staffordshire Terrier quickly runs the relay race, and finally, the most adorable black longhaired Dachshund appears and quickly runs to complete the relay race. Each dog gets a tennis ball as a reward for running the race.
This was a fast-paced race where each dog gave all of its energy as it ran. Some of the dogs seemed to fly over the hurdles, and each one deserved their reward of a tennis ball, but the small Dachshund stole the hearts of all the viewers due to the small dog trying his best to keep up with the bigger dogs.
The comments section is filled with comments praising all of the dogs in the race. @jonathonc001 said, "Atta boy" to all the dogs. While @sylvester_danielle_ wrote, "So I will watch this on repeat to make my day." However, the majority of the comments were focused on the small Dachshund that ran as fast as he could on such cute, adorable, short legs. Tiktok user @bangtan_fairy says, "Little baby at the end is the winner…no doubt." While @official_hateful_silvia commented, "I don't care if the last one was a bit slower. He trained his little heart out, came here, did his part, and finished flawlessly. He won my heart."
Read More From Pawesome
All of the dogs participating in the relay race have huge hearts and love to run and jump over the hurdles. More relay races are clearly in the future for these athletic dogs.