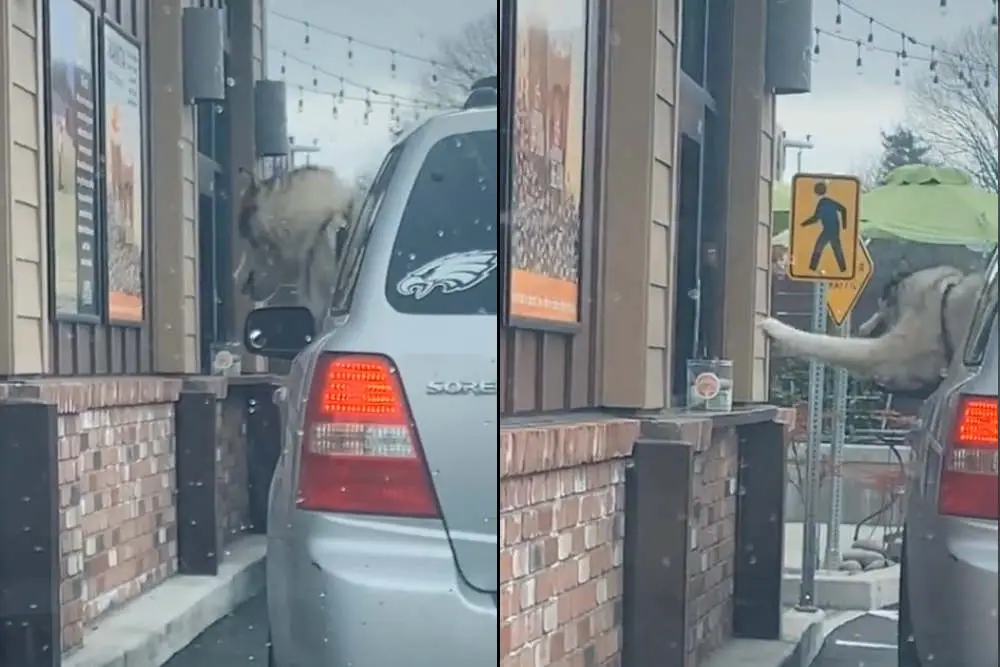 Siberian Huskies are very expressive and vocal dogs. A Husky named Nico was quite vocal in demanding a Puppacino when his owner went to pick up some coffee through the drive-thru. The Huskies' behavior was captured by the car behind the husky.
A TikTok video was uploaded to the channel @mohawkvalleyfarmandranch. The video begins with a woman driving a car in a restaurant drive-thru, looking at the car ahead of them. The woman watches a Husky pop its head out of the car window and starts howling. After a few seconds, the car with the Husky pulls up to the window. The Husky extends a paw out to grab a jar on the windowsill, but his owner moves it out of the way. The Huskies owner speaks with the cashier at the window while the Husky keeps howling and making vocalizations. The owner hands over his credit card to pay for his order, and the cashier hands him a receipt. The video ends with the Husky reaching out and looking at the window while vocalizing.
Nico the Husky was too cute. He knew what he wanted and wasn't afraid to ask for it. The caption says, "He finally got his Puppacino." So Nico's vocalization worked.
TikTok viewers loved Nico, and some even thought he sounded like he was speaking. @amandabee274 said, "I've watched this like six times. Cutest thing ever! I'm dying, too." @bullydozer61604 said, "I love Huskies. They are so vocal." @arielovesyou commented, "I have teeny dogs, but they do just the same thing. They know the moment they are in line." While @emibug16 said, "I used to work this stand! The dog's name is Nico, and he is absolutely the best customer, hands down." @sierracdumond says, "It sounded like he said, 'Hurry Up' after he took the money. @enzothesamoyed commented, "There are dogs, and then there are Puppacino addicts." @howlingeclipse responded, "Those are the best addicts." @queenoflegends00 said, "I'm upset that I didn't get to see him enjoy it."
Read More From Pawesome
Nico sure is a Puppacino addict. He seems to enjoy these treats frequently. According to @mohawkvalleyranch, Nico is a regular. Enjoy those Puppacino's Nico.