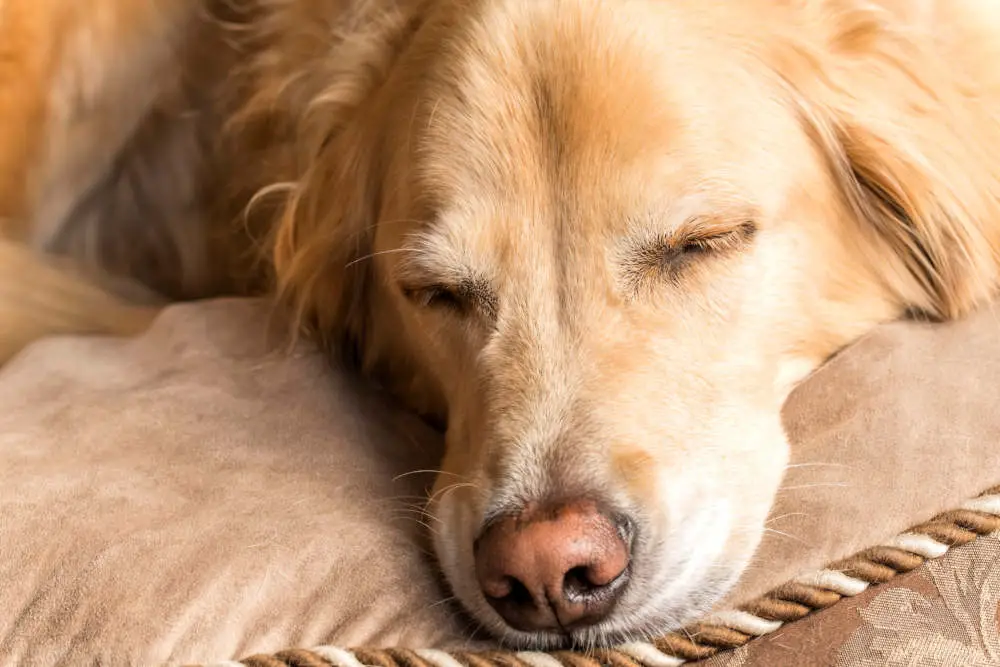 Some dogs have bedtime routines just like their human parents. A Golden Retriever named Lady is very pampered and has a very relaxing bedtime routine that includes pets, a face and body massage, and tooth brushing. Lady's mom spoils and pampers her so that she is relaxed right before bed and has a good night's sleep.
Lady's mom uploaded a TikTok video to the TikTok channel @ladyandtheblue showing Lady's bedtime routine step by step. The video begins with Lady'mom petting her head and then continues with Lady having some face yoga as she has some of her facial muscles stretched. As the video continues, we see Lady get a face massage, neck massage, and chest massage. When Lady is getting a head massage, the text overlay says, "She often falls asleep like this." After Lady has the massage, her mom brushes her teeth. The video ends with Lady lying in her bed. The text overlay says, "Sweet dreams."
Lady has a very relaxing bedtime routine. By the end of the bedtime routine Lady must be ready to fall asleep. Such a pampered and spoiled dog, but we are sure Lady deserves to be treated like a princess.
The TikTok viewers loved Lady's bedtime routine. @rwedel42 said, "So cute! I thought my dog was spoiled." @icandorionstayfly said, "Only the best for lady." @hjklgfdsaz said, "This dog is treated like a queen, lol. So cute." @lauralynnlake said, "Aww, you have matching pj's." And @ladyandtheblues responded, "We have four sets." A @x_kamkam_x76 commented, "Love the matching outfits."
Some TikTok viewers loved the bedtime routine so much that they tried it on their dogs with different results. @notmaiaaa0 said, "Pov. You don't massage your dog, and you see how much yours enjoyed it, so you go and do it on your dog. What did they do? Attack me."
If you haven't done a massage or brushed your dog's teeth, start small. Get your dog used to being near the toothbrush first. Then hold it near the face. Finally, brush a small section of teeth before doing the whole mouth. It can take weeks for your dog to get used to it and for you to work up to brushing the entire mouth. Do the same for massages. Your dog will find this new behavior strange.
Read More From Pawesome
Lady is so adorable. She is one lucky girl to be treated so well before bedtime. Enjoy the massage, Lady.