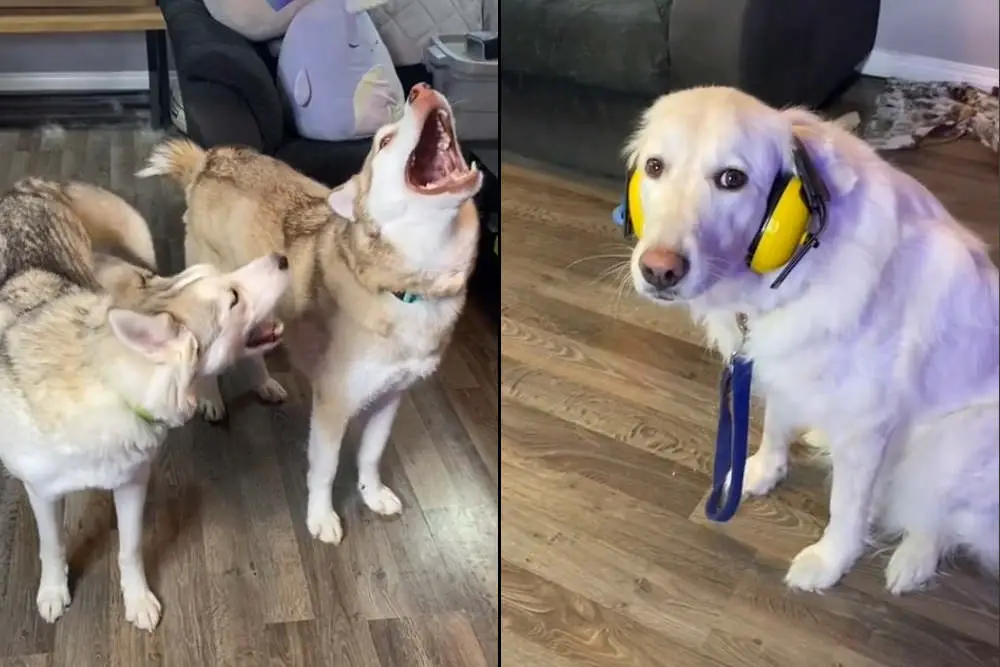 The "I Told Her to be the Judge" post is funny and too cute. The post by Huskystuffandotherfluff takes a while to get going but the payoff is worthwhile. Combining golden retrievers and huskies is never a bad combination. Howling huskies and an annoyed retriever make this a post to keep you laughing.
The post opens with a black screen and the caption, "My wife asked me how the dogs are doing while she's away so I sent her this clip." The post cuts to a living room with two howling huskies. The Huskies are making a lot of noise as the camera pans to the right. The camera finds a golden retriever staring at the camera. The retriever looks unhappy and is wearing yellow ear protectors. The title, "I Told Her to be the Judge" is smart and funny.
I love Huskies and Golden Retrievers so this is the perfect post for me. The Huskies seem to be enjoying themselves howling in the living room. I'm a sucker for a dressed-up dog and the retriever looks very funny. I like to think the Golden Retriever feels happier than it looks in this post. I'm not sure the wife would be too happy seeing the retriever wearing ear protectors. I hope everyone is happy now.
The post has more than two million likes and over 8,000 comments. Ana& Scarlett feel sorry for the retriever and comment, "poor golden angel 😂😂" Somewhatamused comments, "Just get them all headphones so they can stop fighting over that one pair. Clearly, the huskies want their turn." Amy can sympathize with the plight of the golden retriever, "OMG! I have a husky and laughed so hard when I saw this. So true!!!!"
Read More From Pawesome
I enjoyed this post and shared it with some friends. The Huskies and the Golden Retriever don't seem the perfect match, but I'm sure they are friends.