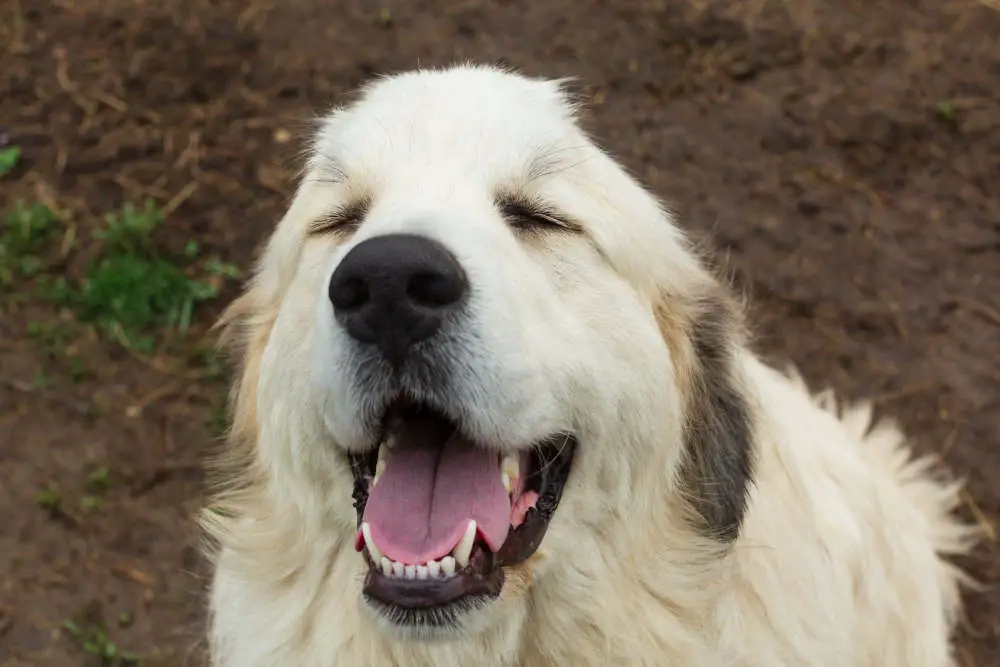 Steak is not a typical food for dogs. Most dogs are given dog kibble or canned wet food made for dogs. However, occasionally, it's nice to give a dog a treat, and a small piece of steak is perfect.
Veterinarian and dog owner @wackdog recently posted a video of her dog Kora eating a piece of steak. The video's caption reads, "We happened to have steak last night." So a few pieces were left over and given as a treat. @wackdog posted the video to show her dog's reaction to eating steak. The Tiktok video begins with Kora, a Great Pyrenese, standing attentively. Her owner says, "A piece of steak, you ready?" Kora moves excitedly. Her owner's hand moves into the frame, and she feeds Kora a piece of steak. Kora swallows the steak, and then her mouth chatters. Kora has a Flehmen's response. Kora licks her mouth. Her owner asks if she wants another piece, and Kora is ready. Her owner feeds her another piece of steak resulting in another Flehmen's response. The video ends as Kora licks her mouth, and her owner says, "Good stuff, huh?" Kora is a fan of steak.
Kora, the Great Pyrenese, had a great time eating a piece of steak for the first time. She had a Flehmen's response due to excitement. Though many viewers thought that she was chewing with her mouth closed, it was apparent that Kora swallowed the steak before exhibiting a response.
Tiktok viewers had different opinions about @wakdog's video. Some, like @pinkwifereal, said, "He was chewing with his mouth closed." and @vaporfairy said, "This reminds me of the professional ice cream taster." While @harmony_not_melody said, "My dog does this when she is nervous or excited, and it's adorable." Some viewers thought he was savoring the steak @luchasteve said, "He coated all 10 million taste buds with that one." And @notthisispatrick said, "That's the only dog I know that actually savors the taste."
Read More From Pawesome
Though many viewers were overwhelmed by Kora's cute way of eating, they mistook the Flehmen's response for chewing or savoring the steak. Still, Kora's eating habits made for one cute and amusing video.