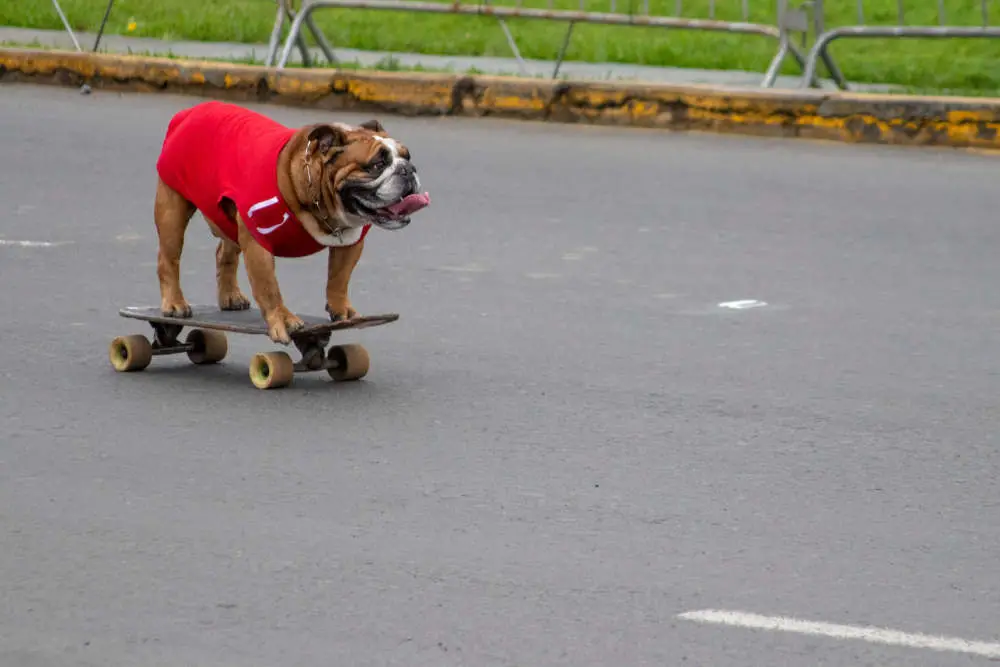 There is something so satisfying about taking on a new hobby or skill. Whether it's learning a new language or picking up the crochet needle and knitting something useful, tackling a new hobby can be infinitely entertaining. And it would appear that humans aren't the only ones who feel this way!
Dogs, in fact, can be incredibly gifted when it comes to taking on a new hobby with gusto. In this amazingly adorable video, we see a beautiful bulldog named Chowder taking to the streets with a skateboard for the first time. From the captions, we can tell that the year is 2018 — over four years ago. Initially, Chowder is quite tentative with his new board. Although it's obvious that he's super excited about his new toy, he can't quite seem to figure out how to use it properly. In the next clip from 2022, however, it becomes abundantly clear that Chowder is now an expert at skateboarding. Wearing a stylish sweater, he starts from the top of his driveway and cruises down the street at lightning speed. Leaning into the turn like he's Tony Hawk, Chowder proves that he was a natural all along.
It's heartwarming to see how quickly Chowder has progressed into a champion. With his pristine, professional moves, it's no wonder that his videos have racked up so many likes.
With over seven million likes, there is no doubt that Chowder's skateboard skills are held in high esteem. Some, understandably, were lamenting the fact that Chowder was so much better than them at skateboarding. One of the comments with the most upvotes was Nein's, which simply states, He can turn and I can't!" Meanwhile, some others were concerned about Chowder's safety. "Does he not need a helmet I'd be scared of him hurting himself," Nattypies93 wrote. Another viewer, h0rsem0rse, was curious about Chowder's fails. "Lets see the bloopers now!" their comment urged.
Read More From Pawesome
Judging from his stunning progression, though, it is doubtful that Chowder has had many setbacks. His natural abilities are truly something to behold.