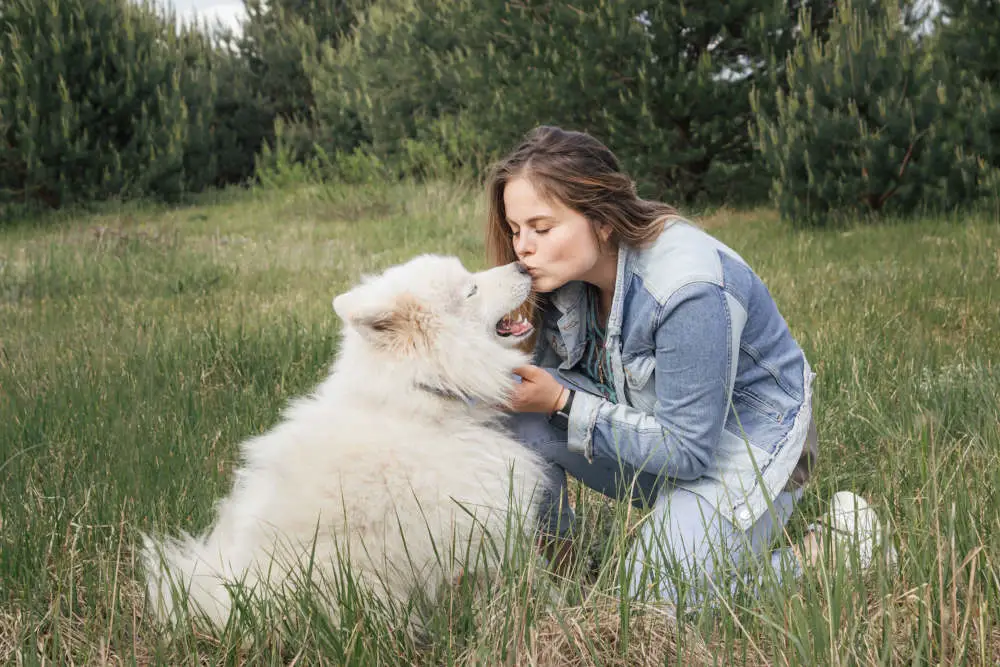 It's that spooky time of the season. The time to dress up in costume and have fun. This is the perfect time for all pet parents to dress up their dogs in a cute, adorable, and maybe a tiny bit scary Halloween costume. It's time to get ready for ghosts, ghouls, and goblins.
And the ideal way to get ready is to dress up your dog. TikTok channel @wanderlust_samoyed uploaded a video of Felix the Samoyed and his dog mom dressing up in honor of the spooky season. The video starts with Felix's mom playing with a white sheet with cutouts for ears, eyes, and a nose. The sheet flies in the wind over Felix, and then we see them running. Felix's dog mom pulls the sheet behind her like a cape. Next, the video cuts to a scene where Felix and his mom are dressed as ghosts, peeking out from a corner of their house. Felix's mouth holds a plastic pumpkin bucket waiting for Halloween treats to fill it. While Felix's mom wears a pair of sunglasses over her ghost costume. The video continues, and we see Felix and his mom posing in front of a brick wall. The video ends when Felix continues holding the bucket in his mouth while his mom shows us the peace sign.
Dressing up for Halloween is fun for most people, but it is even more enjoyable when you can dress in costume with your dog. Felix and his mom had the best time dressing up as ghosts. And Felix and his bucket are ready for trick or treating. Let's hope Felix's bucket fills with lots of yummy dog treats.
TikTok viewers are ready for Halloween and all the spooky things that bump in the night. @xxgachacheeseckae said, " How does this only have 58 likes? Your dog is so cute." Don't worry. This video has now received over 200k likes. User @emmkgt said, "I spent over an hour trying to get my dog to sit still so I can cut out the holes. He was not having it." Not everyone has an easy time dressing up their dog in a costume. Overall this video was well received by TikTok viewers @mickeychael26 commented, "Zero of The Nightmare Before Christmas."
Read More From Pawesome
It's clear from this video that Felix and his mom are ready for Halloween and a night of trick or treating. Happy Halloween!