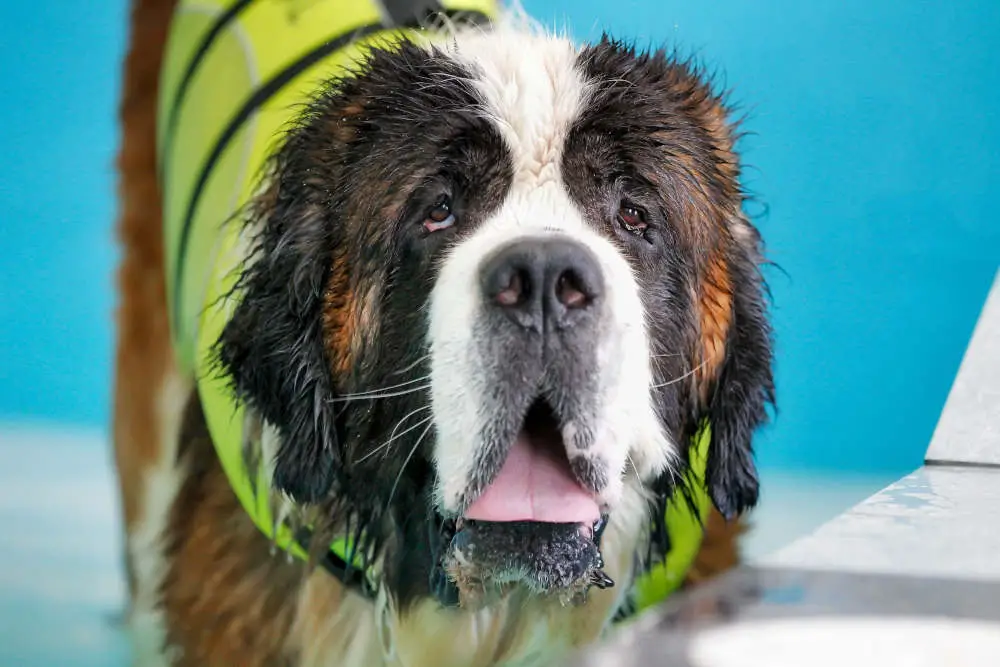 There's something about Saint Bernards that is truly comical; it's no surprise that some have even gone on to star in movies. These gentle giants possess some of the most expressive eyes ever, and their antics are always unparalleled.
In this hilarious clip posted by @overtime, a Saint Bernard named Gigi stands casually in the backyard while her dad pleads with her to stop…because she has flooded the entire backyard by stepping into the above-ground pool just halfway. Unbothered by all of the chaos around her, Gigi is more than happy to let the water swirl around her, reaching all of the backyard furniture and hovering dangerously close to the bottom of a hammock.
When Gigi sees that her owner has entered the backyard, she offers a casual tail wag and does not budge. Right next to her, the ladder of the pool appears to have become completely unmoored. Although TikTok may be full of videos about pets who have made a mess, Gigi's epic adventure is on another level. It's practically worthy of a State Farm commercial. Because she is so adorable, though, it is difficult to imagine how anyone could ever be upset with her.
What's great about dogs is that they remind us not to sweat the small stuff. Gigi, with her hilarious unintentional prank, also reminds us that sometimes a little bit of mischief can be a good thing.
Of course, everyone in the comment section went wild for the sassy Saint Bernard. Savannahxx's comment was about how maybe a small pool wasn't the best choice for such a big girl. "She is like why have a small pool when I can make it a big one," they wrote. Danreiner saw the silver lining of the situation, posting: "Gigi.. givin you a house on the lake" with a laughing crying emoji. It would seem that Gigi's act of rebellion only made some of her fans want more. Skyblus said, "DO NOT STOP, Gigi! Keep doing it until he talks to you politely."
Read More From Pawesome
Indeed, Gigi's little stunt is one of the most charming things you'll see this week!