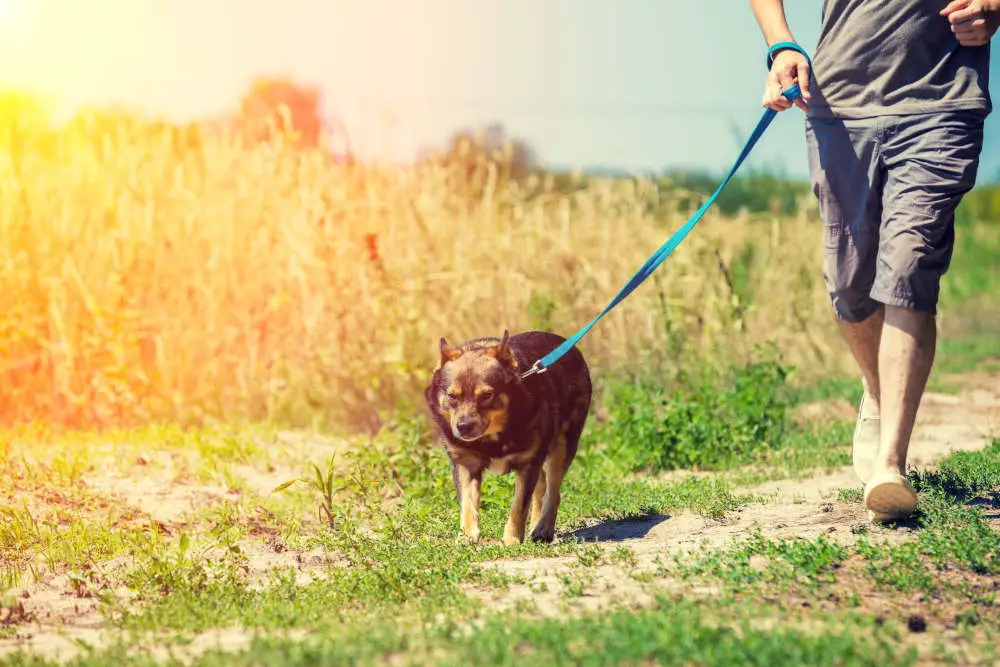 One of the best parts of being a dog owner is getting to take your pet on beautiful walks out in nature. Of course, this doesn't always go as planned! Anytime you're dealing with awkward humans and members of the animal kingdom, truly anything can happen.
In this sweet video, @mistermainer posts about going on a walk from the dog's POV. The dog, who appears to be a pit bull mix, sits patiently as his owner fumbles around while trying to clip the leash onto the dog's collar. They're standing against a beautiful backdrop in nature, but it's hard to go anywhere without the leash in place. The camera, which is from the dog's perspective, looks up at the owner's chin to try and figure out what is happening with him. As any dog owner knows, this is a very common occurrence! It is sometimes awkward trying to get everything together for a walk — and @mistermainer is just bringing that awkwardness into full view. With over 15 million followers, this account is wildly popular — and it's not hard to see why. The dog and his human are both very funny — and the precious pooch does not seem to mind dressing up in fun costumes when necessary.
Ghost wrote, "I love how he is yawning every time," alluding to the dog's yawns as his owner attempted to get his act together before their walk. ItsXAlexander wrote, "LOL, I love that dog. Always makes my day better, keep it going." This definitely indicates that Biscuit boasts loyal legions of fans.
Many of the comments were about how annoying it can be to try and clip on a leash, and some were about how their dogs preferred not to be clipped onto their leashes. Some felt that the dog didn't even need a leash in the first place. Monsieur Le Hibo wrote, "Nah mate, bro doesn't need a leash."
Read More From Pawesome
Whatever your position on leashes may be, chances are that you will find this video unbelievably adorable. After all, many of us often wonder about what life is like from our dogs' perspectives.