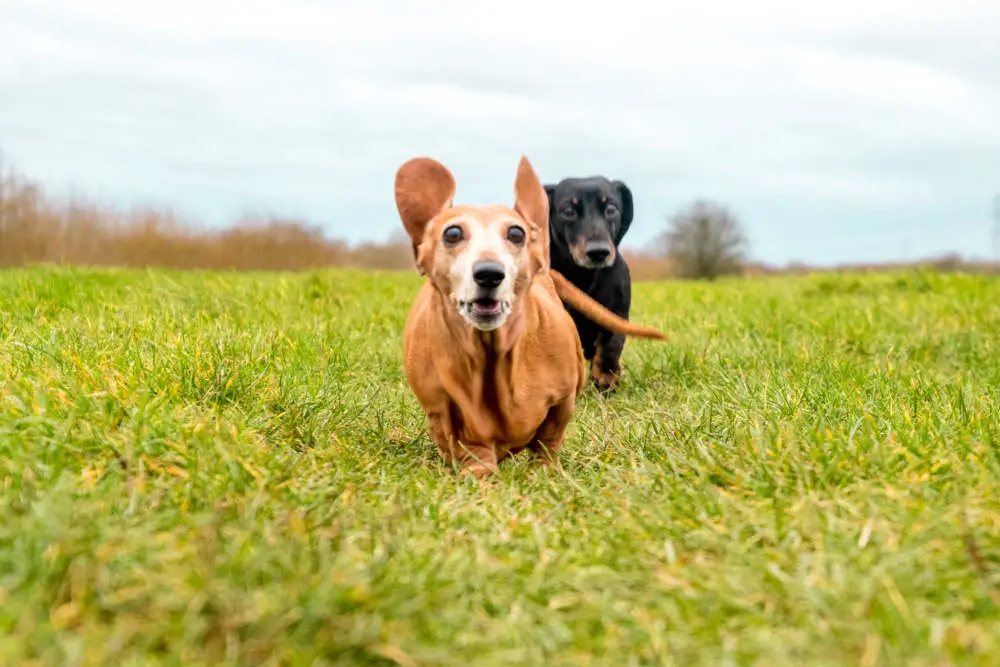 Taking one or two dogs for a walk can be difficult if they are rambunctious. But walking 8 Dachshunds is a challenge that TikToker @yunabugs takes on daily. As the creator of the series The Weens, @yunabugs records her daily life with 8 adorable little Dachshunds.
TikTok creator @yunabugs uploaded a video to her channel featuring a daily walk of her Dachshunds. The TikTok video begins with @yunabugs getting ready in front of a mirror. All the Dachshunds are lying down; some are on a dog bed, and others are on the floor. @yunabugs asks, "Are you ready?" The dogs perk up, and they all walk out the door. Next, the scene shifts, and @yunabugs sits on a bed, putting on her shoes. The dogs are all in bed waiting for her. Finally, @yunabugs says, "Let's go." They all walk out of the room except for one Dachshund named Einstein, who hurries to catch up with them when called. Next, @yunabugs picks up the dog's harnesses off a counter and plays with the dogs.
Putting the harness on 7 Dachshunds is easy, but it takes a little more work to get Einstein's harness on. After each dog had their harness on, @yunabugs danced for a bit. Then @yunabugs gets a ramp ready for the dogs. She then walks back into the house to let the dogs outside. The Dachshunds for outside with @yunabugs trying to catch up, but she falls. With a laugh, @yunabugs gets up and catches up with the dogs. Next, we see footage of them driving through farmland until they reach their destination. All 8 Dachshunds are walked on a leash down a country road. The video ends while they are still on their walk.
So cute. Despite having such short little legs, these Dachshunds are very fast and agile. All of the dogs had the best time during their walk.
TikTok viewers loved this video @holsamberph said, "This is so cute." While @kel_yes said, " What's so awesome is even with 8 weens, you are an amazing dog owner." And @hoogie_bear_ said, "You definitely need a custom leash. Like one of those no tangle, double leash, for eight dogs." While @nicoletalmaski said, "Einstein is my spirit animal."
Read More From Pawesome
This evening's walk was an adventure. All of these cute little Dachshunds seem to be living their best life. Of course, viewers love all the dogs, but Einstein has his own fans.