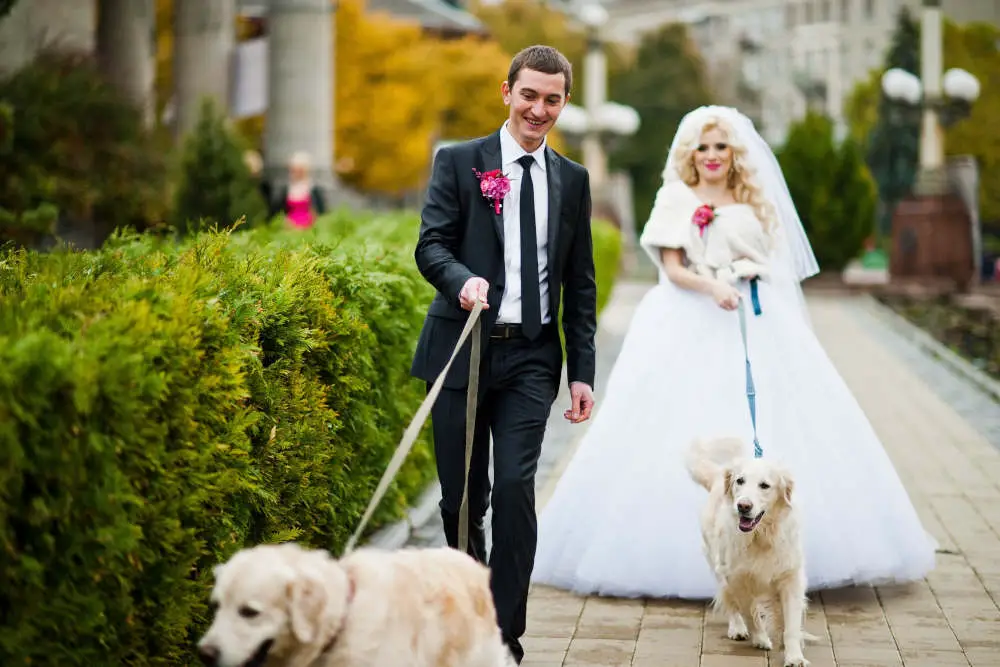 We're not sure who the wedding in Steph and Bear's post is for. It seems the groom is being pushed to one side by the bride and her pooch. It takes a lot of patience to allow the dog to take center stage during the first dance between the happy couple. No matter what happens in the future, Steph and Bear enjoyed the wedding dance with the groom.
If it was in doubt that Steph and Bear are an inseparable pair, this wedding video proves the point. The bride and groom look lovingly at each other as they embark on their first dance together. The problem is, Bear the dog is being held by the bride as the happy couple begins to dance. Fairy lights and romantic music complete the mood of the wedding dance. The groom appears to be happy with the situation and kisses the dog and receives a lick on the face. The couple each plant a kiss on the dog's cheeks before the bride gives the dog a few more kisses.
I love this TikTok post from Steph and Bear because it shows how our dogs become family members. There is a lot to enjoy in the video, including the close relationship between the couple and their dog. Adding Bear to the wedding party shows us how much the couple loves their pup. Does Bear think the wedding party is for him? I guess we'll never know.
There are plenty of comments for this post with over three million likes. Jen thinks Bear believes the party is for him, "Your dogs like "wow I can't believe they threw this party & got dressed up all for me" Brittney & Kujo commented, "He's just soaking up all the love at that moment 🥺 too precious 🥰🥰" Stacey Barger explained her toddler's reaction, "My 3 yo daughter said "WHAT?! They're marrying a puppy?" "I wanna marry a puppy tomorrow " 😂🥰"
Read More From Pawesome
This is a video that is funny at first. As the meaning of the post becomes clear it shows how close the bond is between the couple and their dog.