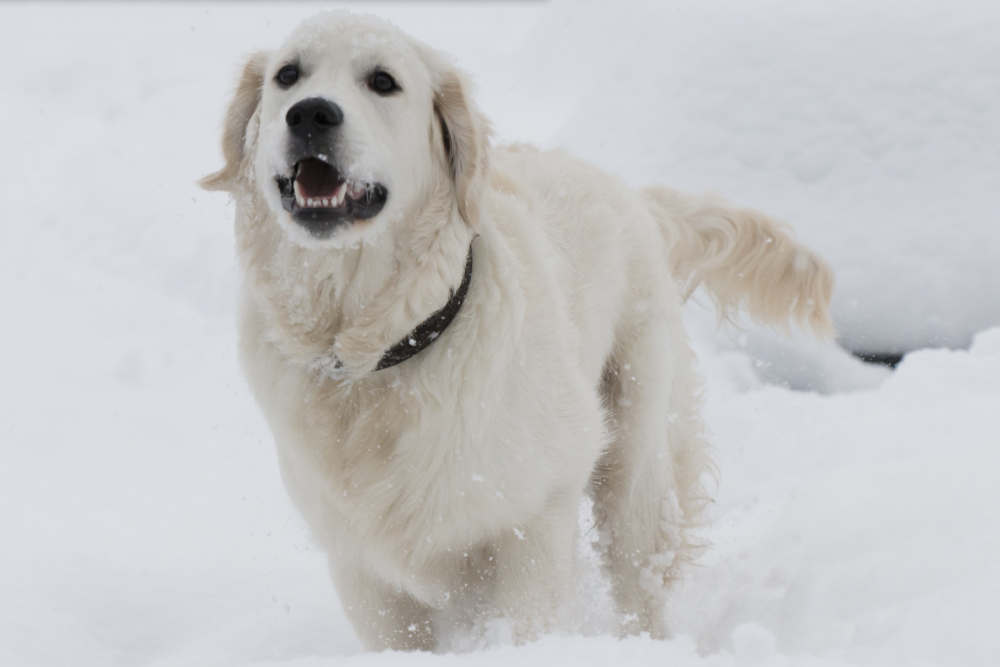 Dogs love to play in the water. Dogs love to play in fall leaves, but a Golden Retriever featured on TikTok loves it when his dad shovels snow. This Golden Retriever is so happy helping his dad. It's not unusual to see dogs bred for cold weather enjoying the snow. Still, it is unusual for a Golden Retriever to enjoy the snow.
The TikTok channel @dogsg0go features dogs on its channel and uploaded the video of this Golden Retriever helping his dad clear the sidewalks while he enjoys the snow. The TikTok video begins with a man using a snow shovel to clear the sidewalk. As the man pushes the shovel, the Golden Retriever walks backward in front of the snow shovel. The Golden Retriever's eyes were firmly on the shovel. Finally, the man stops and tosses the snow off to the side, and The Golden Retriever jumps forward. The video ends with the snow falling on the Golden Retriever.
The caption of the video reads, "Love Snow." And I have to agree. The Golden Retriever is having fun in the snow. He loves helping his dad shovel the snow off the sidewalk.
TikTok viewers found the video highly entertaining. @kelley.h.18 said, "This is it. This is the best TikTok. Everyone else can go home. We found a winner." @blixboy said, "That is pure happiness." And @loricampbell22 commented, "My dog does this too! I can't shovel with her outside as she won't back up for the shovel like your, good boy." It seems snow is a favorite of some dogs @a_dora_bell commented, "My dog couldn't wait for us to throw the snow either." And @stephanieb30wi said, "Our Labradors are obsessed with this, but not as much as the snow blower." Most viewers agreed this TikTok video was a joy to watch.
Read More From Pawesome
It is great that this dad has the help of his furry child. Having a companion to help you while you shovel snow makes the work go faster. I'm sure watching the Golden Retriever enjoy the snow makes his dad smile.