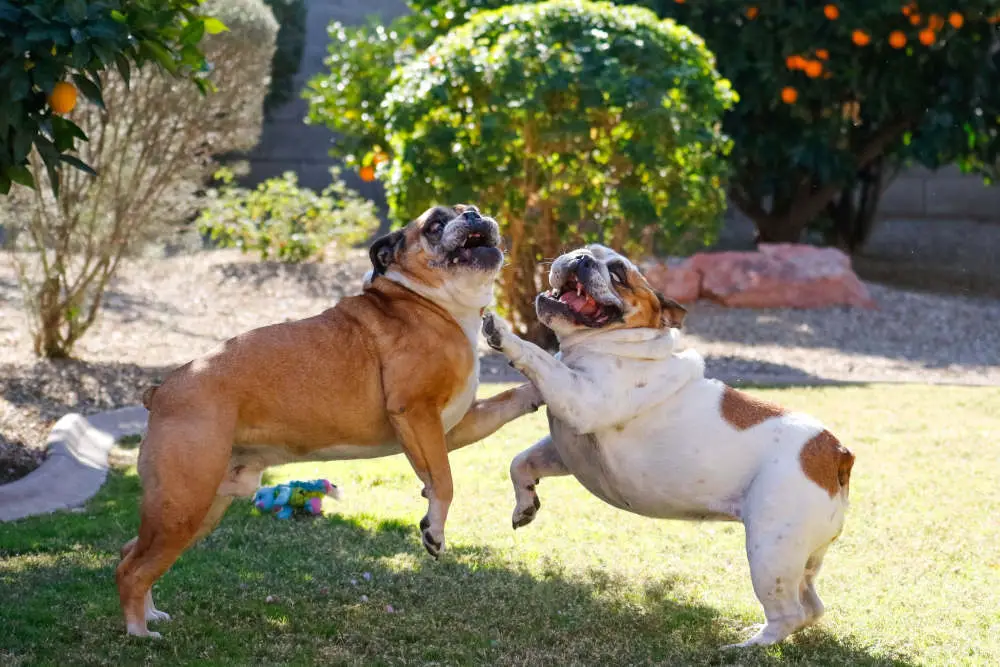 Introducing a new puppy to your current dog can be tricky. Sometimes doggy siblings don't get along, but one family found a way to prepare their English Bulldog, Shug, for the upcoming puppy introductions, and it worked.
Shug's dog mom and dad, had an innovative idea to prepare Shug for a new little brother. They uploaded a TikTok video to the channel @shug_ and_ bruce_bulldogs of how they prepared Shug for a new family member. The TikTok video begins with Shug meeting his little brother on some porch stairs. The title 'How We Prepared Our Dog For his Little Brother' appears on the screen. The video changes to a scene of Bruce in a living room, standing in front of a T.V. Shug's mom asks, "Can you find Bruce?" Shug then walks over and taps a small statue of an English Bulldog with his nose.
Shug's owners explained that Shug's toys all had names, and they used a name association technique with a puppy statue for 6 weeks. The scene changes with Shug standing next to his dad's desk while his dad is at work. Shug's mom says, "That's right, we get to meet him. We get to meet Bruce. Oh my god." Shug's mom laughs when he walks over and taps the puppy statue. After Shug's mom and dad visit the puppy, they let Shug smell the puppy's scent on their clothes. Shug smells his parent's clothes and, moments later, looks toward the puppy statue. He has associated the scent with the puppy statue of Bruce.
Shug licks his mouth and looks up at his parents. His mom says, "He's not here yet." And Shug lets out a low howl. Shug's mom says, "It's okay." Shug bows down. Next, we see Shug, his mom, and his dad sitting in the living room. It's the big day, and Shug is meeting Bruce. Shug runs around happily and even checks on the puppy statue. The scene changes, and we see Bruce hugging Shug. The video ends with Shug and Bruce lying side by side.
The way the Shug's owners prepared for Bruce's arrival was genius. First, it solved any possibility of tension or aggressiveness on Shug's part toward Bruce. Second, Bruce was immediately accepted, and now Shug and Bruce are best friends.
TikTok viewers agreed that the name association method worked @unphased said, "This is a perfect way to introduce a new dog into the family when another dog is already involved. Awesome." While @taylowmatthews885 said, "And that good pupper parenting." And @katie_lynn_b said, "Ok, I died at the part where he finally met the pup." While @justine_snacks said, "He's such a smart boy."
Read More From Pawesome
This family did a great job introducing Bruce to Shug. Shug clearly accepts Bruce into the family. They found a great way to introduce two dogs without any aggressive behavior.