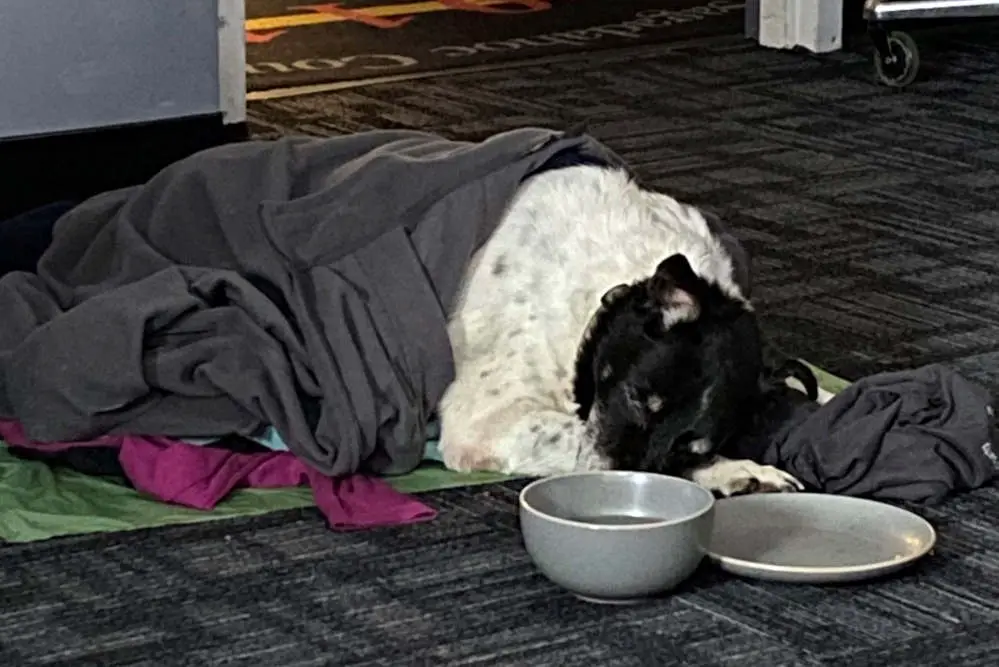 A heartwarming story emerged from Arrowsic, Maine, on February 25th, when a dog was found almost frozen to death by Deputy Mark Anderson from the Sagadahoc County Sheriff's Office.
The sheriff's office received a call at 5:37 AM that a dog was lying on the road in the area of 353 Arrowsic Road. Deputy Anderson responded to the call, but at first, he couldn't locate the dog. After checking the nearby ditches, he found a very cold female dog that appeared to be almost frozen to death.
Deputy Anderson described the scene, saying, "There were claw marks where she had attempted to climb out of the ditch before her paw got too cold. She was holding her paw up and whimpering heavily when I approached her." Given the single-digit temperatures, Deputy Anderson immediately picked her up, placed her in his cruiser, and brought her to the dispatch center in Bath.
Upon arrival at the dispatch center, the on-duty dispatchers immediately sprang into action, providing much-needed care for the dog. They wrapped her up in blankets and used a portable heater to help warm her up. They also gave her a plate of food, which she devoured once she had warmed up and stopped shivering.
Deputy Anderson then went to work, making lost dog flyers and knocking on doors in an attempt to locate the owner. His efforts paid off, and he was able to reunite the dog with her owner, an elderly woman who had been up all night waiting for her beloved pet to return.
The Sagadahoc County Sheriff's Office praised the efforts of Deputy Anderson, as well as Communications Specialist Shaun and Dori, for their extraordinary care for the animal. They said, "The efforts of these three Sagadahoc County employees, without a doubt, saved the life of this precious pet. Kudos to you!"
Read More From Pawesome
This heartwarming story is a reminder of the importance of looking out for our furry friends, especially during times of extreme weather. Deputy Anderson and the Sagadahoc County Sheriff's Office are true heroes for their efforts in saving this dog's life.