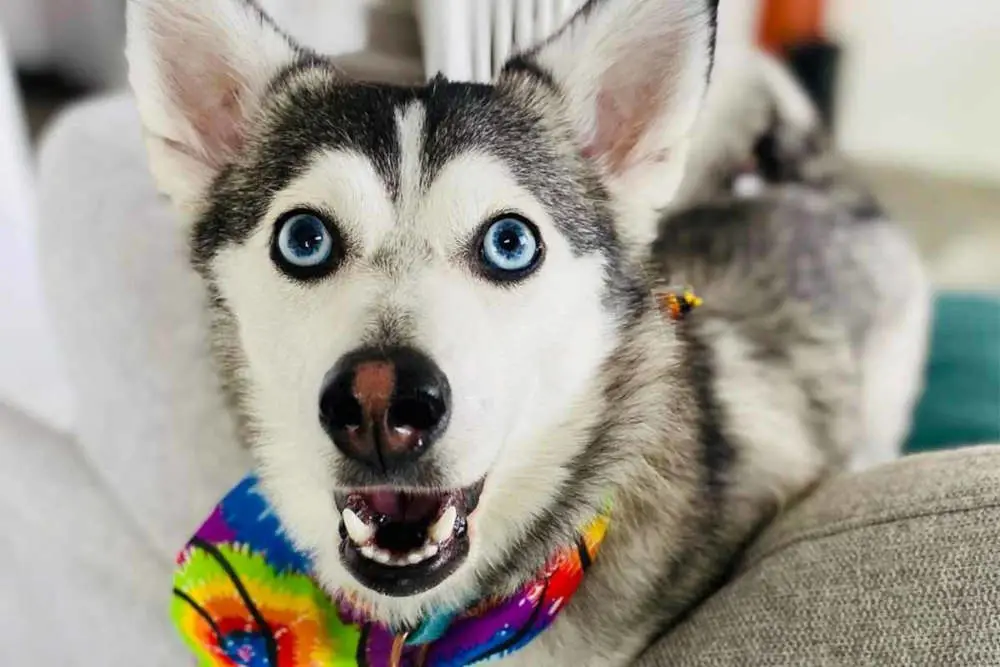 Dogs can be so funny. Their reactions reflect their distinct personalities. Some dogs are protective, dramatic, or sassy, but it's rare for a dog to show their owner their attitude through verbal means. However, the recent popularity of training dogs to use talking buttons means that dogs have a new way of communicating with us.
One sassy Pomsky named Sapphire uses the talking buttons to communicate with her owners. Sometimes these conversations are hilarious. Sapphire's owner, using the @sapphire_the_pomsky, uploaded a TikTok video. Where Sapphire's owners ask her what she wants. Sapphire lies down on the floor, pushes a talking button, and replies, "Treats, b***h." Her owner says, "Excuse me." Her owner asks, "No. What do you say?" Sapphire then repeatedly pushes the button. And her owners tell her, "No, I'm not going to give you treats if you call me that. What do you say?" Finally, Sapphire pushes a button saying, "Please…please. B***h." Her owner's laughter is heard in the background. Sapphire is lying on the floor looking up at her owner when the video suddenly ends.
Sapphire is one sassy Pomsky, and she is not afraid to voice is opinion. Or demand treats. Even though some might take offense to being called a b***h, Sapphire's owner finds it funny from the sound of her laughter that is heard in the video.
Most viewers found Sapphire funny @123happylifdhappywife said, "I can't stop laughing." And @grannygirl2357 said, "Lol, thanks for the laugh." While @heemwold09 commented, "At least she said please." And @ashlynn_maries replied, "I said what I said." As her opinion of what Sapphire thought about what she said. And @kinglitch said, "That fact that she says that correctly at the right time is amazing." And @sonicdrivein asked, "So, did Sapphire get a treat?" And @sapphire_the_pomsky answered, "Yes."
Read More From Pawesome
The ability to communicate with your dog is something that most people would want. However, maybe not if they have a sassy dog acting up.