The Pit Bull is a bit of a red herring when it comes to dog breeds because the term 'Pit Bull' actually consists of 5 different dog breeds in the country today. Each breed has its own characteristics and defining traits, all very different from the ancestors they were bred from.
If you are considering adopting a Pit Bull, have a look through our guide to know which is the best match to be a part of your family!
American Pit Bull Terrier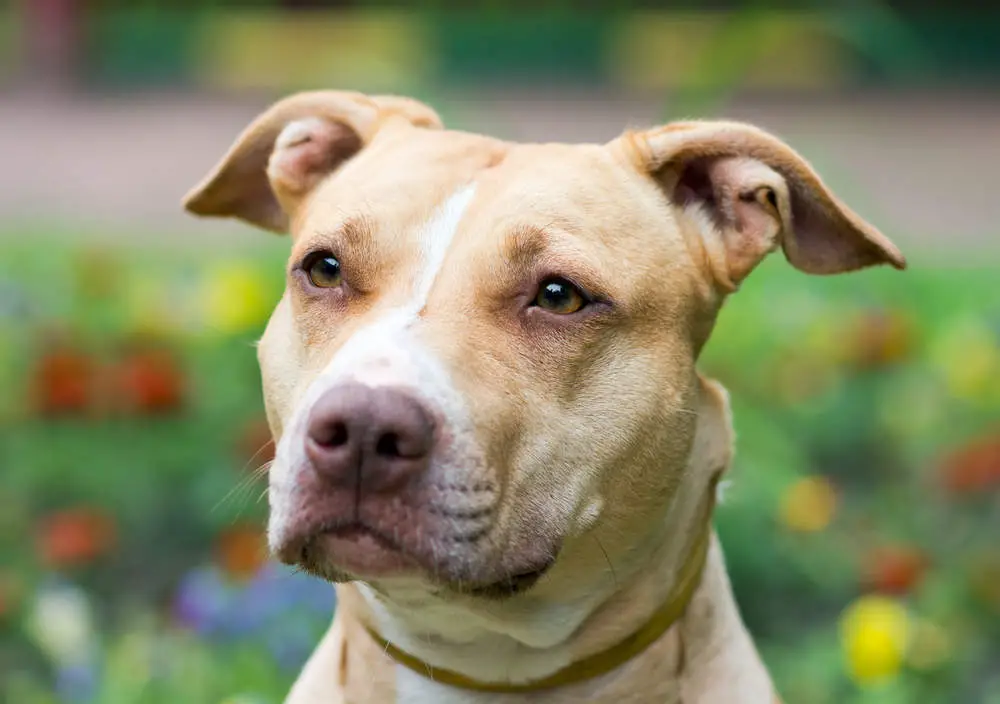 One of the oldest dog breeds existing today, the American Pit Bull Terrier has an infamous reputation that it doesn't deserve. Dive in and find out more about what makes an American Pit Bull Terrier uniquely itself.
History
Descended from bull-and-terrier dogs that were bred in the British Isles during the mid-19th century. They came over to America in the late 19th century where sadly they were used for dog-fighting rings.
Although the practice was outlawed state-wise from 1874 till it became federal law in 2007, many underground rings survived contributing to the 'aggressive' image of this breed and other Pit Bull breeds.
Current Day
The current American Pit Bull Terrier is nothing like its ferocious ancestors and is a joyful, athletic companion to many families. They do have high energy levels, so make sure you can spare a few hours for intense playtime every day!
Care
These dogs have a short and smooth coat, which is relatively easy to manage with regular brushing. Their nails need to be trimmed when needed as they have a tendency to grow very long and hurt their paws.
American Pit Bull Terriers will require routine exercise at least twice a day to keep them happy as they can grow to be destructive without an outlet for their energy. Do also keep durable chew toys within easy reach, as they have powerful jaws.
Health
Responsible breeders do their utmost to keep the dogs as healthy as possible and weed out hereditary or genetic diseases but some illnesses that all American Pit Bull Terriers should be aware of are:
Hip Dysplasia: Where the hip sockets are formed abnormally and can lead to arthritis or joint pain in the dogs.
Canine Atopic Dermatitis: An allergy-based skin disease that causes the dog's skin to become inflammatory due to exposure to mold, dust mites, grass or other environmental allergens.
Hypothyroidism: A disease where the thyroid hormone production of the dog decreases, causing its metabolism to slow down.
Overview
Size: 17 to 20 inches
Weighs In: 30 to 65 pounds
Color: Black, brindle, brown, white, blue, red, tan, fawn, or grey
Life Expectancy: 8 to 15 years
American Staffordshire Terrier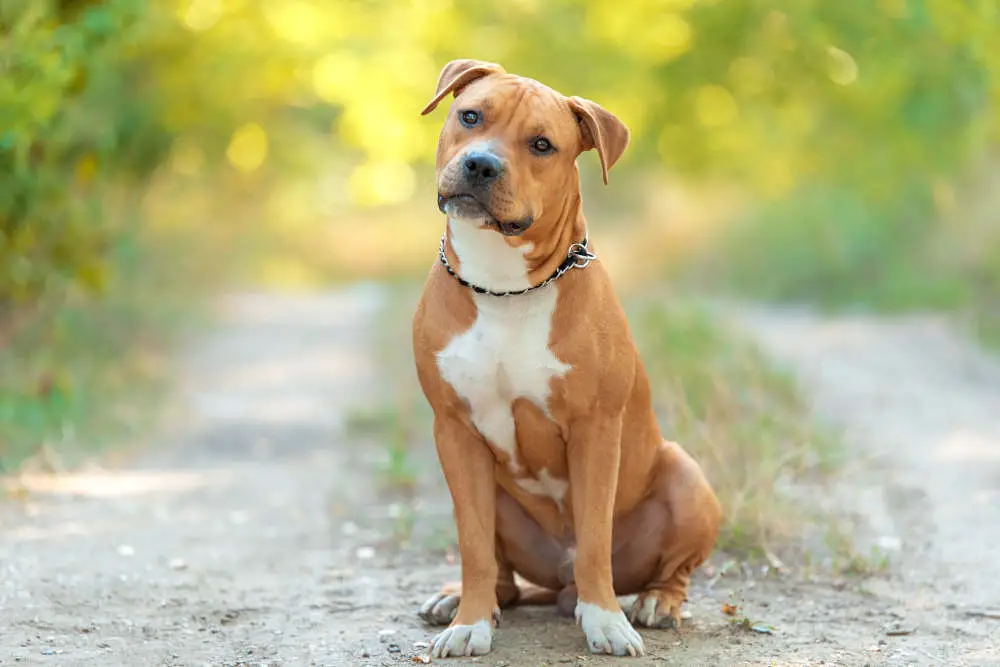 Also known affectionately as AmStaffs, this playful personality-filled breed is a favorite among those who love loyal companions. They are very affectionate with their family, but they dislike sharing the love and do not get along with other pets.
History
Another descendant of the bull-and-terrier dogs, the American Staffordshire Terrier is actually a version of the Staffordshire Bull Terrier that was bred to be larger and more mellow than the original.
Amstaffs have been popular in the country for many years, becoming the mascot for Buster Brown Shoes as Tige in the 1940s. Also, Sgt. Stubby the most decorated war-dog in America is also an Amstaff!
Current Day
Amstaffs are loyal and energetic dogs that get along well with other humans, they're very affectionate towards family and welcoming towards strangers. However, they do have a higher prey drive making them unsuitable for homes with multiple pets.
Care
Their short coats do not require any special care, a routine brushing will do just fine. They shed a low to moderate amount but it can increase seasonally so keep that brush handy. Their nails require special attention as they need to be trimmed if they are not worn down naturally.
Being an athletic breed, the AmStaff needs you to be an active person who can provide them with exercise and play twice daily at the very least. They are suited for dog sports and enjoy being mentally stimulated while playing too. Without proper exercise, they can become hyperactive and destructive.
Health
Being a relatively newer Pit Bull breed, American Staffordshire Terriers are less likely to have hereditary diseases when purchased from responsible licensed breeders. However, as responsible pet owners here are some you should watch out for:
Hip Dysplasia: Where the hip socket and ball bones do not grow in tandem and have an abnormality leading to joint pain and arthritis.
Canine Atopic Dermatitis: A condition caused by an allergen where the dog compulsively licks, scratches, chews on its skin causing lesions and hair loss.
Hypothyroidism: Where there is an imbalance causing the decrease of thyroid hormones making the dog's metabolism slow.
Overview
Size: 17 to 19 inches
Weighs In: 50 to 80 pounds
Color: Black, brindle, brown, blue, fawn, or red
Life Expectancy: 12 to 14 years
Staffordshire Bull Terrier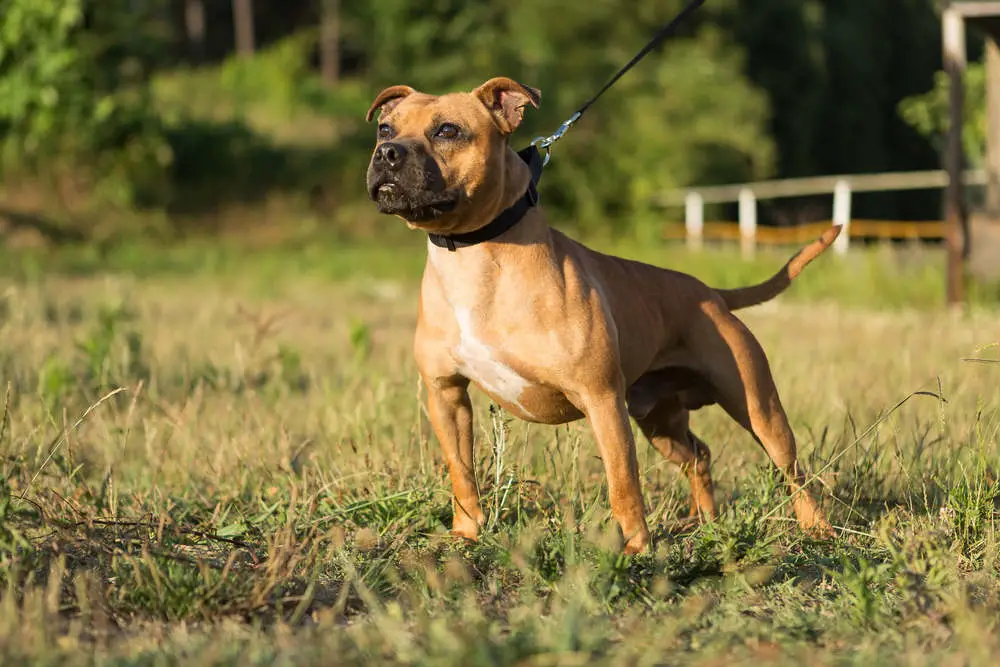 Loving and cuddly is the best way to describe a Staffordshire Bull Terrier, they are the ones you see climbing into owner's laps and couches on social media! They are the smallest of the Pit Bull breeds.
History
One of the off-shoots from the ancestral bulldog, which was a dogfighting breed. The Staffordshire Bull Terrier was perfected by James Hink in England in the late 19th century.
They get their name from the region of Staffordshire in England where they were especially popular. However, the current breed has been bred through hundreds of years to be a gentler version of the old brawlers.
Current Day
Short and stocky but heavily muscled, these dogs are strong but gentle as pie with a reputation of being good minders for the kiddies. They have a very family-oriented temperament and need to be socialized properly during early training to get along with other dogs and pets.
Care
The Staffordshire Bull Terrier tends to have low to moderate shedding depending on the season but nothing a good brushing can't take care of. Their nails need to be trimmed for comfort as needed.
They adore exercise and are very smart, so make sure that your fence extends underground because they will dig an escape tunnel given the opportunity. Do note that they are sensitive to heat so playtime should be shorter in the summer.
Health
Staffordshire Bull Terriers are generally healthy breeds and selective breeding by responsible breeders, have removed many concerns from the current gene pool. These are the few issues you should be aware of:
Hip Dysplasia: A condition where the hip bone sockets of the dog is formed abnormally. As the dog ages, it can lead to arthritis and/or joint pain.
Patellar Luxation: This is a rare condition where the dog's kneecap dislocates from its proper position. It can be overcome with rehabilitation and is generally not painful.
Allergies and Other Skin Issues: The staffies are prone to skin issues that can occur from allergens present in the environment, food or medication.
Overview
Size: 14 to 16 inches
Weighs In: 24 to 38 pounds
Color: Black, brindle, blue, red, fawn, or red with white markings
Life Expectancy: 12 to 14 years
American Bulldog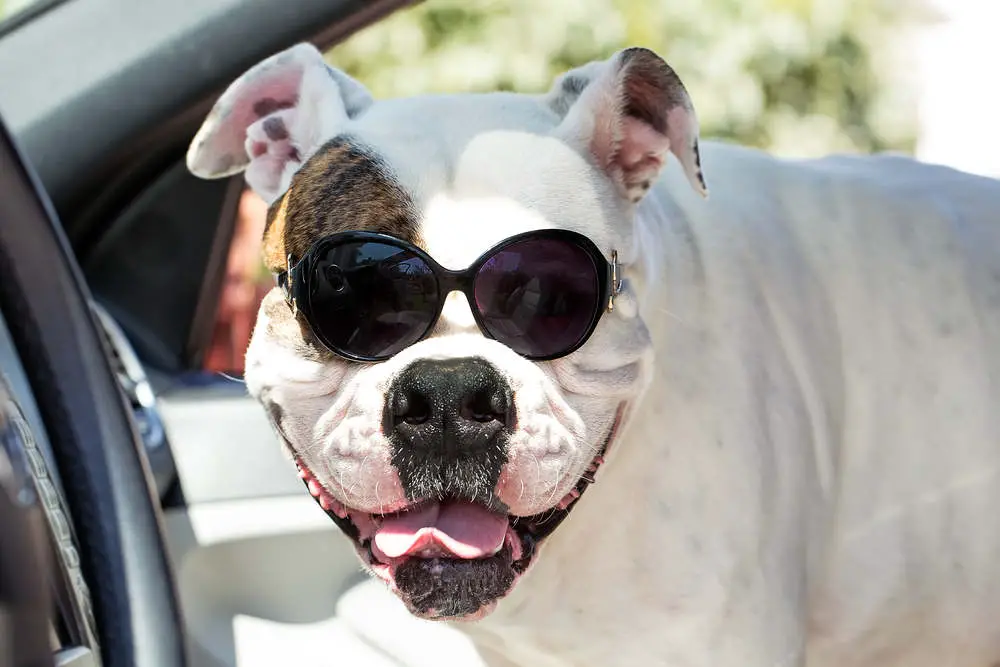 A protector of the family and a cuddle-bug as well, the American Bulldog is highly trainable and very intelligent. Though they prefer to be snoring in your lap they are very energetic dogs who love a good playtime with the family.
History
A descendant of the old English Bulldog, it is believed that this breed came over to America in the 1700s with farmers and ranchers. They used to be utility dogs, working on farms as guard dogs, stock dogs and catch dogs.
They were nearly wiped out during World War 1 and World War 2 but were thankfully saved by John D. Johnson and Alan Scott who brought them back from the brink of extinction.
Current Day
Being family-oriented dogs they are not the type to amuse themselves in an empty yard. They will want and demand your attention for playtime that could last hours. They enjoy being mentally stimulated as well, so pick up some canine games along the way!
Care
American Bulldogs love to get a weekly brush of their short and fine coat, this is especially useful for you as an owner since they shed all year round. Their drool is another matter, you have to make sure that their wrinkles aren't holding onto any excess slobber to prevent infections and bacteria build-up.
These dogs love to be active since they love taking naps after tiring themselves out. Typically they need short but intense bursts of playtime or brisk walks throughout the day. If not properly and thoroughly exercised they may turn to chewing furniture and other destructive behaviors.
Health
American Bulldogs have a tendency to have allergy-based issues due to an overactive immune system. It is recommended to get an allergy test done to take preventative measures. They can also grow out of allergies altogether or at least have them in manageable degrees.
Other hereditary health concerns you should watch out for are:
Hip or Elbow Dysplasia: Apart from the hereditary growth disorder, American Bulldogs can develop this over time due to weight issues or diet issues. This can be helped by adding vitamins to their diet.
Neuronal Ceroid Lipofuscinosis: This is a nervous system disorder that is passed down genetically and can be determined with a genetic test. Make sure to get one before purchasing an American Bulldog from a breeder.
Overview
Size: 20 to 28 inches
Weighs In: 60 to 120 pounds
Color: White with pockets of black, brindle and red, or shades of gray or brown
Life Expectancy: 8 to 10 years
American Bully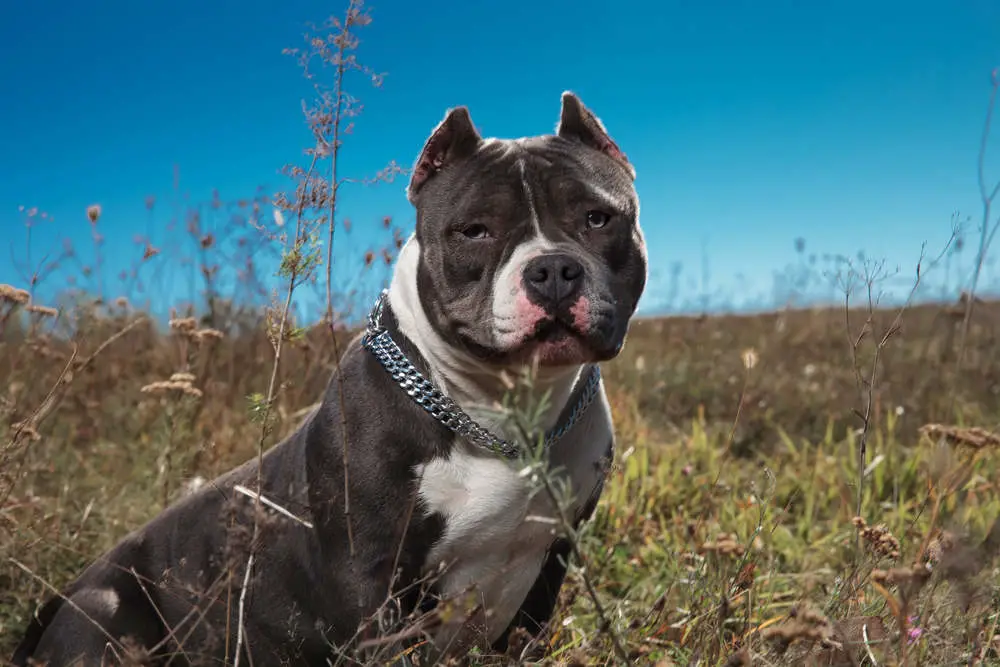 The newest entrant to the Pit Bull category, this breed was developed in the 1980s-1990s as a comfortable companion dog. It is one of the few breeds that comes in a variety of sizes, so you can pick the friend most suited for the space you have.
History
The American Bully has its roots in the American Pit Bull Terrier where certain enthusiasts wanted to preserve and recognize a stockier physique of a particular strain. They then went on to add strains of different bulldogs to get the lovable hunker we know today.
Current Day
Broad in the front and an energetically wagging tail at the back these dogs may be low off the ground but they are high on energy. They are obedient and affectionate pets, who are affectionate with everyone as long as they have proper socialization when young.
Care
Possessing a smooth and short-haired coat makes it an easy breed as far as grooming is concerned since weekly brushing does the trick. They shed low to moderate levels depending on the season.
They are sensitive to the cold, so if you live in a place with colder winters you may need to set aside a puppy sweater budget for walks and outdoor time.
When it comes to exercise the American Bully is happy to get it indoors or outdoors, depending on the weather. Do make sure to make the indoor playtime as robust as a park run because there is a lot of energy they need to work off.
Health
Being the newest breed of the Pit Bull family, it is hard to know which diseases and conditions target the American Bully specifically. However, here are some of the most common issues that you can keep an eye out for:
Cherry Eye: A disorder that manifests in the dog's third eyelid, where the tear gland of the eye protrudes outward causing a red mass.
Hip and Elbow Dysplasia: Where the elbow and hip joints of the dog degenerate over time causing joint pain and possible lameness.
Overview
Size: Standard—16 to 20 inches, Pocket—13 to 17 inches, XL—19 to 23 inches
Weighs In: 70 to 120 pounds
Color: Comes in many colors and variants, including up to three colors in one coat and patterns including ticking, brindle and sable
Life Expectancy: 8 to 12 years
So do you know which one will you be adding to the family portrait or do you want to create a smorgasbord with one of each?
Whichever one you choose, remember that the most important aspect of having a dog is understanding its nature and giving it proper training from puppyhood.
See more articles about Pitbulls right here: