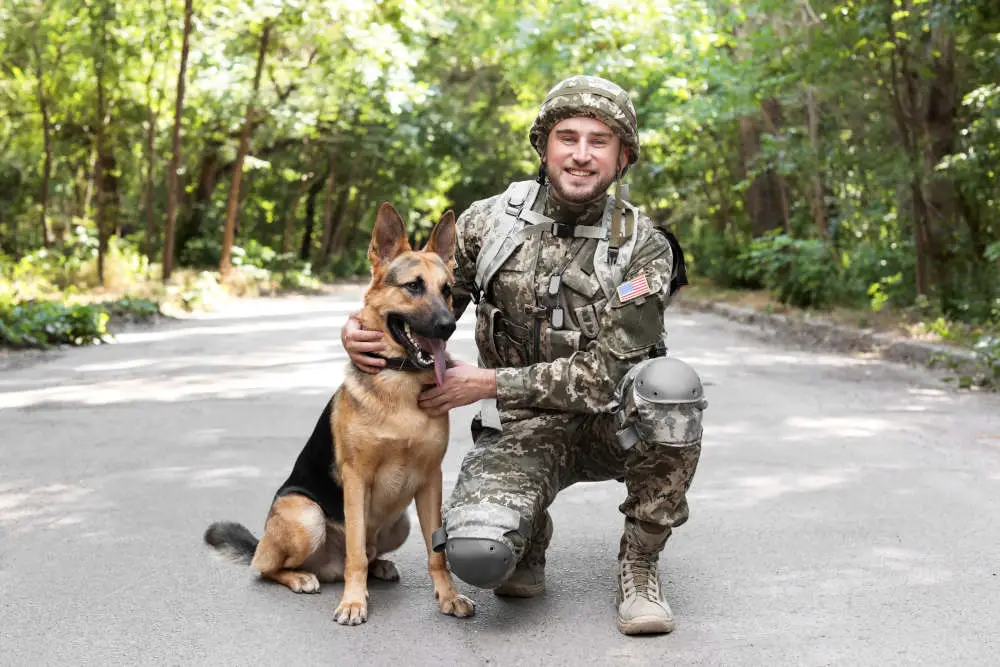 The lives of military dogs can be tough. This TikTok post from eir.kaldogcats gives a glimpse into their daily lives. We should all be appreciative of the service of military dogs and show them our support. The military dogs in this TikTok post give us a glimpse into the lives they lead. The bravery of these military dogs is amazing to see.
The post opens with a soldier standing in full combat gear. The bag on his chest contains a dog, whose head is visible. The video shows a group of German Shepherds watching as another combat dog leaps over a high hurdle. The post continues with a combat soldier in an urban setting accompanied by a dog. Another dog is wearing goggles and a camera. Finally, the dog pictured in the first image stands beside the soldier wearing the carry bag.
I have a deep passion for military dogs of all kinds. The military dogs in the video in the TikTok post show off plenty of skills and make sure we are all protected. The skills and bravery of military dogs are something to admire. The loyalty these animals show toward the soldiers is inspiring for us all.
Princessjiichu left a comment we can all support, "Seeing a human and animal work so closely and well together is amazing." Plenty of TikTok users show their support for the military dogs in the video and beyond. Tabacu Alina comments, "Love them, they are native smart. 😍😍" Nurgül Fariel Bahadi shows her concern for the safety of the dogs and comments, "Keep safe little babas 🐾🐾🐾🐾🐾🐾❤️❤️❤️❤️❤️❤️"
Read More From Pawesome
Military dogs are amazing animals that prove the bond between humans and dogs. The kiss the soldier gives to the dog at the end of the post shows the special bond the pair share.