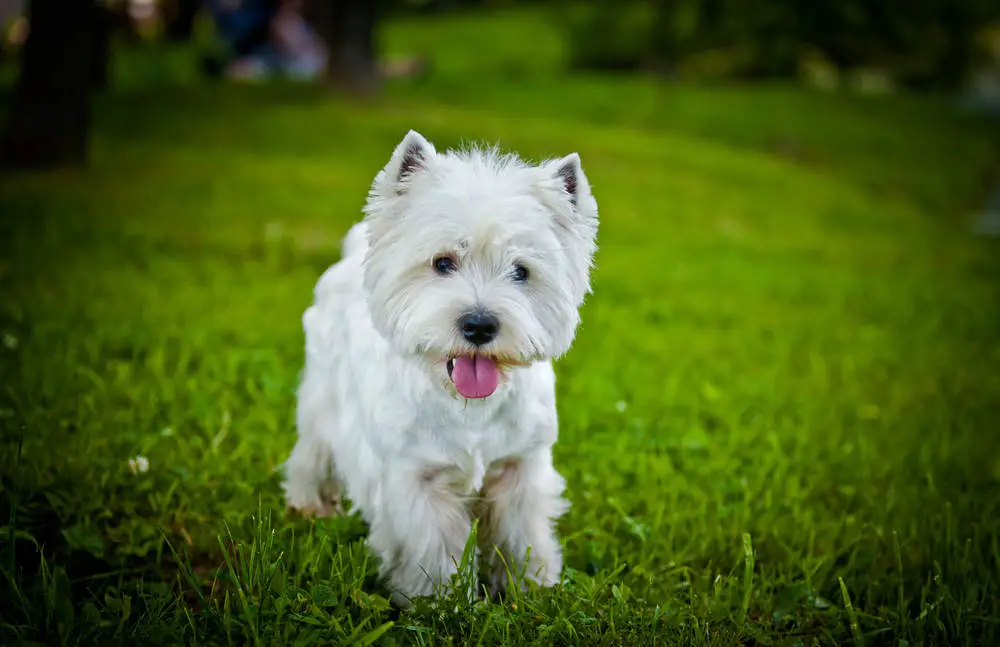 Westies are cute and adorable dogs and are among the most popular choices of pets for people living in small homes or apartments. And, if you've decided to bring home a Westie, then you must prepare for the arrival of them too.
In addition to all the grooming products, food, dog toys, harness and other supplies for your Westie, an important accessory needed for your furry pooch is a dog crate.
Westies like to have a private space, where they can relax without being disturbed, which is where a dog crate can be very useful. A dog crate can also help to housetrain your Westie puppy and prevent him from being destructive when left alone at home when you're away.
In this article, we'll give you a complete lowdown of some important features to look for when purchasing a dog crate, how to measure your Westie for a crate and also review some of the best options on the market that may work well for your pooch.
We Recommend These Products...
(As an affiliate, we may earn commissions from qualifying purchases.)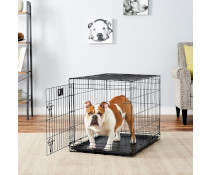 MidWest LifeStages Single Door Dog Crate
New Age Pet EcoFlex Furniture Dog Crate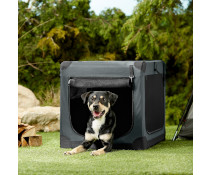 Frisco 3-Door Soft-Sided Dog Crate
Types of Dog Crates
There are essentially 4 types of dog crates available—metal crates, plastic crates, wooden crates and travel crates.
Metal Crates
These are the most popular types of crates because they are quite inexpensive. There are complete units or foldable ones, which can be folded down for convenient storage or transport.
The metal crate features a metal tray at the bottom which can be removed. A metal crate allows you to see your pet fully and has a door on one end or the top and can be locked. The crate may have one or two handles for convenient carrying.
Plastic Crates
Made of molded plastic, these comprise two pieces that are fitted together and have a metal door at the end which can be locked. Molded plastic crates usually have slots for ventilation on the other 3 sides and have a carrying handle. These crates are available in a wide range of colors and some models may also be foldable.
Wooden Crates
If you're looking for a solid, sturdy and durable crate for your Westie, then wooden crates are a good option. Not only do they work well for your pet but can also serve as a handy end or side table and they are suitable for any type of home décor.
Travel Crates
A crate is a legal requirement when you're traveling in your car with your pet and a travel crate is a perfect option. You can simply fold up the crate when not in use and store it in your car boot and set it up quickly while traveling. Travel crates are also required if you're traveling with your pet by air or sea.
Also Read: Best Harnesses for Your Westie
What Size Crate for a Westie?
When you're purchasing a crate for your Westie, an important factor to consider is the size. The crate you choose should be the right size for your Westie so that he can move around freely, turn around, eat, sleep and play, without touching the sides or feeling restricted. The crate should offer a den-like feeling for your pet and he should feel safe and have a good feeling about his crate.
Some dog crates feature divided panels that allow you to fit in a blanket or doggie bed. However, the crate should also not be too large for your Westie because too much space can make your pet feel anxious and he may end up soiling the crate. So, it is extremely important to find the best crate size for your Westie.
How to Measure Your Westie for a Crate?
Ideally, for a Westie, a 30-inch crate with the dimensions 30" (l) x 21" (w) x 24" (h) should work very well. However, before you purchase a crate, make sure to measure your dog and determine the proper dimensions.
For the length, using a tape measure, measure your Westie while he's standing from his nose to the tip of the tail. For the ideal crate length, add 2 to 4 inches to the length, depending on your Westie's size.
For the height, measure your Westie from the top of his head to the ground and if his ears are erect, then measure from the tip of his ears. For your Westie puppy, you don't want to keep changing the crate as she grows. So, it is a good idea to simply purchase a crate for an adult-size Westie and use a box or dividers inside it to reduce the size temporarily.
Factors to Consider When Shopping for a Good Crate for Your Westie
Purchasing a crate for your Westie is an important decision and apart from the size of the crate, here are a few other factors you must consider such as:
Purpose
The kind of crate you purchase will essentially depend on what you'll be using it for, whether you're planning to use it to crate him when you're away, for potty training, for travel or to crate him in the evenings.
Material
As we have discussed earlier, dog crates are available in various types of materials and each has its benefits and drawbacks. So, you must consider the qualities of each before deciding which type of crate will work best for your Westie. For instance, if your Westie puppy tends to chew things, then a plastic crate may work better than metal, wooden or fabric one.
Durability
Look for a dog crate that is sturdy, can withstand wear and is long lasting. Look for a crate that you can use to transport your Westie around if needed.
Space
The bottom of your pet's crate can be quite hard and cold for him and you may want to include some sort of padding or bedding in your Westie's crate, which will provide your pet a soft and comfortable space to lay down and also keep him insulated from the cold. However, you may have to choose a crate that is slightly bigger to accommodate your westie and his bed comfortably.
Also Read: Best Treats for Westies
Our Top 5 Picks for the Best Dog Crates for Westies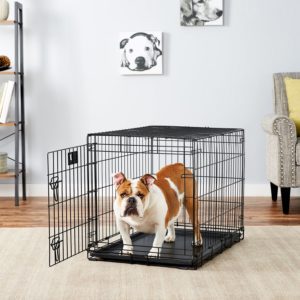 Made of strong metal, the MidWest Life Stages Dog Crate is designed to keep your precious Westie safe and comfortable. The crate is super easy to set up and folds down conveniently to a compact size easy for storage and transportation.
The crate features slide-bolt latches and rounded corners that keep your pooch safe inside while protecting your furniture from scratches.
The dog crate comes with a leak-proof plastic tray that allows you to clean up easily in case of an accident and plastic handles that allow you to move the dog crate wherever you want easily. The dog crate also comes with a free divider panel, which you can use while your Westie puppy is growing up.
What Other Dog Parents Think
Let's take a look at what other dog parents have to say about the MidWest Life Stages Dog Crate.
One pet parent who bought the product said that when it came, they found that the crate was exactly as described and was perfect for their pet. The divider is very useful and their pet will still have plenty of space when she grows up. The buyer said that the crate arrived quickly, was very easy to set up, simple but offered very good value.
The second pet parent said that the crate is very sturdy and well made. You can fold it down easily and put it together quickly. The divider is very easy to set up and keeps their puppy in place.
The third buyer said that the dog cage is perfect for their pooch to sleep at night and conveniently folds up to carry while traveling.
Pawesome Things about This Product
Strong and sturdy metal crate.
The foldable design makes the crate very easy to store or carry around.
The divider panel is very handy, especially if your Westie puppy is very young.
Not-So-Pawesome Things about This Product
The gauge of the crate wiring bends easily and could have been thicker.
Poor-quality latches.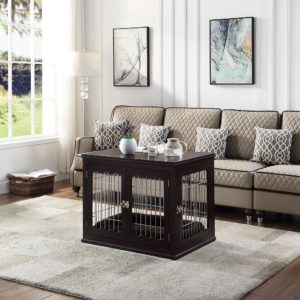 Not only is the Unipaws End Table Wooden Dog Crate a cozy hideaway for your furry pet, but also doubles up as a stylish piece of furniture in your home. This beautifully made wooden crate features a strong and sturdy frame with a secure wire panel. The crate is equipped with double doors in the front or a single door on the side that allow your pet to get in and out very easily and also makes it easy to clean the crate.
The open design ensures ample ventilation and gives you a full view of your pooch at all times. The crate includes a comfy removable dog bed that your lil' Westie is sure to love. The best part of the dog crate is that it is multifunctional and you can use it as a designer side table, end table or nightstand and makes a great addition to your home.
What Other Dog Parents Think
One pet parent said that the furniture crate is well made, easy to put together and reasonably priced. It fits in with their home décor very well and nice to place potted plants on top. Their pet loves the crate and so does the pet parent.
The second pet parent said that her dog got into the Unipaws crate right away. He has plenty of space to stand up and stretch. She says that the crate was easy to put together. It is good looking and she likes the doors on both ends.
The third pet parent stated that the crate was delivered very quickly and was easy to assemble. It is quite strong to withstand her feisty dog, looks very beautiful and she would say that this is a 5-star purchase.
Pawesome Things about This Product
Multifunctional crate works well both for your pet and also as an end table/side table/nightstand.
The removable bed offers extra comfort.
Provides excellent ventilation and offers your pet a 360-degree view.
Not-So-Pawesome Things about This Product
The doors can be easily opened by your dog.
The wires bend quite easily.
Cheap-quality latches.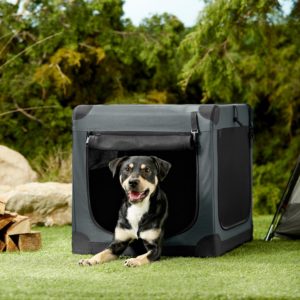 The Frisco Soft Dog Crate is a great on-the-go dog crate. Setting up the crate is extremely easy and quick and does not require any tools. The collapsible dog crate has 3 zippered doors that allow you to place the crate easily in your home, care, etc. and allows easy access for your pet. The zippers have locking clips to secure them and the side mesh doors of the crate feature straps that can keep the doors open when you roll them up.
The Frisco Soft Dog Crate has a solid and sturdy steel mesh frame, durable fabric and a water-resistant base and the crate can be washed very easily. Available in varying sizes from 21" to 42", the crate can fit dogs weighing up to 85 lb. All the sizes of crates are lightweight and have a carrying handle or shoulder strap for easy transport.
What Other Dog Parents Think
The 1st parent said that the Frisco soft crate was perfect for their pet, which they kept in the car. Their pet loves sleeping in the crate on long drives. The crate is super lightweight and easy to transport. The zip mesh windows are very easy for their pet to get in and out and they loved that it can be folded up and stored easily.
Another customer said that the soft kennel was what they needed for their pet. The quality is very good and it is very easy to set up and carry around. Perfect for their dog, the pet owner also loves the gray color, which they said fitted into the aesthetic of their home and that they love it.
The third buyer said that the soft crate is great for dogs that are light chewers and not prone to crate anxiety. The crate is very easy to clean. It is so lightweight that it is extremely easy to move around. The mesh is flexible and durable and while their puppy chewed through the canvas and zipper, he was not able to chew through the mesh.
Pawesome Things about This Product
Soft, foldable design makes the crate easy to carry around and store.
The crate is very lightweight and easy to set up.
The front, top and side zippered doors make it easy for your pet to get in and out.
Made of durable fabric, the crate is very easy to wash by hand.
Not-So-Pawesome Things about This Product
A heavy chewer can easily chew through the fabric and zippers of the crate.
The clips are quite flimsy.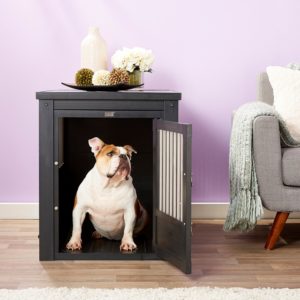 Made from a combination of reclaimed wood and recycled plastic, the New Age Pet Ecoflex Dog crate cum end table has an elegant design that seamlessly blends into any type of décor and looks very beautiful. The versatile dog crate doubles up as an end table and is equipped with a securely latched door to keep your pooch contained safely if you're away from home.
Suitable for dogs up to 80 lb, the dog crate has a stainless-steel latch and spindles made of stainless steel tubing. The eco-friendly, non-toxic wood and recycled plastic construction of the crate prevents it from cracking, splitting or warping.
What Other Dog Parents Think
The 1st pet parent who bought the product said that it is sturdy and well made. It is very easy to put together. The only drawback they faced was that the floor of the larger crate comes in pieces, which makes it tricky to clean in case the dog has an accident, whereas they found that the smaller crate with a single piece floor is much easier to clean up.
The second pet parent said that the crate was very easy to put together. It is very good looking and fits in with their décor and the dogs simply love it.
The third per owner said that their dog simply loves the crate, which is spacious and comfortable. The bottom of the crate does not have a grate, which makes it easy for their pet to lay down. And, it looks very nice in their living room next to the couch and can double up as a giant side table.
Pawesome Things about This Product
Made of eco-friendly materials.
Easy to assemble.
Easy to clean and maintain.
Not-So-Pawesome Things about This Product
Too flimsy, especially for larger dogs.
The latches cannot be locked into place.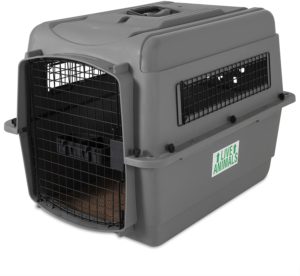 Made of durable plastic, the Petmate Sky Kennel Pet Carrier provides heavy-duty protection for your pet. The crate features extra-strong steel wire, non-corrosive wing nuts and a 4-way interlocking vault door that keeps your pet safe and secure. The crate has ventilation slots all around providing your pet fresh air and visibility from all around.
Perfect to take along on your travels, the portable crate comes with clip-on bowls, two "Live Animal" stickers and ID stickers. The raised interior, tie-down holes and wire vents ensure that your pet has a comfortable and safe travel experience.
What Other Dog Parents Think
One pet owner said that they have been using the carrier for around two years and it is still in good shape. The only limitation is that the door is very low and they need to lift the crate to open/close it when it is inside the car.
The second pet parent said that they love the crate, which is worth the buy to carry their pet from the US to Germany. The crate has plenty of room and their large dog was able to stand up, lay down and even turn around comfortably.
The third pet owner said that when they moved from the US to Columbia, they used the crate, which was the right size for their pet. The product met all the government and airline requirements and has solid construction at a very reasonable price.
Pawesome Things about This Product
Strong and durable crate.
Easy to put together.
Durable and good for travel.
Not-So-Pawesome Things about This Product
It comes with plastic nuts.
The door could be secured better.