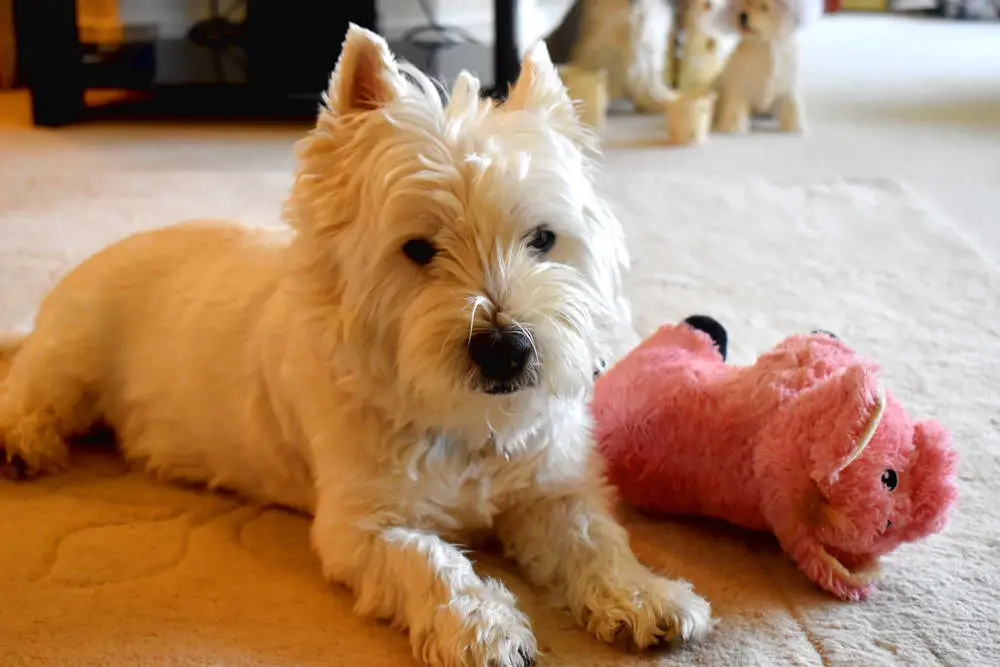 When you are looking for a toy for a Westie, there are lots of agendas on your mind. You need something that will keep them engaged. But you also need something that will stand the test of time and wear them out when you want it to. So, put together a list of toys that do more than just one thing.
Quick Comparison of the Top 5 Picks
(As an affiliate, we may earn commissions from qualifying purchases.)
Image

Product

Kong Cozie Marvin the Moose

Best Plush Dog Toy for Westies

Durable While Cuddly and Soft

Built-in Squeakers

3 Different Sizes Available

Frisco Hide & Seek Volcano and Dinosaurs

Best Puzzle Toy for Westies

Includes 6 Dinosaurs and Soft Volcano

Plush and Puzzle Toy in One

Keeps Your Westie Occupied

Pet Zone IQ Treat Dispenser Ball

Best Treat Dispenser Toy

Great for Mental & Physical Exercise

Adjustable Difficulty Levels

Easy to Clean

Benebone Bacon Flavored Wishbone

Best Westie Chew Toy

Easy and Comfortable For Dog Paws

Real Bacon Infused Into Toy

Ingredients/Sourcing/Etc. All US Based

Chuckit! Ultra Rubber Ball

Best Fetch Toy for Westies

Impressive Bounce

Extra-Thick Rubber Core for Durability

Works with Chuckit! Launchers
Here Are Our Top 5 Choices
Our top five choices cover toys that are entertaining, engaging for hours, interactive, tough although not unbreakable. That last part should not be discouraging because really, there is no such thing as an indestructible dog toy and anyone who says otherwise is playing it fast and loose with their marketing strategy.
We put together a bunch of these to help you pick something that will suit your specific needs. Whether you are looking to bond with your West Highland White Terrier or tucker them out, we got your back. Let's begin.
Kong Cozie Marvin the Moose Plush Dog Toy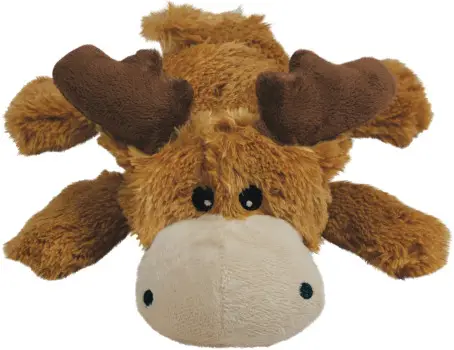 The first of our choices is one of the cutest and softest dog toys you will find in the market. This is a product that will make sure that you and your canine buddy have a good time for sure. The toy is from a company called Kong and it is extra tough—the toy, not the manufacturer.
Whether you want to play fetch with your little buddy or want a comfort toy, you are going to like this one quite a bit. And it is only one of their 10 awesome Cozie characters so you have plenty of options if you want to look around. And it is made for you to fall in love with it. Don't say we did not warn you!
This is a plush toy of a moose that is medium sized and has an extra layer of protection which allows for a little roughhousing. But it goes come in two other sizes if you want some choices. So, you and your furry friend are going to like this one a little extra too.
Also Read: Top 11 Westie Dog Food Picks
Pawesome Things About This Product
Cuddly and soft with some extra protection which makes it durable
Does not have too much filling which means a little less mess wherever you play with it
Added excitement when compared to other dog toys thanks to the little squeaking sound it makes
Comes in three different sizes which gives you one more option than you would look for
Not-So-Pawesome Things
You want to keep a close eye because it's durable but not meant to be treated too carelessly
Needs a little human supervision because it might break into pieces if you treat it like a chew toy
Not meant for chewing because it comes with a choking hazard
Frisco Hide and Seek Plush Volcano Puzzle Dog Toy
Our second recommendation is from a manufacturer called Frisco. This is not just a toy but also a puzzle, the good kind. Your dog and you will enjoy game time with this one in the house because apart from being plush it also makes way for hide-and-seek types of games.
And it also comes with a volcano and dinosaurs. Like kids, dogs love those things even though we have no idea if they will enjoy Jurassic Park. But the idea is for you to stuff it in the volcano so that you and your dog can have fun pulling it out bit by bit.
As mentioned earlier, you will also find six different dinosaurs. What we didn't mention right away is that the dinosaurs squeak when you play with them which makes playtime all the more exciting.
This toy is not just meant for your dog to pass time and avoid boredom but also to stimulate their mind. It encourages them to think and play while the two of you bond.
Get the squeaking going and you will have your little buddy's attention in no time. The toy is also snuggly and soft which means there isn't too much risk of accidentally getting hurt. That's always a relief, right? And did we mention that it is extra cozy which means it's a great companion when your pooch wants to a little nap?
Pawesome Things About This Product
Helps you design fetch and retrieve games that keep your pup's mind occupied
Allows you to get your dog's attention thanks to the squeaky feature
Great way to interact and also bond with your dog for hours on end
Plush toy that doubles as a puzzle toy with six dinosaurs and a soft volcano
Not-So-Pawesome Things
Not a good choice if your dog is a heavy chewer
Not indestructible so you might want to supervise the dog while they are playing with this toy
Can lead to internal blockage because it is a choking hazard
Pet Zone IQ Treat Dispenser Ball Dog Toy
This third option is from a company called Pet Zone and it is designed to be an interactive toy. You absolutely want to consider getting this one if you are looking for a toy that can dispense treats.
A lot of people try these kinds of toys when their dog is still in the training phase. But if you want to keep it simple and use it as a regular toy, well, it works just fine for that too. So, get your game faces on and have some fun.
This dispenser toy ball allows you to stuff it with some of your Westie's favorite treats and the activity is meant to entice them to follow the commands you are about to teach them. That's what a lot of people do anyway but it is up to you how you use it.
All you need to do is fill the ball. You can also pick a difficulty level based on the age and intelligence of your dog which is a great option to have. You can also move the levels back and forth depending on what you are trying to achieve which is excellent flexibility. Trying to retrieve the snacks is a great way for a dog to challenge themselves and you will have the joy of watching your little buddy learn and grow.
This ball toy is a great way to get some mental and physical exercise for your dog. It will make the dog happy but will also keep them busy which is important when it comes to certain breeds because they need to be engaged so that they don't rip apart the furniture around your house.
Pawesome Things About This Product
Good toy to prevent boredom, destructive behavior and anxiety
Comes with the option of stocking it up with rewards which is helpful in training
Great size for Westies
Comes with adjustable difficulty levels which is a good learning tool
Can be cleaned easily with just soap and water
Not-So-Pawesome Things
Not an indestructible toy
Not meant for chewing and rough play
If it starts to disintegrate it is no longer fit or safe for play time
Benebone Bacon Flavor Wishbone Tough Dog Chew Toy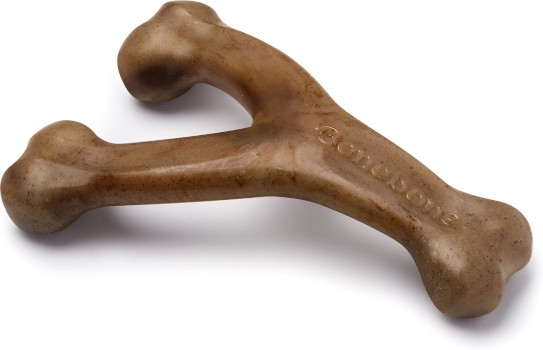 If you were looking for a chew toy, we've got an excellent one for you. This one is from Benebone and it is a tough chew toy with bacon flavor. It is made with nylon which is durable. And for those of you who want US-made products, this toy checks that box too. By the way, the bacon is sourced from the US too.
The toy is an ergonomic wishbone which means the shape is friendly to the paws of your dog and they will find it easy to maintain their grip on it. It has prongs that give the toy some grooves.
Dogs like that because the flavor has seeped into them and they can chew on it for many hours. The grooves and ergonomic nature should also make you feel better because they won't cause any problems even by accident.
And here's the icing on the cake. A portion of the money you spent will be contributed to animal welfare in the US which should make you feel better once again.
Pawesome Things About This Product
Has an ergonomic design which makes it easy and comfortable for your pooch's paws
Good grip and deep flavor will keep the dog engaged for a long time
The manufacturer uses real bacon which is fused into the whole toy which makes chewing on it a delight for the pup
Ingredients, their sourcing, packing and tooling are all entirely done in the US
Not-So-Pawesome Things
Not meant for dogs or people in the house who are allergic to nuts and especially peanuts because it is made in a factory that also processes nuts
While it is mostly harmless, the chew sessions must be supervised by a human
Do not use this toy after it is significantly worn out because it might be risky for your pooch
Chuckit! Ultra Rubber Ball Tough Dog Toy
And finally, here is the very adorable and very tough rubber ball that will bring anyone who plays with it a lot of joy. This, of course, includes your pup. It's an excellent toy ball for dogs because it is surprisingly bouncy in nature. If you try to hit the ball like you are playing baseball, you will be surprised at how far and high it can go.
But don't let your canine see that because they might never get over it. It's a great toy for those who have dogs that need a lot of exercise and you are having trouble keeping up with all the running around.
It is made of natural rubber which means you can wipe it off with ease and if you throw it accidentally or intentionally into the water, you will only see it float up with ease. If you have a launcher, you don't have to worry about the size because this one fits right into most, if not all, of them.
Pawesome Things About This Product
The impressive bounce feature makes it a good choice to play for a long time
Specifically meant for those who want a toy to play fetch for hours
Has an extra-thick core made of rubber which makes it durable
Floats when thrown into the water
Not-So-Pawesome Things
If it starts to wear off you are better off with a new one
Can be a choking hazard once it starts getting old so you need to supervise playtime
Not meant for too much roughhousing even though it can take a few big hits
Also Read: Best Dog Crates for Westies
Wrapping Up
There are lots of ways to get a dog excited or keep them engaged. But it's something else when you have a little help. Usually, that is a well-designed toy and has a purpose. These choices above have been made with exactly that in mind.
Whether you are looking to have a good time with your buddy or trying to keep them off the furniture or attempting to train them, there is something for you on this list. Hopefully, you liked them.