We like to keep our canine buddies on a collar and leash. But if you have a small dog like a Westie, collars can be a bit rough on their little necks.
A harness, on the other hand, sits around your dog's body and has a leash near the shoulders. This takes the pressure off your pet's neck and a load off your mind.
There are many kinds of harnesses and not all of them work for a Westie. So, we put together a short guide to help you find a good harness.
We Recommend These Products...
(As an affiliate, we may earn commissions from qualifying purchases.)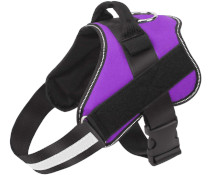 Bolux No Pull Dog Harness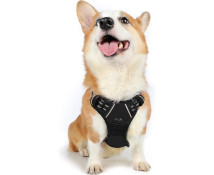 Rabbitgoo No Pull Harness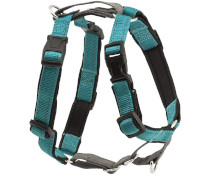 PetSafe 3 in 1 Dog Harness
Buying Guide for a Westie Harness
A lot of people prefer a harness while walking their dog. Apart from discomfort, collars also put tension on the dog's neck and lead to problems with their trachea.
Instead, a harness distributes the weight evenly on the Westie's chest. It also does not restrict the dog's breathing or damage tissues in the neck if they have a tendency to tug too hard.
Types of Harnesses
There are many different types of harnesses that suit the body type and behavior patterns of a dog. Let's see which one suits the Westie best.
Standard harnesses are the most common ones. They distribute the force of the leash evenly on the chest and back of the dog. This is a good choice for small dogs. It is a terrible idea for large, boisterous pooches because a harness lets them pull too hard against the leash.
Back-clip harnesses have a D-ring on the back between the shoulder blades to attach the leash. This gives you more control than a leash by creating one anchor point for the dog. These are also good for small dogs or dogs with neck injuries or breathing problems. But if you have a dog that pulls excessively this is not for you. It is also not suitable for large dogs with a high prey drive or little training or generally dogs with a lot of power. But these harnesses offer less control than front-clip harnesses. So, it might not be best for Westies since they have a high-prey drive.
Front-clip harnesses have the D-ring on the front in the middle of the chest. This allows you to control more of the dog's movement and direction in the front. No-pull harnesses also have a front clip and are good for dogs that pull and jump quite a bit. They are also great for dogs that are easily distracted when walking which might be the case with a lot of Westies because of how excited they get when taken outdoors. But if your dog is aggressive or has uncontrolled prey drive this is not for them. If your Westie is well trained and can control their prey drive then this will work.
Dual-clip or multi-clip harnesses have D-rings in the front and back. Some have more than two D-rings. In the past, this was used only by dog trainers but now everyone is getting them. They are expensive and some dogs may find them uncomfortable. These are also said to create over-dependency issues. The best way to use them is for a short term during training.
How to Measure for a Harness
Measuring is very important but also quite easy.
If the harness is too loose, it does not give you the control you need and if it is too tight, your Westie is going to be uncomfortable or in pain and might risk injuries.
You need to get the measurement of your Westie's lower neck and chest before browsing for a harness. You can do this with a soft measuring tape or a cloth tape.
Get the lower portion of your Westie's neck first. Then place the tape above the breastbone and take it around the back of their neck.
Measure the widest part of their chest, which is usually just behind their front legs and around their back. Some manufacturers talk about girth in their specifications which is the same as the widest part of your Westie's chest.
Take pinching and chaffing into account by allowing no more than two fingers of space between the dog's body and the strap of the harness.
If you find harnesses based on weight, avoid those because that does not take fit into account.
Related: Top Rated Westie Dog Beds
Our Top 5 Picks for the Best Harness for Westies
To make your browsing easier, we have put together some of the best harnesses available for Westies. Take a look at our top five picks.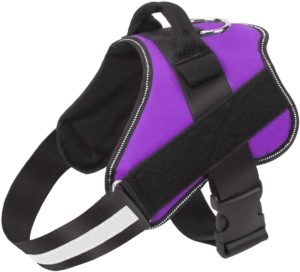 This harness is for medium-sized dogs with neck girth of 16 to 20 inches and chest girth of 19 to 24.5 inches. It is evenly distributed and has an adjustable chest strap with a snap-on buckle too.
The harness is made of breathable materials and can be customized to fit your dog as it is growing. It has a rugged nylon handle which is sturdy and has reflective straps so that your pet is visible at night too.
You can use this for everyday walking, training and running but also when you go hiking, hunting or on other outdoor adventures.
What Other Dog Parents Think
Don't take our word for it. Hear from the others who bought this product.
One user said they bought this because their dog has had a collapsing trachea for a year and they had to stop taking her out for walks. They were managing with a fenced yard for a while, when this one arrived. It fit very well and there was no choking or coughing during the walk.
Another buyer said they got two of these which arrived on time. The product was easy to adjust and easier to put on the dog than any other harness. They tested the security on their rather reactive Labrador and it held up well. Their dog was comfortable and adjusted to the harness without making a fuss.
A third buyer loved the design and particularly the reflective stripe. They said the harness was sturdy and that their dog was comfortable in it.
Pawesome Things about This Harness
Made of breathable and comfortable materials
Sturdy and secure handle
Easy to clip on the dog
Not-So-Pawesome Things about This Harness
The quality of Velcro is not the best.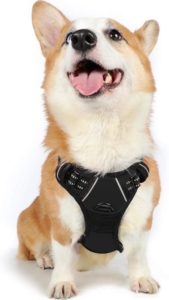 This one comes in many sizes and colors. The medium-sized harness has a neck girth of 14.8 to 19.7 inches and chest girth of 19.1 to 29.3 inches. You can refer to the size chart to be sure.
It is a non-pulling harness designed for safer walks and the chest clip does a great job in helping you with that. The back clip comes in handy when you're on a causal walk, jogging or hiking.
The harness is easy to use thanks to the two fast-release buckles. And there is a top handle for extra control.
It has two neck straps and two chest straps that are all adjustable and create a perfect fit. It is made of nylon oxford and has padding too.
There is a breathable air mesh to keep your pet cool and also has bright reflective strips.
What Other Dog Parents Think
One user said that they noticed a big difference in their walks after getting this harness. Their dog used to pull and choke quite a bit which was painful to watch. But this harness, they said, brought "a dramatic difference" in their dog's behavior.
Another user said their dog used to pull relentlessly. But they used this harness and clipped the leash to the front and that changed a lot. The dog eventually stopped pulling and it has been "amazing" ever since.
A third buyer said that they got the large size for their hairy Husky and it fit really well. They have loved the design and the fit. They called this harness "a game changer". They also said the size chart is quite accurate.
Pawesome Things about This Harness
It is durable.
Has extra metal leash rings
Safe and comfortable for the dog
Not-So-Pawesome Things about This Harness
The rear connection point is thinner than the front.
A bit more expensive than the competition.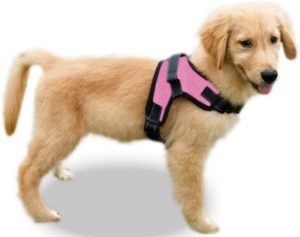 This affordable harness is a medium-sized one with a 21 to 25-inch chest girth and a 17- to 19.5-inch neck girth. Now, these are approximate measurements and the seller specifies that you should call them if you are unsure.
It's an anti-pull harness that puts no stress on the neck. It is filled with sponge and is great for dogs that pull.
It is comfortable and designed for walking, jogging, hiking and even training. There are clips around the neck and chest which give you more control.
This adjustable harness is made of breathables mesh material that keeps your dog in full control. There is also a handle to make that happen.
What Other Dog Parents Think
One buyer said this is the best harness they have bought so far. They said the build is solid and the harness itself is lightweight. They also found it easy to put on their dog with special love for the latch size and the handle.
Another buyer said this harness is made well and the design is great. They did a "ton of research" and settled for this one. They had a slight problem with the sizing but that's why you might want to contact the seller before placing the order.
The third buyer said this was the fifth harness they tried and quite like the breathable material as it was great for long walks and hikes. Their dog is a "major puller" but the harness did not give in. They also found the reflective strip helpful and the handle on the back "wonderful".
Pawesome Things about This Harness
Great for dog parks and outdoor wear
Safe and secure walking
Easy on and easy off
Lightweight and breathable
Not-So-Pawesome Things about This Harness
Sizing is not very accurate.
It has only one clip for the leash.
The latch is made of plastic.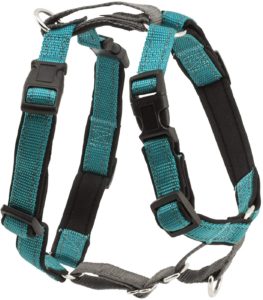 This is a great 3-in-1 harness which is meant to stop your dog from pulling. There is a vertical martingale loop and a D-ring clip in the front to make that happen.
The harness puts no pressures on the throat, stopping your pet from choking, gagging or coughing. It is useful even when your canine is in a car or truck or an SUV.
There is a gray seat belt handle which is an adjustable car control strap. You can use this when you're running or jogging with your Westie.
It has a reflective nylon strip for better visibility and a soft padding to keep your buddy comfortable. The harness has five adjustable points to help you create a custom fit.
What Other Dog Parents Think
One dog parent said their puppy in training is quite the puller. So, they were looking for a harness that wasn't too bulky and found this. They liked the front and back attachments along with the reflective strap. They "fell in love" with this one.
Another buyer said they loved the reflective stitching because of how bright it was. They also loved that the dog doesn't have to step into this harness which could've been tricky because their pup had a surgery. They really liked the buckle attachments.
A third pet owner said they were initially skeptical about this product but the fit was perfect and it slowed their dog down quite a bit giving them a chance to correct its behavior. They said this was the best harness they ever bought and the many adjustments were just great.
Pawesome Things about This Harness
It's a three in one harness.
Decreases pulling
Easy to set up and safe for use.
Not-So-Pawesome Things about This Harness
The metal piece connecting the loop and the strap is a bit big.
The loop stretches a little more than needed.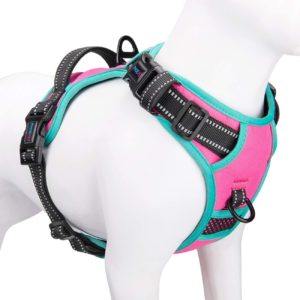 This harness has three snap buckles on it which makes it easy to put it on your dog. There are two sturdy metal loops where you can attach the leash.
You can use the front hook on the chest to reduce pulling but don't count on it. However, it does make walking with your pet a lot more enjoyable.
If you don't find it comfortable, you can always use the back hook. The harness comes in a variety of sizes which you should check before placing the order.
What Other Dog Parents Think
One buyer said it fits the chest and neck "perfectly". They bought the medium size harness which not only fits the pup well but has a lot of room for when the canine grows up.
Another buyer said they liked this model because the harness did not have to go over the dog's head. But they said the harness had a "good fit and finish", it was "easy to adjust" and the metal hardware also had "good finish".
The third buyer has bought this a second time because the new version doesn't have to go over the pup's head. They found it durable and pretty looking. The pet owner also said the handle at the back was "quite useful" in controlling their dog's lunges.
Pawesome Things about This Harness
Easy to put on and remove.
It is adjustable.
It's reflective material is a big hit.
The handles are soft and functional.
Not-So-Pawesome Things about This Harness
The extra buckle can be inconvenient.