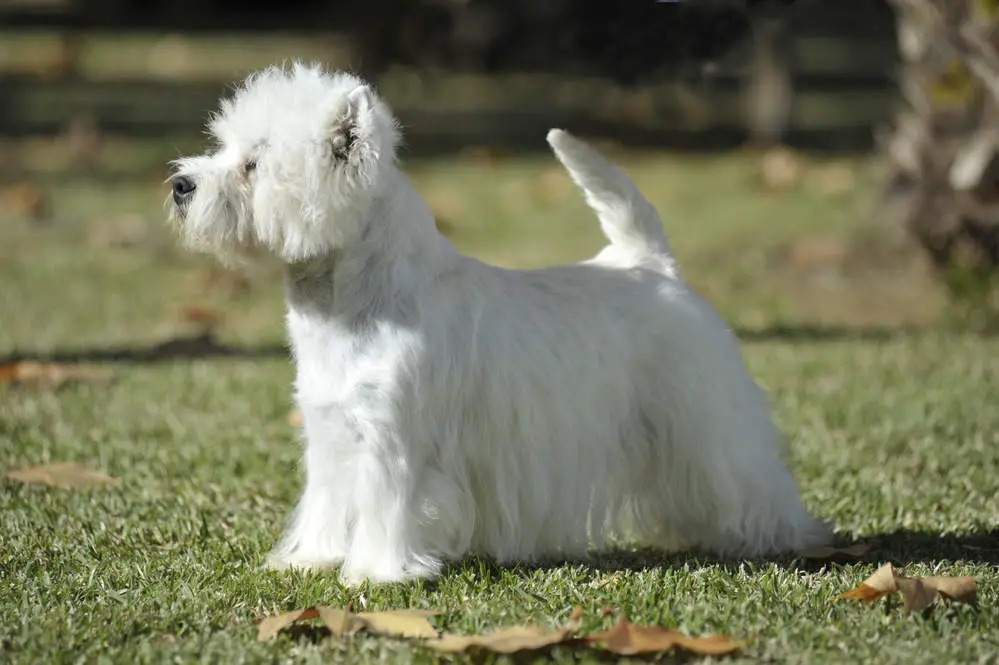 Popular with pet owners, Westies are cute dogs characterized by their snow-white coats. The double coat of the Westie comprises a coarse and tough upper coat, which helps to shield against dirt and also repels water, while the undercoat is quite soft.
This coarse double-layered coat requires routine and specialized care to ensure that your pet is looking his best at all times. Regular grooming is required, especially during the summer months, which means that your Westie needs professional grooming 5 times a year at least, apart from frequent baths and trims.
As a Westie parent, you may realize that taking your pooch to the professional groomer very frequently can be an expensive proposition and you may decide to groom your furry pal on your own at home. If you plan to do this, then you will require good-quality clippers that can handle your pet's grooming needs.
To make things easier for you, in this guide, we have compiled a list of the best clippers for Westies along with their features, pros and cons and a buying guide. So, read on to know more.
We Recommend These Products...
(As an affiliate, we may earn commissions from qualifying purchases.)
Andis AGC2 UltraEdge 2-Speed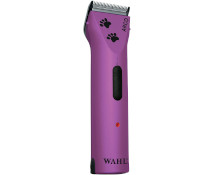 Wahl Arco Pet Clipper Kit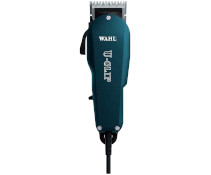 Tips to Help Groom Your Westie
The Westie's rough coat gets dirty and tangled very easily and it is extremely important to brush your pet daily using a brush with firm, closely spaced bristles. This helps to prevent your furry pet's fur from getting matted and also helps to reduce shedding.
Brushing your Westie regularly can help to reduce the number of baths he needs because over-bathing your pet can cause his skin and hair to dry out. So, it is recommended that you bathe your Westie only when it's an absolute must. Avoid using human shampoo for your Westie, as this can damage both your pet's skin, as well as his health.
To keep your Westie well groomed and cute, trim his hair every 4 to 6 weeks. This will also help to prevent the hair from falling into his eyes. To trim your Westie's hair, you need to use clippers that are designed specifically for the job and to trim the hair close to your pet's face, you can use a pair of scissors.
What to Look For in Westie Grooming Clippers
If you're planning to purchase clippers for your Westie, then here are a few things to consider.
Blades
This is the most important component of a clipper. When purchasing a clipper make sure that the blade is of high quality, preferably of high-carbon stainless steel, which is gentle on your pet's skin and will not cause any rashes or allergies. The blade should be hard, sharp and durable so that you can cut or trim your Westie's hair easily and quickly.
Size of Blade
When purchasing a clipper, look for the number of blades because the more the number of blades, the closer and finer the cut. However, you must take care to leave enough hair so that your pet is adequately protected from the elements. Keeping your Westie's hair longer during the winter months can help to insulate him and protect him from the cold. For a Westie, a clipper with blade size No. 10 or No. 15 should be fine.
Detachable Blades
Purchasing multiple clippers is not practical and so, it is a good idea to look for one that is compatible with several types of blades. The clippers you purchase should have detachable blades and allow you to change and clean them quickly and easily when required.
Motor
The clipper should have a good and powerful motor that works well in grooming thin, as well as thick matter hair. The torque of the motor should be sufficiently high so that it can handle heavy-duty use and wear and tear.
Speed
Look for a clipper that has changeable speed. This allows you to trim close to your pet's face without harming or causing him any injury.
Size and Weight of the Clipper
The size of the clipper and its weight can make a huge difference in comfort while you're trimming your pet's hair. The clipper that you purchase should have an ergonomic and lightweight design with an anti-slip grip, which will enable you to use the clipper for a long time without getting tired.
Durability
The clipper you choose should be sturdy and durable. It should be made of high-quality materials that can withstand wear. The casing of the clipper should be strong and shatterproof, ensuring that it delivers long-lasting and effective performance.
Quiet Design
The clipper should be quiet and not make a lot of noise when in operation because your Westie can get startled and scared of a loud clipper. Also, look for a clipper whose motor produces very low vibrations, which makes the entire trimming and grooming process a comfortable experience for your Westie.
Easy to Clean
The clipper you purchase should be easy to clean after trimming your pet's hair because if any hair remains on the blades, the clipper will not work properly and can damage your Westie's coat.
Cordless
Look for a cordless clipper as this can be more convenient and handy compared to a corded one. A cordless clipper will allow you to use it anywhere you want, even if there is no electric outlet around. Also, recharging the battery of the clipper is quite easy.
Also Read: Best Treats for Westies
Our Top 5 Picks for the Best Clippers for Westies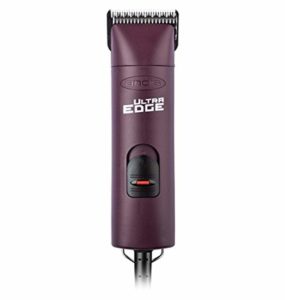 The Andis AGC2 UltraEdge is a professional detachable blade 2-speed clipper. Designed for super-quick cutting, the clipper has 2 speeds—4,400 and 3,400 spm. The clipper has a powerful and durable sealed 2-speed brushless rotary motor that helps to prevent stalling or dragging, making the toughest cutting very easy.
The detachable blades of the clipper can be removed and changed easily without any tools and deliver a smooth, clean cut. The clipper features a locking switch that helps to keep the blade secure and is housed in a sturdy, shatterproof casing and the internal parts are maintenance-free and do not require any greasing or oiling.
The clipper has a 14-inch heavy-duty cord that enables easy movement. The quiet operation of the clipper will not startle the most sensitive pooch. The clipper comes along with a 10-inch blade and blade oil.
What Other Dog Parents Think
One pet parent said that with the old clippers they had, it would take around two hours to trim their dog's hair; however, cutting with the Andis AGC2 UltraEdge is quick, easy and butter smooth. They had their dog groomed in just 30 minutes. The user said that the cord of the clipper is sufficiently long and the clipper works very quietly and that they are extremely happy with their purchase.
The second pet parent said that their dog has thick hair and the clippers glided through the thick fur easily and smoothly.
A professional dog groomer who purchased the clipper said that the Andis AGC2 UltraEdge clipper works great offering very smooth cuts. It is not noisy and runs silent, which is a good thing, especially for nervous dogs. And, they recommend buying the clipper.
Pawesome Things about This Product
Works very quietly.
The cutting is very smooth.
The blades and drive cap are easy to detach and clean.
Very easy to use.
Not-So-Pawesome Things about This Product
The clipper gets hot quickly.
Clipper does not come with combs.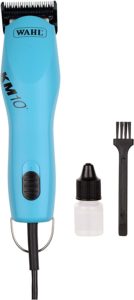 Now you can take care of your Westie at home with the Wahl KM10 Professional Dog Clipper. The 2-speed heavy-duty, professional clipper can handle the toughest dog coat effortlessly. The Wahl KM10 offers maximum torque and power and constant speed control, delivering more power when you're using it to cut thick and matted hair.
The powerful brushless motor has a cutting ability of 3,000 spm or 3,700 spm. It runs quieter, cooler and is long lasting with a life of around 10,000 hours. The ergonomic, lightweight design of the clipper and low vibration offers superior control and comfort and also reduces wrist fatigue.
The clipper works very quietly, making it suitable for dogs that are sensitive to noise. The clipper features a rounded front casing, which prevents the animal hair from clogging in it.
What Other Dog Parents Think
The first pet parent said that the clipper is very good and cuts through their pet's thick hair effortlessly. The clipper is very quiet compared to others and the vibration is also very low. The clipper is lightweight and easy to hold and the cord is quite long.
The second buyer said that the clipper is a great product and cuts very smoothly. The low noise level when cutting was especially good for her pet who has anxiety. The buyer said that she was very happy with the look and feel of the product. The clipper is quite lightweight and easy on the wrist and the blade can be removed and attached very easily. The only drawback was the price, which the buyer said was high, but the product is worth the price.
The third pet owner said that she has been using the clippers for over 20 years and that they are the best. They do not heat up quickly, run very quietly and are worth the price.
Pawesome Things about This Product
Lightweight clipper.
Cuts through the hair easily, smoothly and quickly.
Runs very quietly.
Comes with a 5-year professional warranty.
Not-So-Pawesome Things about This Product
Quite pricey.
The cord of the clipper is quite flimsy.

The 5-in-1 Wahl Arco Cordless Pet Clipper Kit offers a reliable way to keep your Westie well groomed at all times. The versatile cordless clipper is lightweight and can cut easily through most types of coats. The clipper is equipped with a maintenance-free motor and the clipper is very easy to clean, allowing hassle-free grooming.
The clipper features a 5-position blade that can be adjusted easily and allows precise cutting and trimming, even hard-to-reach spots like faces, ears and paws. The clipper comes along with two rechargeable NiMH batteries that have a runtime of around 80 minutes.
The battery takes 75 minutes to charge fully. The clipper kit includes the clipper, 5-in-1 blade set, two rechargeable batteries, a charging base and charger, a soft zippered storage case, a cleaning brush, four snap-on guide combs, an instruction booklet and blade oil.
What Other Dog Parents Think
One customer who bought the Wahl Arco Cordless Pet Clipper Kit said that the clipper is awesome. It is extremely comfortable in the hand and not loud when clipping. It comes along with two batteries and the charging time is very fast. The blade cuts well and does not clog. The customer said that they are very happy with the purchase and recommend it.
The second pet owner said that they love the clipper kit. It is well made, feels comfortable in the hand, is easy to use and works very well, even in tight spots. The clipping is done much faster and their dog looks really good.
The third pet parent said that the clippers were quiet, easy to use and did a great job of trimming her pooch's thick hair. The fact that the clipper is cordless and also has an extra battery was a big plus for the buyer. She said she loved the purple color of the clipper and it is very easy to hold in her small hands.
Pawesome Things about This Product
Cuts and trims very smoothly.
Good, compact size.
The clipper is very comfortable to hold.
Works very quietly.
Not-So-Pawesome Things about This Product
The batteries don't hold the charge for very long.
The blades are not very sharp.

The heavy-duty Oster A5 Turbo 2-Speed Pet Clipper is a professional corded clipper, which offers an easy, quick and efficient way to groom your Westie. Equipped with a powerful rotary motor, the clipper has 2 speeds 3,000 spm and 4,000 spm, which you can change with just a push of a button.
The sturdy clipper is virtually unbreakable and can handle coarse, thick hair easily and efficiently. The clipper comes along with a No. 10 CryogenX blade, clipper grease, blade oil, replacement carbon brushes and a cleaning brush. With wider sweeps of the blade, less noise and better airflow, the Oster A5 Turbo is very versatile and offers a good grooming experience for pet owners, as well as professionals.
What Other Dog Parents Think
The first pet owner who bought the Oster clipper said that it is a superb product and easy to use. The only drawback is that it gets pretty hot after around 20 minutes of use. You need to keep cooling spray handy. But overall, they are very happy with the clipper.
The second buyer said that the clipper is great although it is quite loud, heavy and gets hot very fast. You need to purchase a cooling spray to keep the blades cool.
The third customer said that the clipper is nice and heavy-duty and gets the job done. The only limitation is that it is quite heavy.
Pawesome Things about This Product
Strong and durable clipper.
Cuts hair effortlessly.
The cord is thick and long.
Easy to disassemble and clean.
Not-So-Pawesome Things about This Product
Heavy and chunky.
Expensive.

With the Wahl U-Clip Pet Clipper, you can get a professional-looking cut right at home. The clipper has a heavy-duty motor, which delivers 7,200 spm and also prevents overheating. Kitted out with high-performance steel blades, the clipper is perfect for clips and trims medium to fine coats very easily.
The sturdy blades are durable, long lasting and easy to clean. The ergonomic design of the clipper makes it easy and comfortable to hold. The clipper kit includes a clipper, 4 attachment guide combs, styling comb, cleaning brush, red blade guard, blade oil, 6-inch storage case and an instruction booklet in English, French and Spanish.
What Other Dog Parents Think
The first pet parent bought the clipper to groom her Westie and it worked very well to cut her thick fur effortlessly. The owner said that the motor is nice and quiet and did not scare her pet. She said that she's very pleased with the product and highly recommends it.
The second buyer said that the clipper is awesome and she used it to trim her pet and it worked perfectly. She found it very easy to use and it cut through the thick fur of her pet easily.
The third pet owner claimed the clipper worked very well for her. It was very easy to handle and use.
Pawesome Things about This Product
Not very noisy.
Easy to use.
Easy to clean.
Good for the price.
Not-So-Pawesome Things about This Product
Quite heavy.
Gets quite hot.