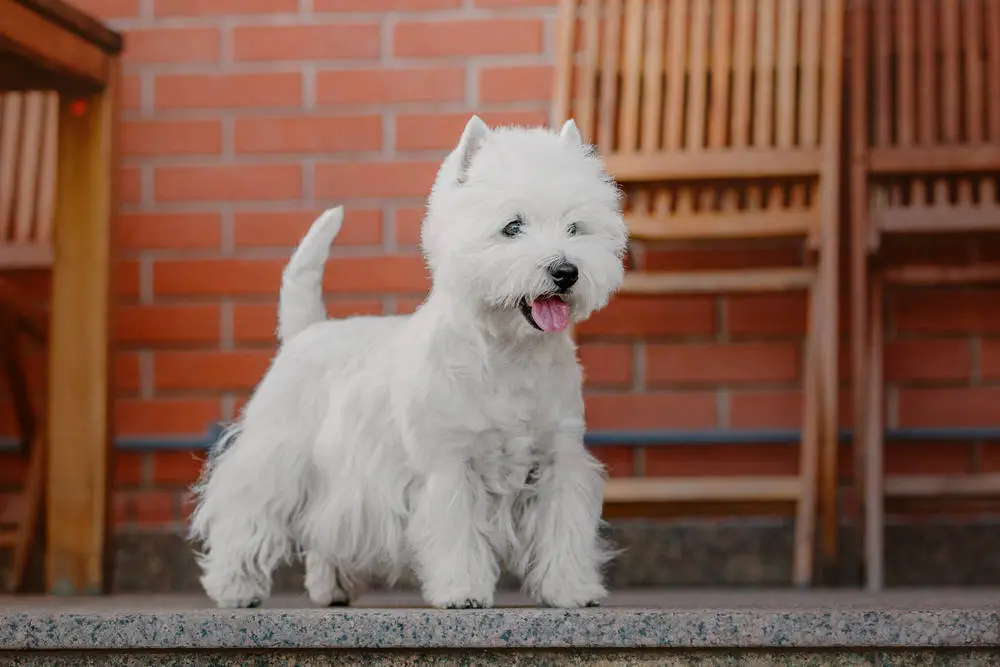 There's nothing as adorable as a well-groomed West Highland Terrier. If you love the way your Westie looks after a brand-new haircut but don't want the hassle of having your dog professionally groomed, a good brush can get you the same results without the stress.
There are tons of brushes out there, but not all are good for Westies. Read on to learn what you need in a brush and check out our favorite picks!
We Recommend These Products...
(As an affiliate, we may earn commissions from qualifying purchases.)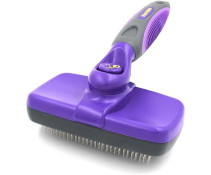 Hertzko Self Cleaning Slicker Brush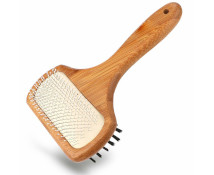 KylePet Double-Sided Dog Brush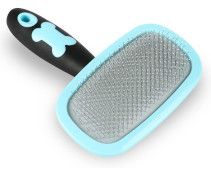 Tips and Tricks to Finding the Right Brush for Your Westie
Unfortunately, not all brushes are created equal. The wrong brush can leave your poor Westie feeling uncomfortable, overly sensitive, or even pained. Not only is this a problem for your dog's mental state, but it also makes it a lot harder for you to establish a regular brushing routine.
If you're worried about finding the perfect brush, the good news is that it only takes a few simple factors to narrow the field. While there are literally thousands of brushes available on the market today, take a little time to study your choices, and you'll be sure to find the best brush for you and your Westie.
How to Choose The Right Brush
As a general rule, you want to look for a hairbrush that suits you and your dog equally. On your part, this could mean looking for a brush with an ergonomic handle or one that fits in your hand comfortably. For your Westie, however, you may need to consider other factors.
The material of the bristles can go a long way towards helping your dog feel comfortable and relaxed during a brushing. Look for bristles that are relatively soft and won't poke or scratch your Westie's skin.
Look also for brushes that have a durable head. Once you've found a brush that you really like, you're going to want to keep using it for as long as possible. A durable brush will keep your Westie sleek and shiny for years to come!
Advantages of a Really Good Brush
As mentioned briefly above, a good brush will keep your dog happy and healthy for a very long time. Especially in smaller breeds like West Highland Terriers, a dog's coat can trap a lot of dirt, dust, and dead skin cells. While most dogs are able to clean themselves to some extent, it never hurts to give them a helping hand!
Brushing your dog's hair with a high-quality brush can help to evenly distribute the natural oils that a dog's skin produces. By removing the excess hair, dirt, or dust, you're helping your dog's skin breathe! This can severely reduce your Westie's risk of developing irritating skin conditions like folliculitis or impetigo. Your dog will not only look cleaner and happier, but they'll certainly feel a lot cleaner and healthier, too!
Related: See Our Westie Bed Reviews and Buyer's Guide
What to Look For When Buying a Brush for Your Westie
When dealing with West Highland Terriers, specifically, there are a few things to look for in your brush. Westies have a double coat, which means that they actually have two layers of fur and are relatively prone to shedding. As a result, you may want to look for a brush that's specially rated for de-shedding or de-matting fur. You may not be able to stop your Westie's shedding completely, but you can cut down on the amount of hair around the house.
Additionally, your brush should be rated for sensitive skin. West Highland Terriers are especially prone to developing dermatitis and other inflammatory skin conditions, and a brush that's too harsh will make any skin conditions worse. Look for a gentle brush for shedding dogs, and you'll be good to go!
How to Use Your New Brush
Most dog brushes or grooming tools are designed to be easy to use. The general rule of thumb is to start at your Westie's shoulders and work down in short, smooth strokes. The shorter strokes will dislodge any loose hairs in the undercoat, and the smooth, sweeping motion will move those loose hairs to the base of your dog's tail, where they can easily be collected and discarded.
One thing to remember is that you should never brush your dog's hair against the grain. While you may feel like you're able to dislodge more hair or get rid of more pet dander that way, this can hurt your Westie's skin and potentially increase their risk for hair splinters, dermatitis, and other unpleasant skin conditions that are otherwise extremely easy to avoid.
There's no hard and fast rule about how to prep your Westie's hair before you start brushing them. However, everyone loves to be pampered, and your four-legged friend is probably no exception! A currying glove or other grooming tool can be a great way to get out any loose dirt or debris before you start brushing, which can be a definite plus if your Westie is on the more active side of the spectrum.
As with many other small dogs, you may want to also consider giving your dog a nice, warm shower or bath before you settle in to start brushing. Not only will this help your Westie feel a little more relaxed and ready to be brushed, but it will also help reduce any excessive amounts of hair!
Related: Best Shampoos to Use for Westies
Our Top 5 Picks for the Best Brush for Westies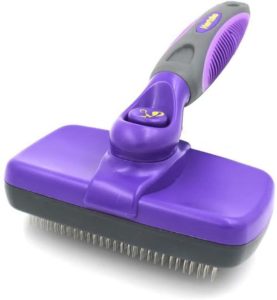 The Hertzko Self Cleaning Slicker Brush is a practical, easy to clean brush with bent wire bristles that won't cut or injure your Westie while you brush them. The self-cleaning apparatus means that it only takes the click of a button for the bristles to slide back into the head, essentially wicking off any extra hair.
The wire bristles are also a great choice for Westies who love being brushed or just love getting their daily allotment of back scratches, as the slightly stiffer build makes for a great back massage while you're getting your Westie clean!
Previous customers have noted that the retractable bristles also make this brush easy to store, while the handle of the brush itself is comfortable and easy to wield.
Pawesome Things About This Product: Wire bristles make for a comfortable grooming experience while still being able to remove quite a bit of hair, which makes this brush pretty much perfect for Westies who shed all the time! In general, if your Westie has extremely thick or matted hair, this brush provides a great solution for your brushing needs!

Not-So-Pawesome Things: Some previous customers have noted that the button can wear down or stick over time, which may make cleaning more difficult. In addition, dogs with extremely sensitive skin may not appreciate the relatively firm bristles of this wire brush.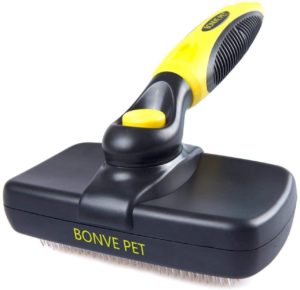 Another self-cleaning brush, the Bonve Pet LKGMS-001 is a slightly more intense version of the previous entry. The ergonomic handle is specially designed to be used for extended periods of time, so you can really take the time to make sure your Westie's coat is looking absolutely perfect!
Unlike the previous entry, the bristles on this brush are made of stainless steel, which makes it great for the Westie who tends to get their hair tangled up throughout the course of the day!
Previous customers have raved about the sturdy construction and easy-clean nature of this brush as compared to comparable products.
Pawesome Things About This Product: The brush actually collects the hair as it's being brushed off, which helps keep hair from flying around the house, and the retractable bristles make it a snap to easily clean!

Not-So-Pawesome Things: Some other users have warned that you may have to shake the brush a few times in order to get all the hair out, and the same scratching issues with too-stiff bristles that applied to the first brush also hold true in this case.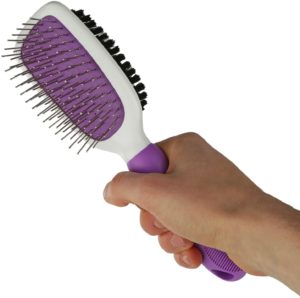 The first two brushes on this list have had some small problems with damaging sensitive skin, and the Poodle Pet Double-Sided Brush provides a safe and skin-friendly alternative to this trend.
While one side of the Poodle Pet brush features the usual detangling pins and metallic wire bristles, the other side has soft grooming bristles that will smooth your Westie's hair without damaging the skin.
Other dog owners have raved about the gentle nature of this brush combined with the still-powerful detangling and de-shedding properties of the Poodle Pet brush.
Pawesome Things About This Product: In addition to the soft and smoothing bristles, the Poodle Pet brush features a comfortable handle and a dual-sided approach to pet grooming that makes it a good fit for older Westies or Westies with delicate skin.

Not-So-Pawesome Things: Unfortunately, because this brush is geared towards more sensitive skin types, it may not be best for Westies with extremely thick, tangled, or matted fur. The smoothing bristles may also wear down after extended periods of use, which can make them even less effective for brushing out your Westie's coat.
If you want a simple brush that doesn't have all of the bells and whistles but still gets the job done, the Glendan Dog & Cat Brush is a no-frills grooming tool that works on any thickness of coat. The slightly thinner bristles also create a massaging effect that can help improve your Westie's circulation and boost their skin and hair health.
Other customers have noted that this brush is particularly good for dogs who shed heavily, and the soft tips on the end of the massaging bristles protect your Westie from any scratching while still providing a good, in-depth cleaning.
Pawesome Things About This Product: The simple design and deep-clean bristles make the Glendan Dog & Cat Brush a strong contender for a "back to basics" style of winner. It also removes a great deal of hair without hurting even sensitive-skinned dogs.

Not-So-Pawesome Things: Unlike some of the earlier entries, there's no "easy clean" mode on this brush. As a result, you may find yourself spending a lot of time picking the hair out from between the bristles in between rounds of brushing.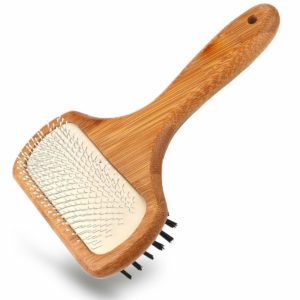 Another double-sided brush that works to detangle and smooth your dog's coat at the same time, the KylePet Dog Brush is touted as being perfect for removing long undercoats or dead hair. While Westies may not shed as much as other breeds, any option that helps thin out their undercoat is a great choice.
Unlike most of the other options on this list, the KylePet Dog Brush features a wooden (actually bamboo) handle. While still ergonomic and easy to wield, this brush has a simple, pretty design that won't look out of place anywhere around the house.
Other customers have loved the convenience of the two-sided brush, and they report that their dogs have absolutely loved the soft and comfortable massage aspect of the two-in-one dog brush.
Pawesome Things About This Product: In addition to the comfortable grip and soft bristle options, the manufacturers of this brush offer a full money back warranty if you're not completely satisfied with this brush within the first thirty days.

Not-So-Pawesome Things: Some customers have noted that this brush breaks down when dealing with larger dogs. However, as long as you're using this brush solely to groom your Westie, you shouldn't have a problem with the size or strength of the bristles!
Our Top Brush Pick for Westies
Due to its easy-to-clean nature, solid construction, and comfortable handle, we've picked the Hertzko Self Cleaning Slicker Brush as the best brush for Westies. We love the stainless steel bristles and the easy-clean button, and the customer reviews for this solid, steady, and relatively simple brush are super encouraging! The brush itself is gentle on sensitive skin, easy to use, and works perfectly to keep your Westie happy and healthy!