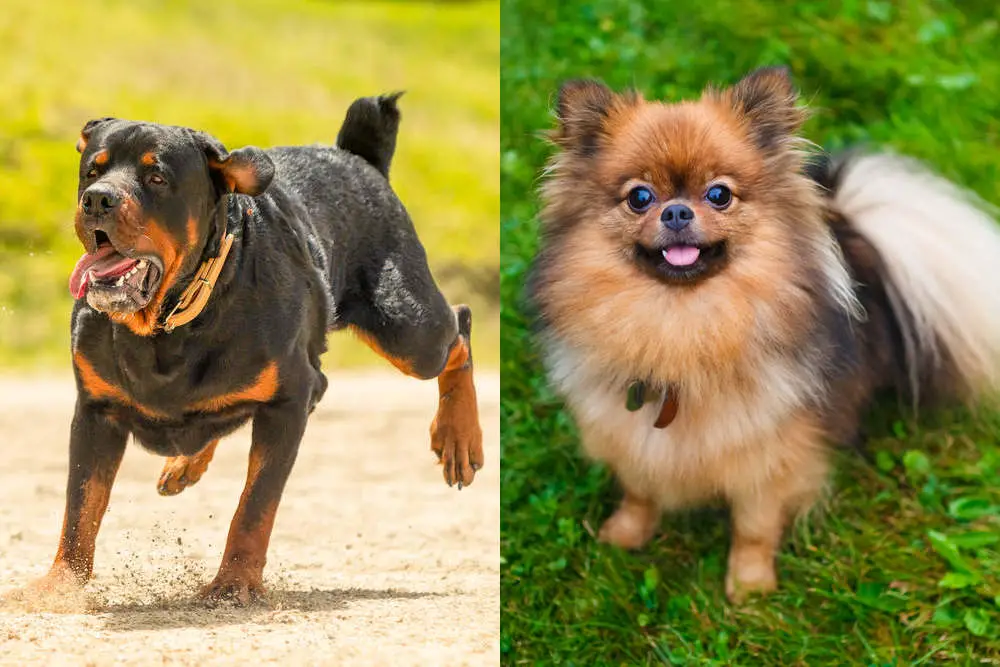 Mixed breed dogs are the hottest trend ever! Ask a breeder, and he will go on and on about crossbreeding. Well, it is what we call, 'modernized' way of buying a pet.
You will find several breeds in the market which would impress you. Two of the top global favorites are Rottweiler and the Pomeranian. Now, what if we told you that they have a mix? A cute bundle of joy waiting for you to take them home.
At a Glance
Height: 8 inches to 15 inches
Weight: 7 pounds to 235 lbs
Life Span: 11 years to 13 years
Temperament: Loyal, friendly, affectionate
Most Suitable For: Families with children
Rottweiler Pomeranian Mix Origin
Rottweiler Pomeranian Mix is a designer dog. It is a common term of intentionally bred first-generation mixed breeds.
As far as the history and origin of the Rottweiler Pomeranian Mix are concerned, we don't have any definite information. While considering their history, it is of importance to look at the parent's histories.
Rottweiler Breed History
Rottweilers were initially bred to drive all the cattle away to the market. Later onwards, these dogs were used to pull carts. Rottweilers were, in fact, the earliest police dogs in the United States military.
Pomeranian Breed History
On the other hand, Pomeranian Breed has a completely different story. Queen Victoria was pretty fond of this breed, and she even imported several of them from Italy to England. She has more than 35 of these breed dogs in the kennel. That's how obsessed she was with these pups!
Pomeranians might look like a simple and cute breed, but not many people know they were on the Titanic. Not just on it, but were two out of the only three dogs saved in the entire debacle. This breed used to be about double the size that they are today.
It is the exact reason why Pomeranians were even used to pull sleds as well as herd animals.
Recommended: 27 Rottweiler Mix Breeds That'll Blow Your Mind
Caring for a Rottweiler Pomeranian Mix
Rottweiler Pomeranian Mix Behavior
The parent breed, Rottweilers, are well-known police dogs. They have been used to guard areas, people time and again. That is probably the main reason why they are extremely popular in the United States of America.
Pomeranians are also pretty good guard dogs. But they do come with some innate behavioral issues.
When observing the Rottweiler Pomeranian Mix, you will see a variety of similarities in the features of the two parents. Rottweiler Pomeranian Mix will be a great watchdog. That is essentially the best feature of this breed.
On top of it, they are loving with children and thus become pretty good family dogs.
Exercise Requirements
Rottweiler Pomeranian Mix is a pretty energetic dog. They are always in the mood for something new. It might lead to them destroying some of your household stuff.
To prevent any such occurrence, you must exercise your Rottweiler Pomeranian Mix dog regularly.
The suggested ways are taking them for a walk in the evening or morning. You can also try to make them participate in long training sessions. These dogs need that extra bit of exercise to drain all that extra energy.
You can set a target of 45 minutes worth of daily exercise. This value is largely dependent on their small legs. Other ways to ensure your Rottweiler Pomeranian Mix's activity levels would be involving them in family activities.
We highly suggest investing in some interactive dog toys. Other mentally stimulating tasks can also be incorporated to keep their activity levels very high.
Training
Training is an essential part of your dog's growth. It paves the way to a relatively smart and more loyal dog. Plus, they would exhibit extreme behaviors very rarely.
Early socialization is the best way to train your dog to behave well in public and towards strangers. You can also include dome fun and exciting training sessions in your dog's daily schedule. Some pet parents even go on to hire a trainer to deal with their dog professionally.
It is essential to treat your dog well post-training sessions. Always end it with a treat or some petting to show affection and praise.
You can choose to take your Rottweiler Pomeranian Mix to a pet training club as well. That would be instrumental in the dog adapting to a lot of stranger animals at the same time.
Health Issues
Designer dogs have many genetic issues – there are multiple reports and real-life experiences that can attest to this. The genetic problems are inherited from the parent's genetics.
While talking about Rottweiler Pomeranian Mix, specifically, you will see some pretty common diseases. For starters, cataracts and dilated cardiomyopathy are pretty usual for this breed.
You will also find them falling prey to small diseases such as allergies. Some serious diseases can infect your Rottweiler Pomeranian Mix too.
These diseases are Hip dysplasia, shedding quotes, hyperglycemia, eye issues, running eyes, and dental problems. There might be many more, and you better be mindful of them.
What Can You Do to Prevent These Diseases?
The biggest lesson that we can provide here is choosing a reputable breeder. We cannot stress enough how essential picking a good breeder is! Firstly, They will offer health insurance for your crossbreed. Secondly, if the breeder has some name in the market, they will be very wary of all the conditions under which the breeding process occurs.
We would also recommend regular visits to the veterinary doctor. No one can check your dog better than an expert, and you must abide by that.
On top of It, invest in the regular investigation of potential health problems through testing on hips, skin, and elbows. These are the best points to track any serious issues with your Rottweiler Pomeranian Mix.
Grooming
Rottweiler Pomeranian Mix has two of the most groomed parents. Well, this is a clear indication of the high grooming requirements of this breed.
Pomeranians are pretty vulnerable to mattering. That is because of longer hairs. You must invest in regular brushing to keep their coats clean.
It would be best if you bathe the Rottweiler Pomeranian Mix every four weeks. Shampooing shouldn't be a lot, though. You can also incorporate deodorizing wipes to maintain a neat coat and good smell.
Clean the ears of your doggo as regularly as possible. It would help if you brushed their teeth regularly to prevent any dental issues.
Diet
Diet plays a crucial role in a dog's daily lifestyle. If you provide your dog with high-quality food, your dog's health will be great even in the years to come. You can see a set of food that works best for small size dogs.
You must include Wild Alaskan Salmon Oil and a variety of probiotics that help maintain your doggo's skin. That will be substantial in building their coat health as well!
Diet is certainly a tricky zone for many dog owners. We would suggest you talk to a vet to understand better what your Rottweiler Pomeranian Mix should eat. Do not forget the quantity and frequency matter a lot too.
You should, by all means, divide their daily food intake into two or three meals according to the dog's size. Not just food but water is also an important part of the dietary requirements of the Rottweiler Pomeranian Mix.
Be mindful of keeping your dog hydrated between meals so that they remain cool.
Rottweiler Pomeranian Mix Price
Now comes the question of the hour, how much does a Rottweiler Pomeranian Mix cost? Designer dogs are expensive anyway, so do keep that in mind while going about a purchase. The price range varies from $150 to $500 according to the puppy quality, the breeder you choose, your residential location, and if the puppy is available or not.
Additionally, the size and coat color also make a difference in the prices of the Rottweiler Pomeranian Mix. If you look for some popular color dog's cost, you will have to pay more than $500.
As mentioned previously, reputable breeders will charge you a higher price because they will offer you health insurance and take all pre-buying state precautions. Do not be mesmerized by the cheap ones around you. Less money pail will only attract future problems for your doggo.
Wrapping Up
So, that's it, guys! All you need to know about the Rottweiler Pomeranian Mix. While this dog is a top favorite amongst the public, being wary of what you're getting into is essential.
Have a look at all their requirements, and then figure out if or not this dog would suit your life. Cheers!