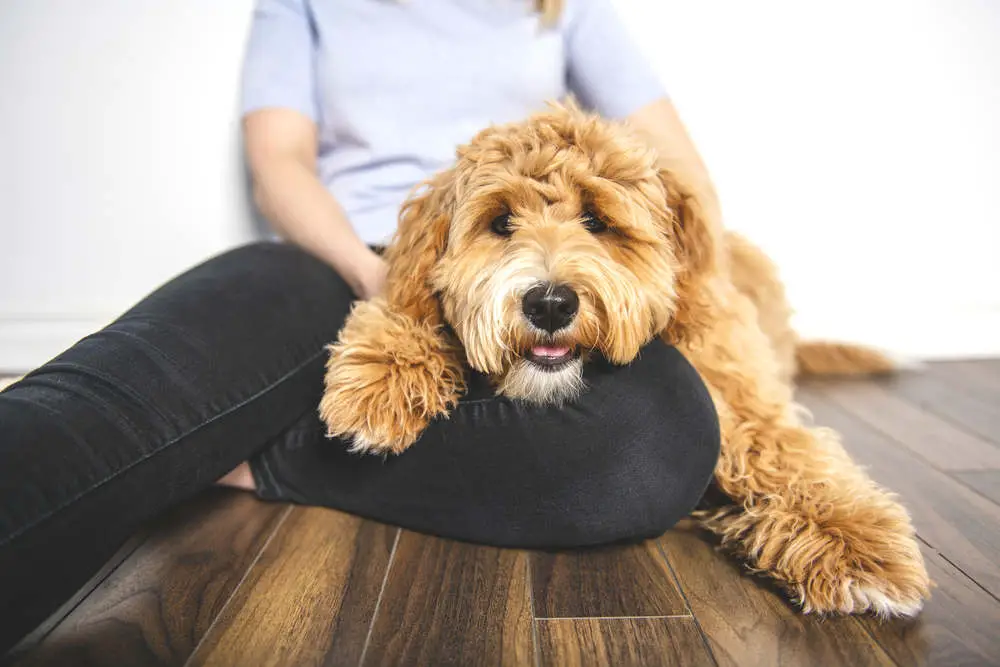 The content creator and owner of a Goldendoodle named Augie, Alice Anthony, received quite the surprise after picking up her dog from the groomer. It looked like she had gotten a completely different dog, but it was really the same dog she had taken to be groomed. Unfortunately, Augie was shaved of all of his fur and looked like a different dog.
Alice Anthony uploaded a video to her TikTok channel @aliceanthony56 showing just how different Augie looked. The video begins with several scenes of Augie before his grooming. When the video begins, Augie is sitting and looking into the camera. The text overlay says, "When you take your Goldendoodle to the groomer, and he comes back a totally different dog."
The next scene shows Augie lying on the floor with a chew toy in his mouth. The video continues, and Augie is lying next to his human sister. The following scene shows Augie getting petted. The scene changes, and Augie is lying on the floor with his human brother.
Finally, the scene changes to show Augie after his grooming, and he is shaved down to the skin. The newly shaved Augie then stands in the backyard. The video ends with Augie getting pets from his human sister.
The difference between the before and after grooming is astounding. Augie looked like a Goldendoodle before grooming, and after, he resembled a Labrador or a Hungarian Vizla. I would need a microchip scan to confirm it was the same dog. The difference is amazing.
The TikTok video caption reads, "My kids thought we got a new dog!" And most TikTok viewers that left comments thought it was a new dog, too. @tfisher27 said, "No way, that's a new dog. Hope his curls come back." @cuchay_garatay said, "That's not him." @ehleysworld said, "Def not him!"
@avilla7867 asked, "You sure that's the same dog?" @aliceanthony56 answered, "Yup, that's our Augie." @titaalm said, "According to my TikTok degree, he was matted. Goldendoodle returns as a Labrador." @4_pym_4 said, "Left as a Goldendoodle and came back as a greyhound." @jojothemonkey429 said, "This just happened to our Havanese. Lol. She got soaking wet on a few walks and just …so much matting, but yeah, she's nekkid now."
Read More From Pawesome
Apparently, if a dog is severely matted, groomers just shave it off. Luckily, Augie's fur will grow back in fine. He will just need more brushing to prevent a complete shave in the future.