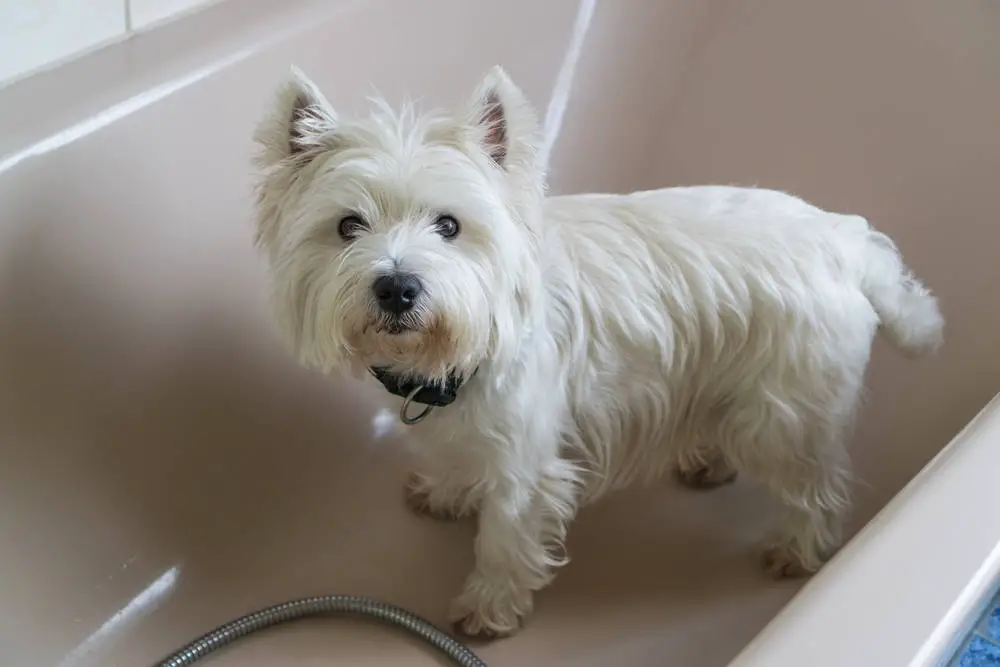 Westies have a very distinct white coat that should look shiny and healthy, and using a high-quality shampoo is one way to keep your dog looking their best. You can choose from whitening, deodorizing, and moisturizing shampoos to help get your dog's coat fluffy, shiny, healthy, and the brilliant white color that this breed is known for.
Since there are so many shampoo choices available, we've picked out the best five shampoo for Westies and reviewed them for you. We'll help you find the perfect shampoo for your dog's coat and skin type, and you can use them to keep your dog's coat looking spotless all year round.
We Recommend These Products...
(As an affiliate, we may earn commissions from qualifying purchases.)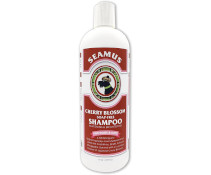 Seamus Cherry Blossom Professional Whitening Shampoo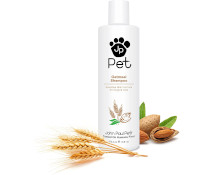 John Paul Pet Oatmeal Shampoo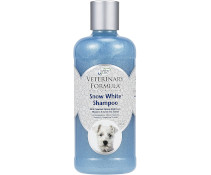 Veterinary Formula Solutions Snow White Shampoo
What You Should Consider When Buying Shampoo for Your Westie
When you start shopping for your new shampoo for your dog, you'll quickly realize that there are several things you should keep in mind. We've picked out the most significant factors to consider when you pick out your new shampoo and outlined them for you below.
Taking Care of a Westie's Coat and Skin
This breed doesn't shed because they have a tough outer coat that protected them from the elements when they hunted, so you'll have to choose to strip or clip your dog's coat to keep them healthy. When you strip it, you remove layers of dead hair from the topcoat to stimulate new hair growth, prevent rashes, and it can improve their skin health.
Dog parents who would prefer to have the fluffy and soft look will choose to clip their dog's coat because it removes layers from both the upper and undercoat at the same time. It's less expensive and less time-consuming, but there isn't a right or wrong choice with how you decide to maintain your dog's coat. The AKC recommends bathing your Westie no more than three or four times every year because doing it too much can cause more harm than good.
Related: 5 of the Best Dog Beds for Westies
Westie Shampoo Buying Considerations
Whiteners
Many shampoos targeted at this breed and other light-colored dogs come with whitening agents or brighteners in the formula to help get rid of the yellow or grey tinge. This shouldn't be bleach or peroxide, and you want something that is going to work relatively quickly since you don't bathe your dog often.
Concentration
You can get low and high concentration shampoos for your dog, and you'll have to use less of the higher concentrated formulas because a little goes a long way. However, it's easier to dry your dog's skin out with them or cause a reaction because they have a stronger formula.
Allergens
This dog breed is prone to developing skin allergies to certain ingredients in dog shampoo that can cause itching, flaky skin, red spots, soreness, and more if you don't take care of it. It can also be incredibly hard to treat once your dog develops rashes or allergies, so pay close attention to the ingredient list for any possible allergens before you put it on your dog.
Scent
Deodorizing shampoos usually come with slightly stronger scents that have scent extenders in them to help your dog smell nicer for longer periods after you give them a bath. Double-check any shampoo you buy and see if it comes with a deodorizer and a fresh scent associated with it.
Soak Time
Since you want to whiten your dog's coat, you have to pay attention to how long the product should sit in your dog's coat before you wash it out every time you give them a bath. This can be anywhere from 5 to 15 minutes, and it provides the formula with a chance to work and lift out yellow stains or remove the grey tint to leave a white coat underneath.
Related: Top 5 Picks for the Best Brush for Westies
Our Top Five Picks for the Best Shampoo for Westies

This shampoo has an effective but mild formula that is soap-free and excellent for dry, itchy, or irritated skin, and the shampoo comes formulated with Pharmasome technology to help the scent sink into your dog's skin, so it lasts much longer after you bathe them. There are coat cleaners and conditioners in this shampoo that help your dog's coat look healthy and vibrant each time you use it.
This shampoo brightens the colors in your dog's coat while reducing any stains to give it a fluffy and bright appearance, and it will nourish and cleanse your pet's skin and coat without drying it out, making it brittle, or building up and causing unwanted dander or flakes. The formula comes approved and recommended by veterinarians for repeated use, and it works well on dogs, cats, and horses.
Dog parents liked that this shampoo came formulated with Pharmasome technology that helped the light cherry blossom scent last much longer than regular shampoos. Dog parents did mention that this soap-free shampoo doesn't suds up into a thick lather when you use it, and this can make it challenging to know it's working.
Pawesome Things About This Product
Scent lasts much longer
Works without drying out the skin
Reduces stains
Not-So-Pawesome Things
Doesn't lather up very well
Can take a few washes to notice a difference
Have to leave it sit for 10 minutes on your dog

This shampoo comes specially formulated for white dogs to help you safely remove any stains or discoloration while nourishing their coat, and the formula has a more gentle makeup because it doesn't use peroxide or bleach to achieve these results. The optical brighteners in the formula can safely and effectively eliminate stains, yellowing, or dingy fur.
The blue coral citrus fragrance in this shampoo comes with fragrance extenders that can help your dog smell nice for days after they get their bath, and it uses green tea extract with vitamin E to nourish your dog's skin and coat while gently stripping away any contaminants. This is a pH balanced shampoo that is safe to use on pets with sensitive skin or brittle coats, and it creates a thick lather that you should leave on your dog for several minutes to get the best results.
People who bought this shampoo for their dog liked that it came with a host of brighteners and natural ingredients that were gentle on their dog's skin and coat while getting rid of the yellow tinge. They did mention that the shampoo's scent faded after a day or two.
Pawesome Things About This Product
No peroxide or bleach included
Uses green tea extract to strip contaminants away
Forms a thick lather
Not-So-Pawesome Things
Scent fades rapidly
Have to use a lot to get results
Needs more conditioner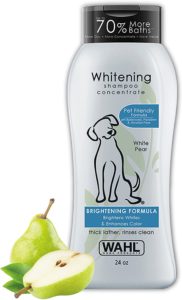 This human and animal-friendly shampoo comes formulated with natural ingredients while avoiding alcohol, PEG-80, and parabens and being a pH balanced option that helps restore dry and dingy white coats to a bright color. There is a higher amount of the coconut derived sodding agent in this shampoo that means you can use less while still getting excellent results.
This shampoo will turn into a rich lather when you use it that is very easy to rinse out of your dog's coat and skin, and it comes with a light white pear scent that makes your dog smell good for days after they have their bath. There is slightly more conditioner in this shampoo that can work to gently detangle your dog's coat while nourishing their skin and coat to get rid of stains and yellowing.
People who purchased this shampoo brand for their Westies liked that it didn't come formulated with PEG-80, alcohol, or parabens because this makes it a more tolerable formula for sensitive dogs. People did say that it can take several baths before they noticed a difference in their dog's coat color.
Pawesome Things About This Product
Has a light and lingering scent
Formulated without alcohol, PEG-80, or parabens
pH balanced
Not-So-Pawesome Things
Challenging to wash out
Doesn't immediately whiten fur
Scent doesn't last long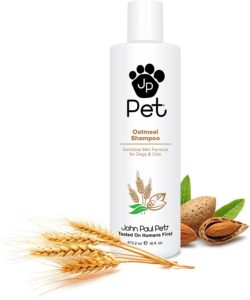 You can tailor your order to your needs when you purchase this shampoo for your dog because it comes in a gallon jug, 16-ounce bottle, or a waterless spray, and this is a luxurious botanical shampoo that moisturizes and gently cleans your dog's flaky skin or dull and discolored coat. It can rush relief to your dog's skin to help with any itching they have, and the shampoo has sweet almond oil to help condition your dog's fur.
This shampoo comes tested on humans first to ensure it's safe for your pets, and the highly concentrated botanical formula requires you to use far less shampoo to get your dog clean and create a full lather. Each sale generates a small donation to animal and wildlife refuges, and the shampoo comes from manufactures in the United States that use strict quality control measures.
Dog parents who bought this shampoo brand were happy that they could choose from a wet or dry formula, and they liked it was a highly concentrated mix. They did mention that it may not be strong enough to help with more severe cases of dry skin.
Pawesome Things About This Product
Comes in two sizes and styles
Concentrated botanical formula
Can help with mildly itchy skin
Not-So-Pawesome Things
Packaging can break
Can have a slightly watery formula
Scent is very strong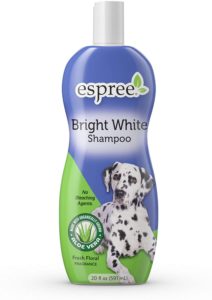 You can get this whitening and deodorizing shampoo in a gallon or 16-ounce bottle to tailor your order to suit your needs, and it has a fresh floral fragrance that can work to deodorize your dog and keep them clean between baths. The aloe vera content in this formula can create a soothing sensation that can help alleviate any itching or flaking your dog has while moisturising your dog's coat.
This is a color revitalizing shampoo that can help remove any stains, yellowing, or discoloration from your dog's coat while making it brighter, whiter, and softer. There is an optical brightener that can make your dog's coat shine after you use it, and this shampoo features gentle plant and coconut-derived cleansers that will gently lift dirt and other stains away from your dog's skin while leaving a healthy coating to improve their skin and coat health.
Dog parents that bought this shampoo from Espree liked that it used 100% aloe in the formula with plant and coconut-derived extracts, vitamin E, jojoba oil, and a light fragrance. Dog parents weren't happy that it took a lot of this shampoo to create a lather that had to stay in the dog's coat for up to five minutes.
Pawesome Things About This Product
100% organically grown aloe
Can strip yellow and grey tones out
Light fragrance
Not-So-Pawesome Things
Can be difficult to rinse out
May leave an oily residue
Might not lather well enough
Conclusion
Our pick for the best shampoo for Westies is Seamus Cherry Blossom Professional Hypoallergenic, Whitening and Brightening Shampoo because it has a very mild formula that doesn't have any soap to build up in your dog's fur and irritate their skin. We liked that it uses Pharmasome technology to make the scent last much longer after you give them a bath.
We also picked this shampoo because it went to work brightening up your dog's coat while making it feel soft and fluffy to the touch, and we noticed that it could help get rid of dander or flakes. Finally, this shampoo works on dogs, cats, and horses to make it a very versatile solution.