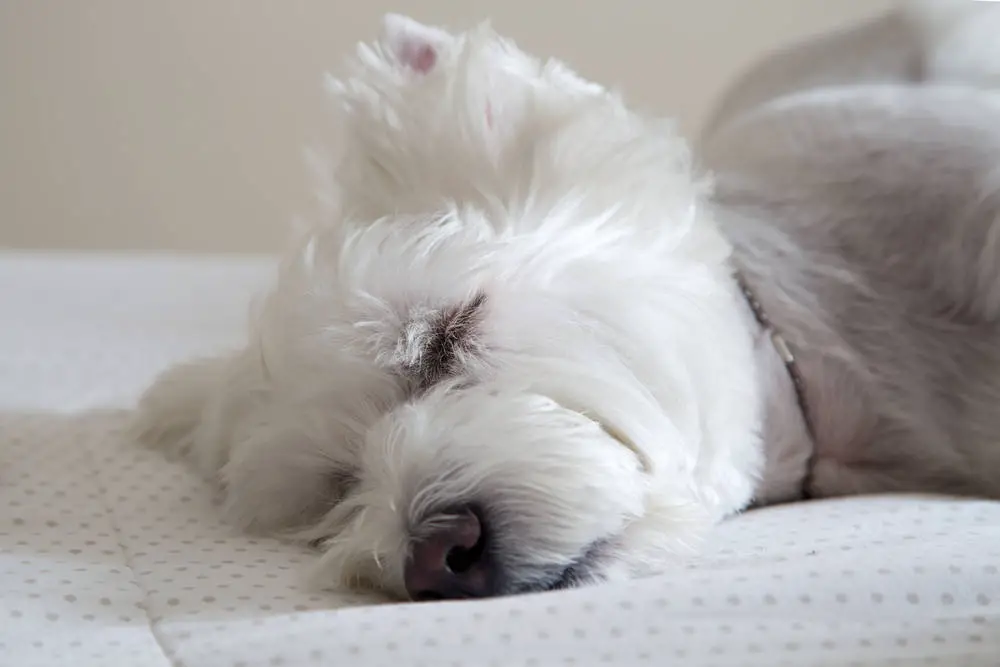 The best dog beds for Westies should easily support your dog's body while they lounge around or sleep in it while still being a good value for your money, and it doesn't have to be a huge bed since this is a smaller breed. Any bed you pick should be durable, comfortable, and you want it to fit into your chosen space without sticking out and presenting a tripping hazard.
Since it can be challenging to nail down all of these requirements without driving your budget up, we've done the hard work for you and put in the research to pick out five great options that will keep your dog comfortable. No matter if you're a new dog owner or upgrading your current setup, this guide will help you find the perfect bed to keep your Westie comfortable.
We Recommend These Products...
(As an affiliate, we may earn commissions from qualifying purchases.)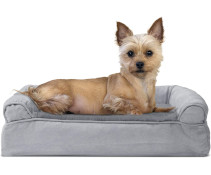 Furhaven Orthopedic Chaise Lounger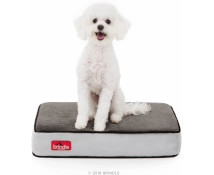 Brindle Waterproof Memory Foam Dog Bed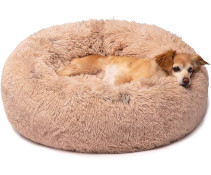 SAVFOX Calming & Self-Warming Dog Bed
What to Look For in the Best Dog Bed for Your Westie
What should you look for when you start shopping for your new dog bed? Since there are so many beds available, it's helpful to have a set of criteria available that allows you to compare various products quickly and easily. This is what we'll outline below.
Size
Although your Westie is a smaller breed, it's still good to take careful note of their height and weight before you start shopping for your new bed. You don't want to get something that is too small for them, and getting something too big creates a storage problem for you. Make sure you look at the sizing chart before you settle on your top pick.
Orthopedic or Not
An orthopedic dog bed will usually cost more than a traditional one, but it can provide much-needed support for your dog's joints and spine to keep them comfortable. Westies are known to have problems with their hips and knees, so buying an orthopedic dog bed can give them the support they need early on to keep their joints flexible and pain-free.
Budget
Your budget will play a role in the type, brand, and size dog bed you get because they can get semi-expensive when you start looking at ones with things like memory foam or extra support. Before you shop, make sure you set a budget and stick to it to help narrow down your results.
Ease of Cleaning
Even the best dog can have an accident on their bed, and you want something that is going to be very easy to clean and maintain. It should have a waterproof layer, removable cover, or you should be able to toss the whole thing into your washing machine to keep it looking and feeling clean.
Related: Best Shampoo for Westies
Walls
Some dog beds come with walls, and some are simple pads with no walls, and you have to pick out the one that you think will work best for your dog. Generally speaking, many dogs prefer dog beds will walls because it can satisfy their need to burrow, and it can also help them feel much safer and more secure.
Anti-Slip Bottom
Your dog can move around as they sleep, but you want their bed to stay in the same place where you initially put it, so you don't accidentally trip over it. Many dog beds come with anti-slip bottoms that will help anchor the bed in place to make it safer for both you and your dog.
Related: Top 5 Best Westie Brushes
Our Top Five Picks for the Best Dog Beds for Westies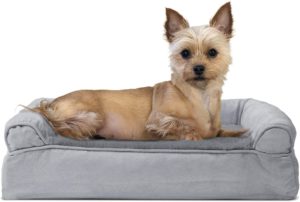 This dog bed has a triple sided design that gives your dog comfort and feelings of security when they lay it in, and it comes in five sizes, six styles, and a broad range of colors and patterns to fit almost any decor. The sleep surface has a very plush faux fur feel that your dog will love snuggling in to, and the bed design supports your dog's body for a great rest.
You can get a removable dog bed cover with this product that makes cleaning it from spills, or accidental pet messes quick and easy, and the cooling gel support will automatically wick away heat to keep your dog dry, cool, and comfortable when they sleep. The flat bottom won't slide across the floor when your dog lays on it, and it has a warranty that lasts a full two months.
Dog parents thought this bed was great because the three sides help their dog feel secure when they lay down, and the gel support keeps their body in great alignment when they sleep. Dog parents did say that this bed won't stand up to chewing or excessive rough play without breaking down.
Pawesome Things About This Product
Available in a range of sizes, styles, and colors
Very easy to clean and maintain
Offers excellent support
Not-So-Pawesome Things
Won't survive chewing
Fabric can wear out quickly
Sides can start to sag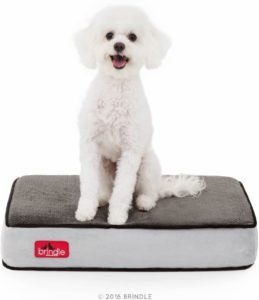 This bed has a waterproof design that makes it easy to wipe any messes or accidents away, and it features a soft memory foam base that will contour to your dog's body, help with joint pain, and it can keep their spine in alignment to keep them comfortable. You can choose from six colors and three sizes, and the bed is a total of four inches thick.
There is a very soft velour zippered cover on this bed that resists hair while giving your dog something to snuggle down in, and this bed is a naturally hypoallergenic one that resists hair buildup and dust mites. There is a three-year warranty on each bed to protect you from damage and defects, and the waterproof layer is very breathable to allow hot air to escape to prevent your dog from getting too warm.
People who purchased this bed for their Westie liked that they got a full four inches of memory foam without being too high for their dogs to get on and off comfortably. They did say that the cover is slightly on the thinner side, and the fabric was prone to wear and tear.
Pawesome Things About This Product
Has a thick memory foam
Soft velour zippered cover
Breathable and waterproof design
Not-So-Pawesome Things
Cover can tear and rip
Zipper is very flimsy
May be too hard for lighter dogs

This bed comes outfitted with a plush poly-fill bolster that will mold to your dog's body and provide relief from joint pain and discomfort, and this bed comes with a human-grade mattress foam that won't go flat or lose shape over time. There is a water-resistant liner on this bed that makes it easy to clean up any messes by wiping them away with a damp cloth.
The bed comes in five colors and four sizes that you can customize to your dog's needs, and it has three slightly thicker and plush sides that cradle your dog's body and help them feel secure. The cover zips on and off, and you can quickly and easily pop it into the washer and dryer to clean it between uses without worrying about it fraying, tearing, or wearing out.
People who purchased this item for their Westie liked that it came with an anti-tear cover, and they liked that the bottom had a slip-resistant coating to keep the bed in place. Westie parents did say that this bed could lose a little shape after years of repeated use.
Pawesome Things About This Product
Uses human-grade mattress foam
Water-resistant liner included
Easy to clean and maintain
Things We Didn't Like
May not give enough support
Metal zippers can rust
Mattress is slightly less thick than advertised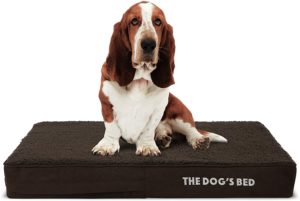 This dog bed is a medium-density design that provides support for your dog's joints while having a slick waterproof design that makes it very easy to clean the bed between uses, and it comes in six sizes and 17 different colors and patterns. It works to keep your dog's joints flexible as they age to improve their overall mobility, and the cover is machine washable for easy maintenance.
This bed contours to your dog's body to help prevent sores and keep their body supported, and it has a lower profile that makes it easy for your dog to get on and off as they please. It also uses a very breathable fabric that can help pull heat away from your dog as they sleep to keep them at the perfect temperature, and you can purchase additional covers for it.
People who purchased this dog bed for their Westie liked that it was available in a broad range of colors, patterns, and sizes that allowed them to pick out the bed that matched their decor the best. Pet parents did say that it isn't 100% waterproof on bigger accidents, and water can soak through the cover.
Pawesome Things About This Product
Has a waterproof design
Can improve your dog's joint flexibility
Covers are removable
Not-So-Pawesome Things
Can take a while to break in
Hair can collect in the fabric
May not be 100% waterproof for large accidents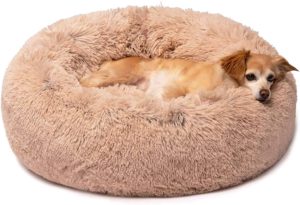 Savfox's dog bed cradles your dog by slowly sinking around them when they lay down to help them feel secure, and it comes with a full range of stuffing that gives your dog more than enough support. The synthetic plush fur is slightly longer on this bed, and it can boost the comfort factor when your dog lays down.
You can hand wash this bed on your own, or you can slip the whole bed into the washing machine and then let it air dry or put it in the dryer to clean it if your dog has an accident or it looks dingy. The bottom of this bed has anti-slip PVC dots that help to keep the bed in place where you put it, and you can choose from five sizes and five colors when you order.
Westie parents who bought this dog bed liked that their dog sank into it a little when they laid down to help them feel more secure. They didn't like that the longer synthetic fur that surrounds this bed can get food and other debris in it that are difficult to get back out.
Pawesome Things About This Product
Has a plush design
Can put the whole bed into the washer and dryer
Available in several sizes and colors
Not-So-Pawesome Things
Can be hard to clean
PVC anti-slip dots can come off
Runs slightly small to size
Our Top Bed Pick for Westies
Our top pick for the best dog bed for Westies is the Furhaven – Plush Orthopedic Chaise Lounger and Traditional Sofa-Style Dog Bed because it comes lined with a plush faux fur and three sides that can cradle your dog and make them feel safe when they use their new bed. We also liked that it offered a lot of joint and back support for dogs of all ages.
The bed is very easy to clean, and we appreciated this fact because we know how easy it is for a dog to have an accident. Finally, the bed wicks away excess heat to prevent our dogs from overheating when they lay on it, and this technology allows the dog to sleep on it in all seasons without being uncomfortable.