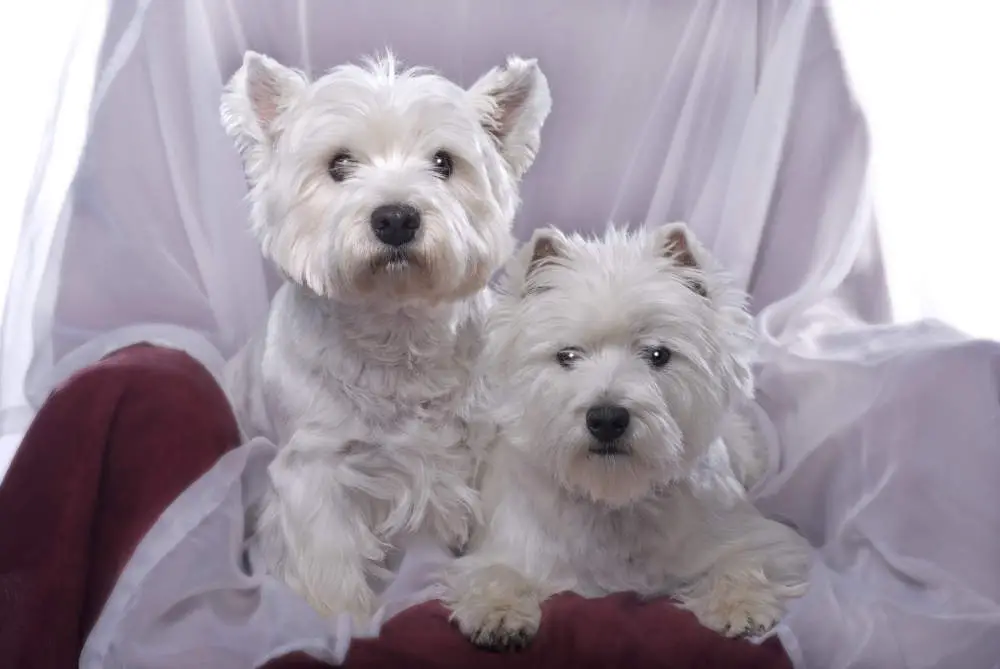 Are you thinking of adding a cute Westie as a new member of your family? Or are you wondering if you should get a pair of these pooches?
West Highland White Terriers (Westies) are extremely adorable, playful creatures. They are loved by dog-parents and non-dog owners alike.
With small shiny eyes and a cute buttoned-nose, the popularity of these beautiful white fluff balls is evident through their presence in movies and TV shows. Additionally, Westies often appear in several brand advertisements.
If you're pondering over the option of having a pair of this cute mess, you will need to weigh several factors.
Factors to Consider
The little terrier will be an important part of your family. Hence, it is a big decision that requires careful consideration.
Do you already have a Westie baby and plan to get another, or are you planning on adopting two new members for your family? Will the fluff ball mix-up with your little one, or will they become rivals for attention?
Some breeds love to mingle, whereas some love to be the boss. Some pups love to have a mate, and some want the undivided attention of their parents.
If you are planning on adopting a pair of Westie-pups, they can be of the same age. Or would rather have littermates of different ages?
There can be multiple aspects to dwell upon. Let's find out!
Expenses
Raising a doggy requires you to be as responsible as you'd be while raising a human baby (sometimes even more). Your little one might not have large bills, but what about two of them?
From vet expenses to food and grooming, from toys to litter boxes and baskets, it'll all be double. Nevertheless, if you can easily afford all of them, then why not have two adorable furballs instead of one!
Related: Finding the Right Brush for Your Westie
Time
If you have had a furry friend in the past, you would be aware of how big of attention-seekers pets in general are. They not only crave your attention but also require a lot of looking after.
You need to make sure that your Westies get proper, timely meals. Additionally, regular grooming and vet trips are a necessity irrespective of their breed.
Having a pair of highly adorable Westies would double not only your happiness but also your workload. You must be certain that you have enough time in your schedule for your little mates.
Although Westies don't need a lot of exercise on a daily basis, you need to take them outdoors once or twice positively.
Your First Baby
If you already have a Westie and are considering adopting one more, you need to make sure your baby is happy with your decision.
If trained well, the Westies are very friendly with other doggies as well as family members. They would love to play with their guests and often share their toys.
You need to make your first baby ready to have a littermate. Arranging several play dates on common grounds can be a good option before bringing the new member to the house.
New Mate's Nature
You may know your furry family member well, but you won't really know the newest mate's temperament. Most of the dogs are accustomed to habits that they learn at an early age.
If you are planning on getting a little puppy, it may be easier for you to train the new member. Furthermore, your oldie may extend a helping hand in teaching the tiny one.
Characteristic Traits
One very important factor that you should keep in mind is the gender of your dogs. Even though Westies normally have a laid-back attitude, they mark their territory.
This factor becomes even more important if your old doggie is a male, he may be friendlier to a female sibling. Two males in one house tend to fight for the alpha status.
On the other hand, if you are bringing a brother for your little girl, she might let him be the alpha if she likes him. It all depends on the correct way of their socializing history.
Westies' Temperament
Always looking to have a good time, your Westies are your constant entertainment sources. They will leave you in awe with their confused expressions that are too cute to ignore.
Not much of lapdogs, Westies will love to accompany you in all your activities. Be it hiking or traveling, they are easy-going, stubborn-free babies.
West Highland White Terriers are literally social beings. They can not only mingle with people of all age groups but also with their neighboring doggies (given that there's only one alpha in the group).
Benefits of Having Westies' in Pairs
Do you think nothing can be better than having a dog? You may be a little wrong here. Having two chunks of love can surely be better than one. Here's why:
More love: Most of the dog-parents go for a second adoption because they know how lovable these furry beings are. Two of them means double the love!
Less playtime: As a matter of fact, having two fluff-balls can you give you more self-time as they'll be busy playing all day long. Moreover, you'll love how delightful it is to watch the Westies playing together.
Perfect company: Apart from the 'alpha' factor, littermates are the perfect company for each other for their daily activities. Additionally, having a sibling will also help to ease their separation anxiety in your absence.
Improved training: Your old Westie will consider it his responsibility to teach the tiny member about house manners and socializing tricks. In case you get two new pups, they'll compete with each other for more treats and learn better.
Summing Up
You may have multiple questions regarding your pair of Westies, but your answers depend entirely upon your particular situation.
You need to carefully weigh all your options before adding two Westies or a second pup to your family.
Apart from considering all the mentioned factors and more, you must be confident about your puppy's breeder. Along with good training history, health factors of the new doggie hold great significance.
What's more? Bring home a sound-tempered, precious little furry member to complete your family. Not only will you have a wonderful experience raising two lovesome furballs, but your old baby will also get the best playmate possible!