Nothing can compare to the sight of a tall dog with long legs standing gracefully in your yard. Typically, dogs with long legs are agile, fast and very good runners and can be great companions on your biking, hiking or running sprees. So, if you're considering bringing home a dog, here's our guide on the 12 most beautiful dog breeds with long legs.
Scottish Deerhound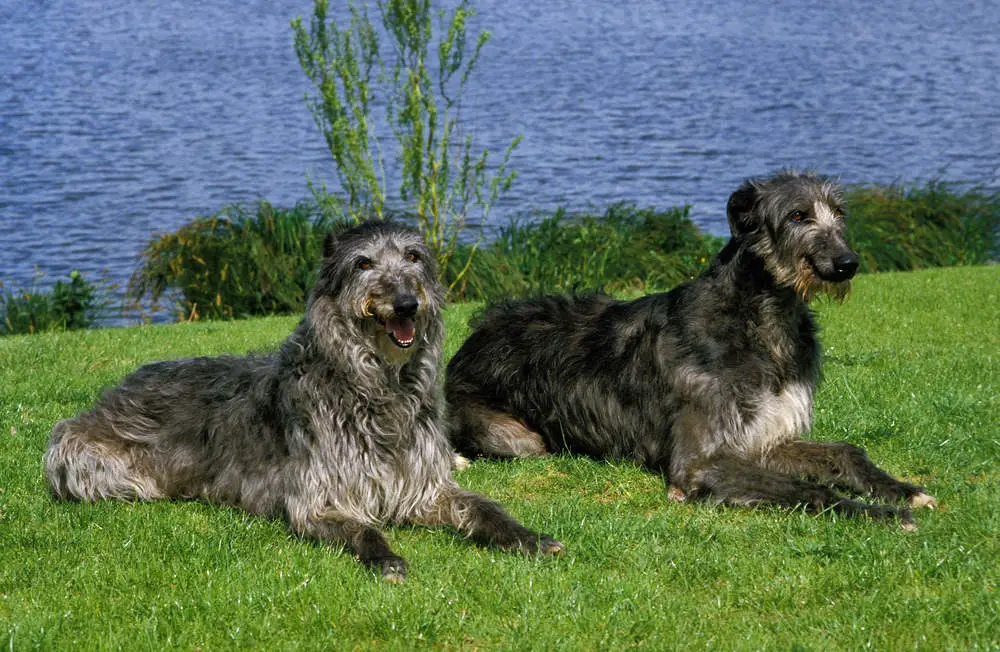 Also known simply as the Deerhound, the Scottish Deerhound is among the tallest dog breeds in the world. This large-sized hound with its long legs is considered the "Royal Dog of Scotland" for good reason. Watching the Scottish Deerhound coursing around is truly a majestic sight. Bred originally to stalk and hunt wild red deer, this ancient breed is gentle and polite, making it an excellent family pet.
Appearance
The Scottish Deerhound is similar to the Greyhound; however, they are much larger with a rougher coat and are more heavily boned. Typically, Deerhounds are around 28-32 inches in height and weigh around 75-110 lb. The Scottish Deerhound comes in various colors such as light gray, dark gray, yellow, reddish fawn, sandy red and brindle; however, the ones with a dark blue-gray coat are the most preferred.
Temperament
The Scottish Deerhound is a strong, brave dog breed, yet gentle, quiet and dignified with a gentle and friendly demeanor. They are devoted and loyal to their humans. Deerhounds, in general, are quite lazy and are true couch potatoes, happy to laze around. While these dogs have a calm nature, they may not be well suited for apartment living and do best in homes with a yard where they can run around.
Akbash
Also known by other names such as Askbash Dog, Coban Kopegi and Akbaş Çoban Köpeği, the Akbash is an ancient purebred dog breed native to Turkey. Considered as the national dog of Turkey, the name Akbash comes from the Turkish word meaning "white head." Originally bred to protect sheep from predators, these dogs have a white coat, which helps to blend in with the flock of sheep.
Appearance
The Akbash dog breed is large sized, with long legs. They grow to around 27-32 inches in height and weight of up to 75-140 lb. The breed is characterized by a double coat that comes only in white color. The double coat of the Akbash is medium length and sheds moderately. The long, double coat of the dog makes them ill suited for extreme weather.
Temperament
Akbash are very intelligent and gentle dogs that are extremely protective of their family. They growl and bark at strangers, making them good watchdogs. They are very independent and like having their own space; however, their independent nature can make them difficult to train. Akbash love being around their humans and are good with kids, making them great family pets.
Afghan Hound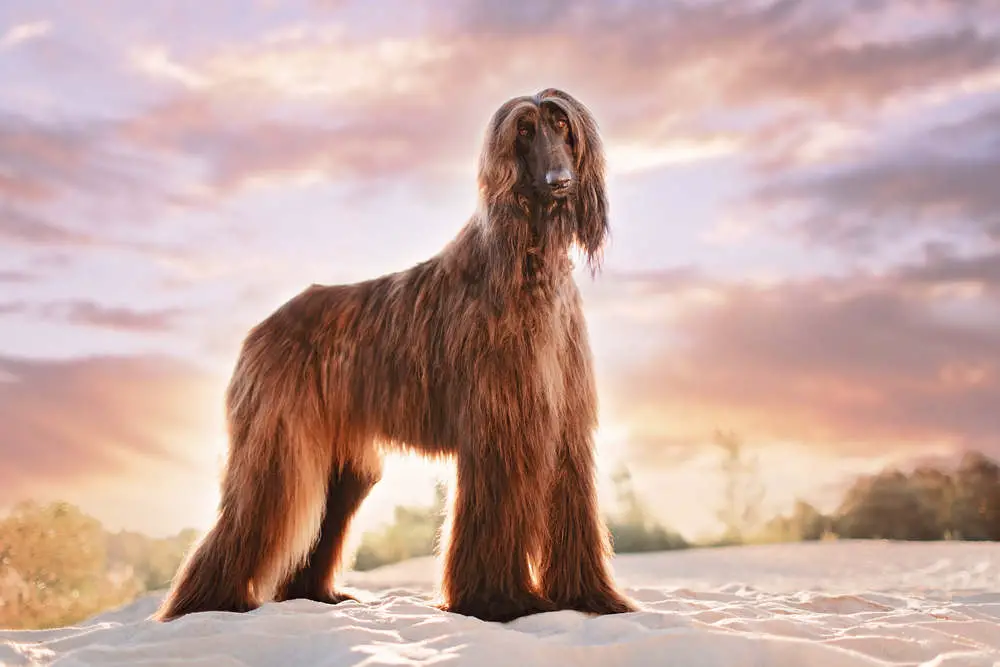 Native to Afghanistan, the Afghan Hound, originally known as Tazi is one of the oldest dog breeds that dates back to the pre-Christian era. With its beautiful silky coat and aristocratic bearing, the Afghan Hound is truly a majestic breed with long legs. While these dogs may be famous for their elegance and beauty, beneath all their glamor, lies an agile and powerful hound, which was originally bred to hunt rabbits and other small animals.
Appearance
The Afghan Hound is renowned for its silky, thick and flowing coat, long legs and regal appearance. Afghans are around 25 to 27 inches tall and weigh around 50 to 60 lb. The silky coat of the Afghan protects them from the harsh climates of their native land and comes in various solid colors. Built for hunting, Afghans have long legs with large paw pads that enable them to run over long distances.
Temperament
Generally aloof and reserved, Afghans are quite indifferent to strangers. They are independent dogs, which can make them a challenge to train. However, when they want, Afghans can be quite mischievous and clown around, making you laugh with their antics. Sensitive by nature, this dog breed needs to be handled with love, kindness and patience.
Also Read: 30 of the Most Popular Asian Dog Breeds
Irish Wolfhound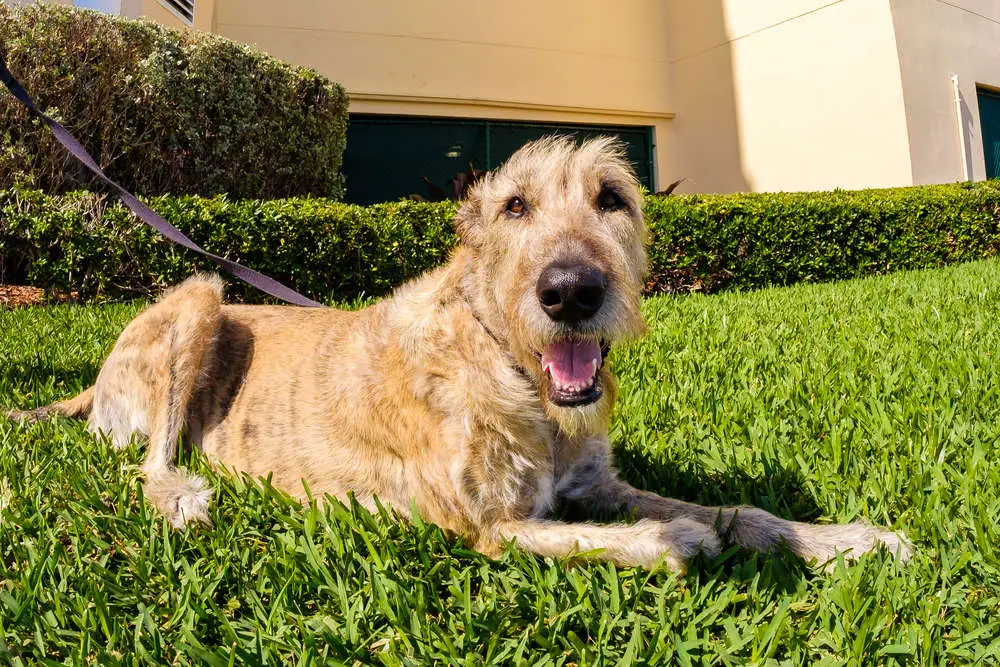 The tallest of all dog breeds and the largest dog among all sighthounds, the Irish Wolfhound is native to Ireland and was originally bred to hunt game such as wolves, boar and deer. They were also used in the war to drag soldiers off their chariots and horses. These fearless hunters have a serene demeanor that makes them very pleasant and loving family pets.
Appearance
The Irish Wolfhound is a large-sized dog that has a muscular, but graceful build. These tall dogs grow to around 32-35 inches in height and weigh around 115-180 lb. The breed has a rough and hard coat that comes in various colors such as gray, white, black, fawn, red and brindle.
Temperament
Despite having the reputation of being a fierce hunting dog, the Irish Wolfhound is a gentle giant who gets along with kids, other dogs and even cats. Happy to be lazy couch potatoes and generally quiet by nature, Irish Wolfhounds have a calm, serene and dignified demeanor.
They are generally not aggressive and their serene disposition makes Irish Wolfhounds ill suited to be good watchdogs. Their immense size makes these dogs unsuitable for apartment living as they need a lot of space to run about and play.
Also Read: 15 Fascinating Irish Wolfhound Mix Breeds
Great Dane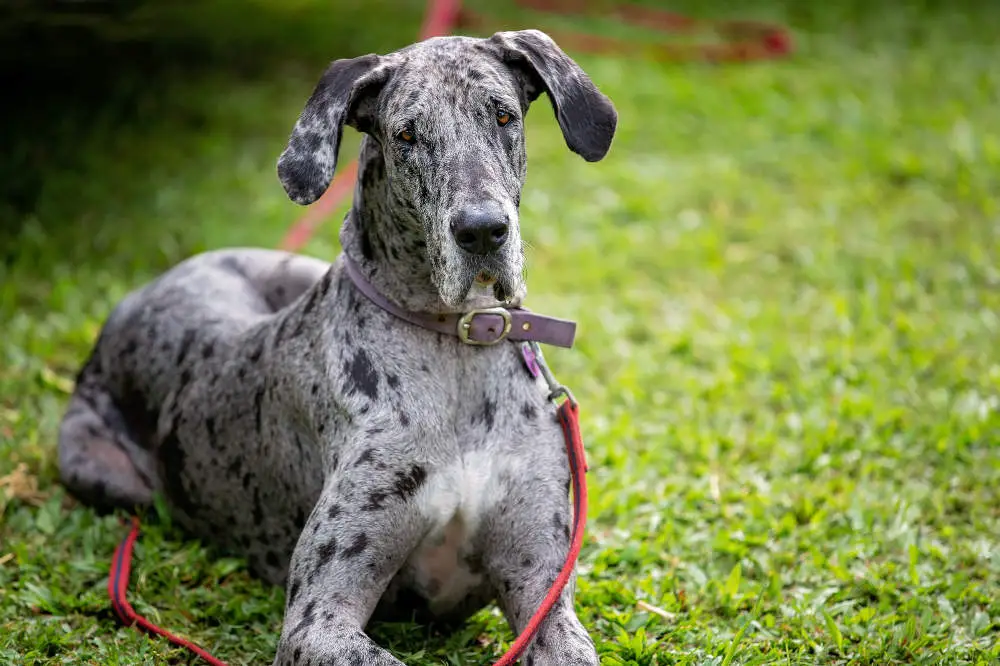 One of the most popular long-legged dogs, Great Danes are truly majestic. Native to Germany, Great Danes are also known as Deutsche Dogge or German Mastiff. The "Apollo of Dogs", Great Danes are imposing in terms of their size, strength and weight.
Appearance
Great Danes are powerfully built elegant dogs. They have a large, lean, muscular body and long legs. Danes grow to a height of around 28-32 inches and weigh around 110-175 lb. When they stand on their hind legs, they are much taller than people. Danes come in various colors and patterned coats; however, the most common is the harlequin or the patchwork pattern in black and white.
Temperament
While they are quite intimidating in terms of their looks, Great Danes have a sweet and pleasant nature. They are gentle, affectionate and loving. Quite patient with kids, Danes love to play.
They are people pleasers and demand attention from those around them, which makes them easy to train. They love people, including strangers, but they can get fiercely protective if they feel something is amiss.
Borzoi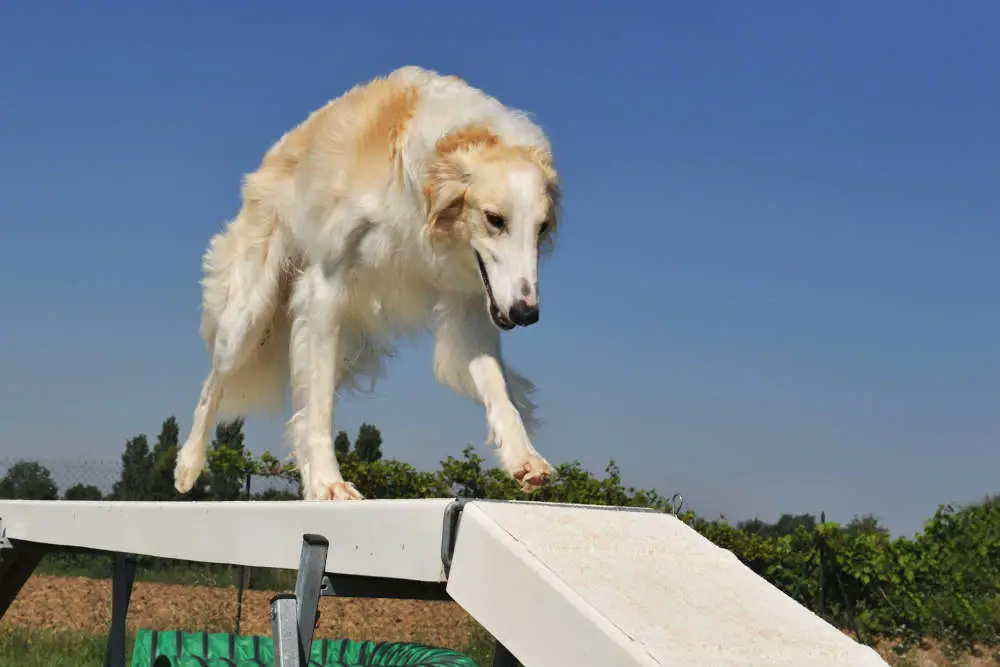 The Borzoi, also known as the Russian Hunting Sighthound is a graceful long-legged dog breed. Native to Russia, these dogs were bred by the aristocrats of Russia as coursing and hunting dogs. These large-sized dogs are a combination of grace and strength and their long legs enable them to cover long distances very quickly.
Appearance
Borzois are large dogs with tall and lean bodies, silky coats and narrow heads. They grow to at least 28 inches or more and weigh up to 75-105 lb. The Borzoi is quite a shedder and you must brush his long, silky coat 3-4 times a week to prevent it from becoming a tangled mess.
Temperament
While Borzois are famous for their top-speed running, they are quite laidback and have a quiet, sweet and intelligent temperament. They love to run but are equally happy to simply lie on your couch and relax with you. These dogs are independent thinkers but thrive on the companionship of their humans. They don't do too well if left alone for long periods.
Greyhound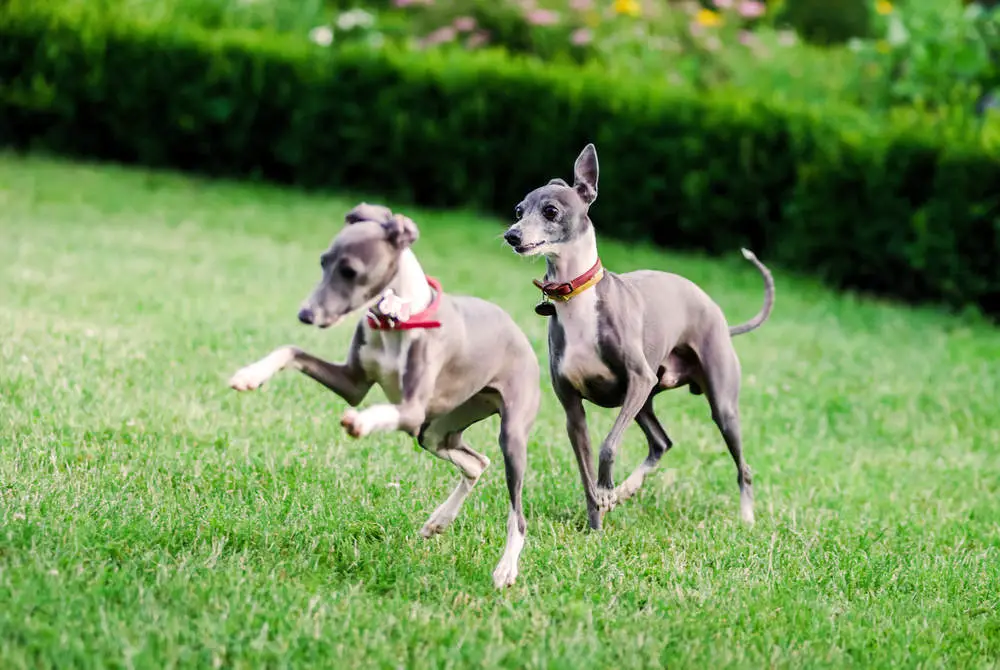 Bred for coursing and hunting, Greyhounds are essentially sighthounds that were used to chase foxes, hare, deer and other game. Lean and aerodynamically built with long legs, the Greyhound is the epitome of speed and grace. These sprinters make excellent running or jogging partners for active people.
Appearance
Greyhounds are lean dogs, with streamlined bodies and muscular physiques. Right from their head to the pads of their feet, these dogs are perfect for high-speed sprinting. They grow to 27-30 inches tall and weigh up to 60-70 lb. Greyhounds come in various colors including variations of fawn, white, black, brindle, red and bluish-gray.
Temperament
Greyhounds are highly energetic and have plenty of stamina. These speedy sprinters are however huge couch potatoes and love to sleep. They can snooze for around 18 hours a day.
These dogs are gentle and sweet tempered and very affectionate towards their humans. Their calm and laid-back temperament makes them perfect for living in apartments, as long as they have their daily dose of exercise.
Also Read: 24 Popular, Comforting Dog Breeds to Help With Anxiety
Sloughi
Hailing from the desert regions of North Africa, Algeria, Morocco, Libya and Tunisia, Sloughis are an ancient breed. Also called the Arabian Greyhound, Sloughis are medium-sized dogs, which were essentially bred to hunt game like hares, foxes, gazelles, jackals and wild pigs.
Appearance
The Sloughi is a lean hound, which is typically around 24-29 inches tall and weighs up to 35-50 lb. Sloughis have a dense, fine and short coat, which comes in various colors from mahogany-red-fawn to light sand. They may or may not have black markings, with/without brindling. The Sloughi has distinctively melancholic big, dark-colored eyes.
Temperament
In terms of their temperament, Sloughis are sensitive, quiet and sedate. Very gentle and loving towards their humans, they are wary and aloof when in the company of strangers. While these dogs are energetic and active, they can be quite calm and sedate indoors.
They can be quite stubborn, which can make them difficult to handle and may be more suitable for experienced owners. Plenty of exercise and running around can keep your Sloughi active, fit, healthy and happy.
Komondor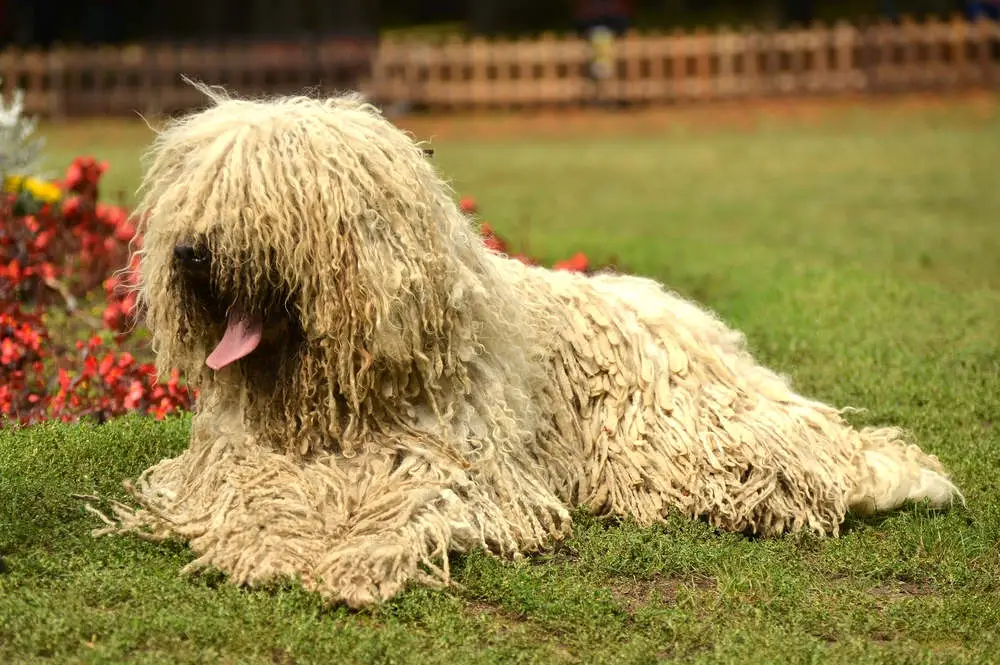 Also called the Hungarian Sheepdog or the "mop dog", the Komondor is a Hungarian dog breed that was mainly bred to guard livestock. Declared as one of the national treasures of Hungary, the Komondor is characterized by its unique and distinct heavy corded coat.
Appearance
The Komondor is a tall and powerfully large dog with long legs. They are the most recognizable dog breeds in the world, thanks to their profuse white corded coat that covers them from top to tail. They grow to around 25.5 to 27.5 inches tall and weigh around 80-100 lb. However, despite being large and brawny, Komondor are light-footed and agile and can move very quickly.
Temperament
Komondor are intelligent dogs that are very affectionate and loving towards their families. They are extremely protective make good guard dogs. They are intelligent dogs and are quite easy to train; however, at times they can be willful and stubborn too. The exercise needs of the Komondor are moderate and short walks around the yard are enough to keep them happy.
Also Read: 61 Velcro Dog Breeds That Are Extra Clingy and Loyal
Azawakh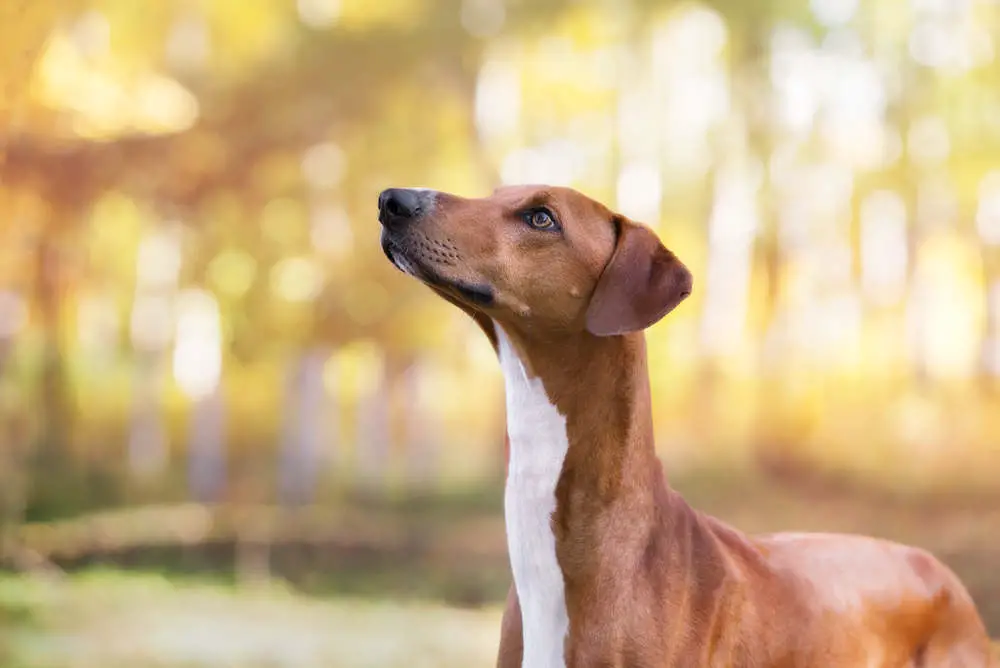 A rare dog breed, the Azawakh is a native of West Africa. This tall and elegant sighthound is a hunting hound that has been named after the Azawakh Valley located in the Sahara Desert. These swift dogs love to run and make excellent companions for joggers and runners.
Appearance
Azawakhs are slim and elegant dogs with a short, fine coat that comes in different colors or color combinations such as sand, fawn, red, parti-color, brindled, black, brown and blue. Azawakhs are so lean that you can see their bone structure and muscles through their skin. Their long bodies, long legs, long necks, long tail and muscles give them an athletic look. Azawakhs usually grow to a height of around 23.5 to 29 inches and weight of up to 33-55 lb.
Temperament
Azawakhs are protectors and they develop close bonds with their humans. They are quite independent, yet affectionate and gentle. They are reserved with strangers and don't like being touched, but they are not aggressive unless threatened. Gentle handling and socialization are very important to ensure that they get along with kids, other pets and people.
Whippet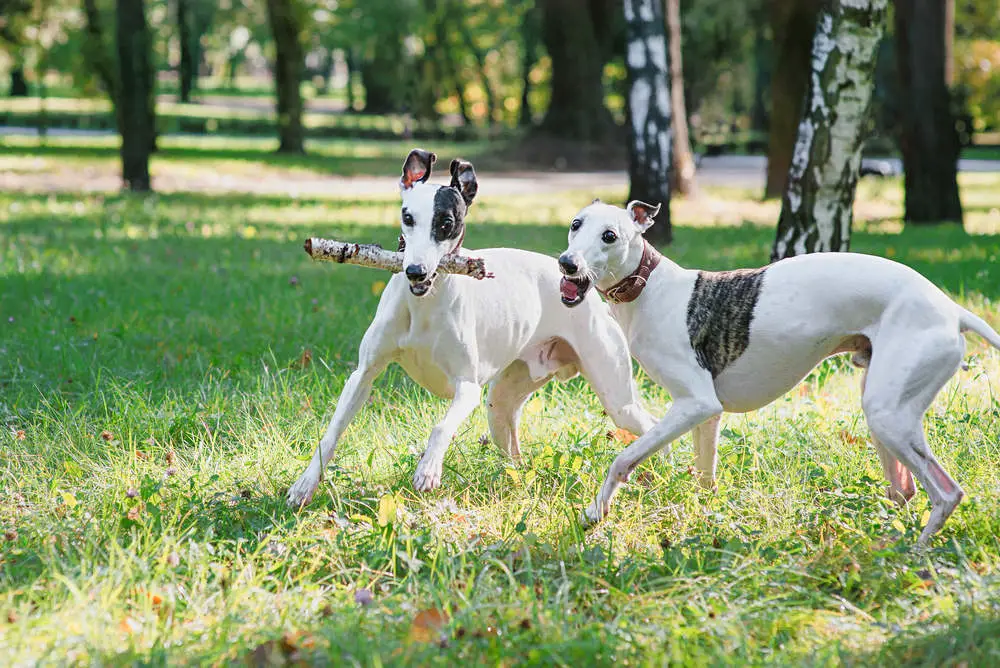 Native to England, Whippets, English Whippets or Snaphounds are mid-sized dogs that are descendants of the Greyhound. Bred as hunting dogs to hunt rabbits and other small game, Whippets are lightning quick, giving them the moniker "Poor Man's Racehorse."
Appearance
The Whippet looks quite similar to the Greyhound but smaller. These medium-sized dogs have a sweet face and sleek, streamlined build. Very elegant to look at, Whippets grow to a height of up to 18-22 inches and weight of up to 25-40 lb. Whippets come in a wide range of colors and markings right from solid red to black with cream, fawn, red, brindle or blue.
Temperament
While Whippets are agile athletes and love running around. But after bursts of frenetic running, they like nothing better than stretching out and relaxing with their humans. They are very loving and gentle, especially with kids, making them great family pets. Whippets are great apartment dogs; however, they need plenty of exercise and hate being left alone at home for long periods.
Saluki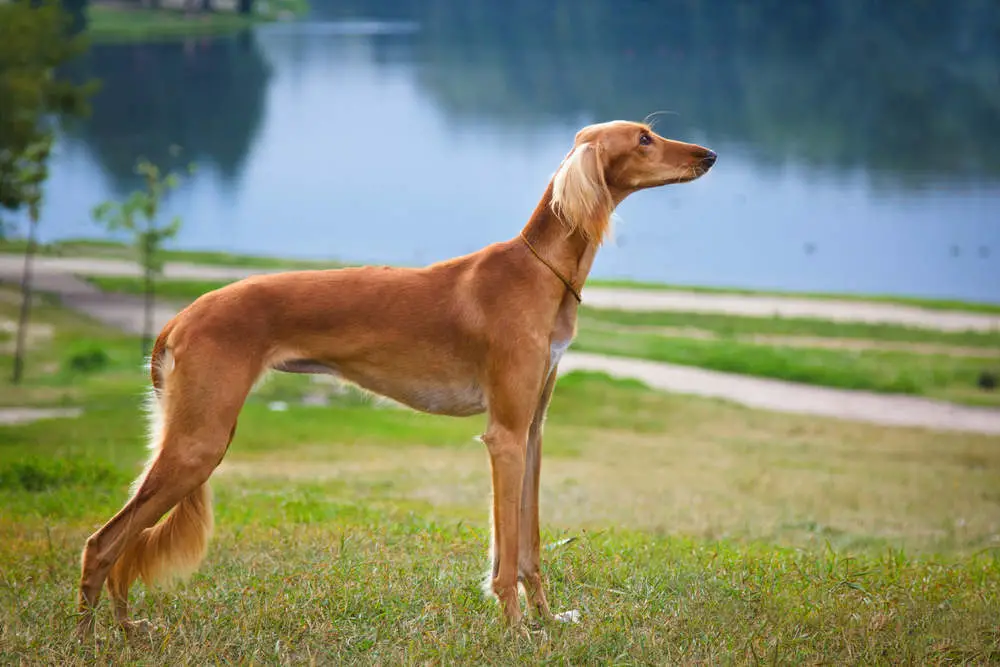 Also known as the Persian Greyhound or the Royal Dog of Egypt, Salukis are among the oldest dog breeds in the world. Native to Egypt, Salukis were bred as hunting dogs to hunt game like fox, jackal, hare, antelope and gazelle. Built for speed and endurance, these sighthounds, these dogs are agile sprinters.
Appearance
Salukis have a slim body, lean frame and long legs that make them perfect to run at very high speeds. They are typically 23 to 28 inches tall, while the females are a little shorter and they weigh between 40 and 65 lb. They come in various colors, as well as patterns.
Temperament
Salukis are beautiful dogs with a quiet and gentle temperament. They are reserved by nature but quite affectionate and loyal to their humans. Always alert, these dogs are extremely intelligent.
These exotic-looking dogs may not be well-suited for all people because of their independent and spirited hunting nature. However, they can be great running companions for active owners.