Siberian Huskies are among the most stunning dogs and are extremely popular because of their beauty and grace. Huskies have an attractive coat, pointy, erect ears, fluffy tail and icy blue or bi-colored eyes, which make them extremely appealing to dog lovers. However, the husky is not the only wolf-like arctic dog breed that has won the hearts of people, here are 15 other husky-like dog breeds that you're sure to love.
Alaskan Malamute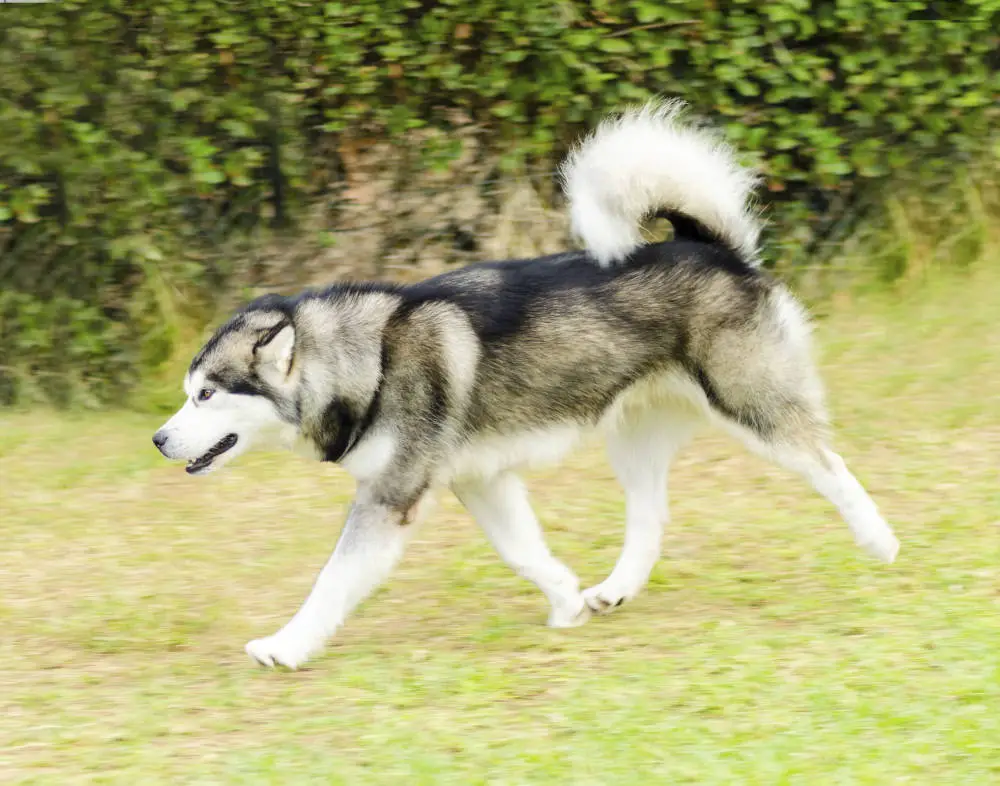 Often confused with Siberian Huskies, Alaskan Malamutes are also sled-pulling Spitz dogs. While both these breeds are strikingly similar looking, there are some differences that set them apart. Alaskan Malamutes are heavier than Huskies and have more muted markings.
Appearance
The Alaskan Malamute is a strong dog with stunning looks. These fluffy, white dogs have almond-shaped eyes, erect, pointy ears, a plumed tail, a strong bone structure and a weatherproof coat. These working dogs are 23 to 25 inches tall and weigh around 75 to 85 lb.
Temperament
Originally bred by the Germans, Alaskan Malamutes are smart and alert dogs, which make them perfect watch dogs. They are extremely affectionate and love a good cuddle. If not given attention, they tend to bark a lot. Alaskan Malamutes are very energetic dogs and need plenty of open space and exercise and are not well suited for apartments. Also, they are not tolerant of other pets and kids. These are very intelligent dogs that need to be kept busy to prevent them from getting bored.
Alaskan Klee Kai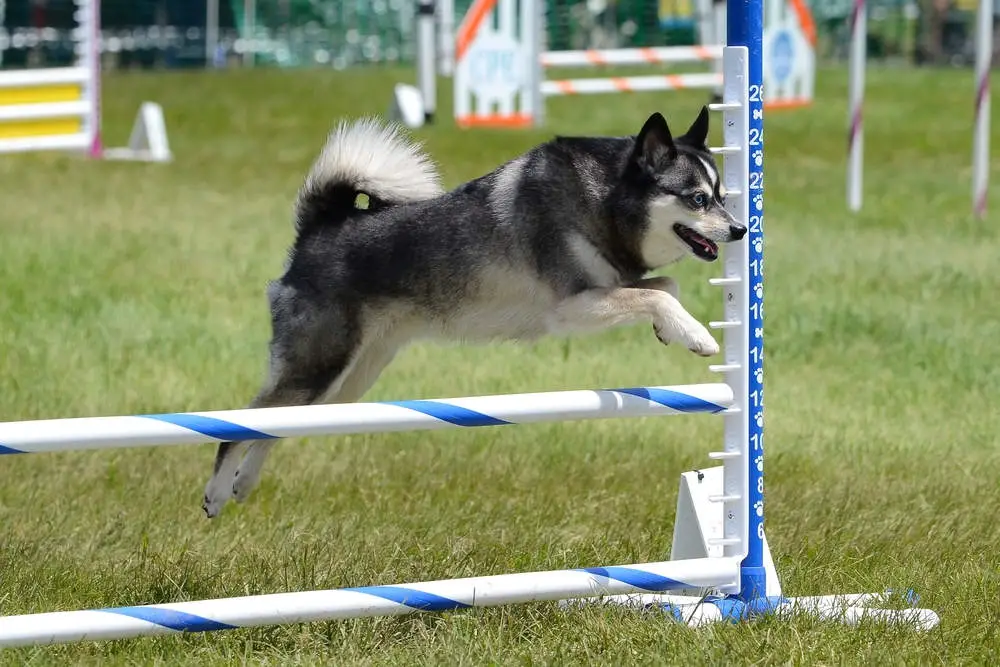 Resembling a mini Husky, the Alaskan Klee Kai is a small, energetic and smart working dog breed. The name "Klee Kai" means "small dog" in Inuit.
Appearance
Remarkably with Husky-like looks, this tiny dog typically grows to around 13 to 15 inches in height. The Alaskan Klee Kai has a double coat and comes in various colors such as gray and white, black and white, all white, red and white and wolf gray and white. The dog has symmetrical markings, a mask and a tail, which curls over its back.
Temperament
Alaskan Klee Kais are extremely cute looking. They are intelligent, highly energetic and love to run around and play. However, these dogs are quite shy and wary around strangers, which makes them excellent guard dogs. Eager to please, these dogs love to be the center of attention and if their needs aren't met, they can be quite vocal too. They need training and physical activity to keep them happy, otherwise, they can become anxious, bored and even destructive.
Utonagan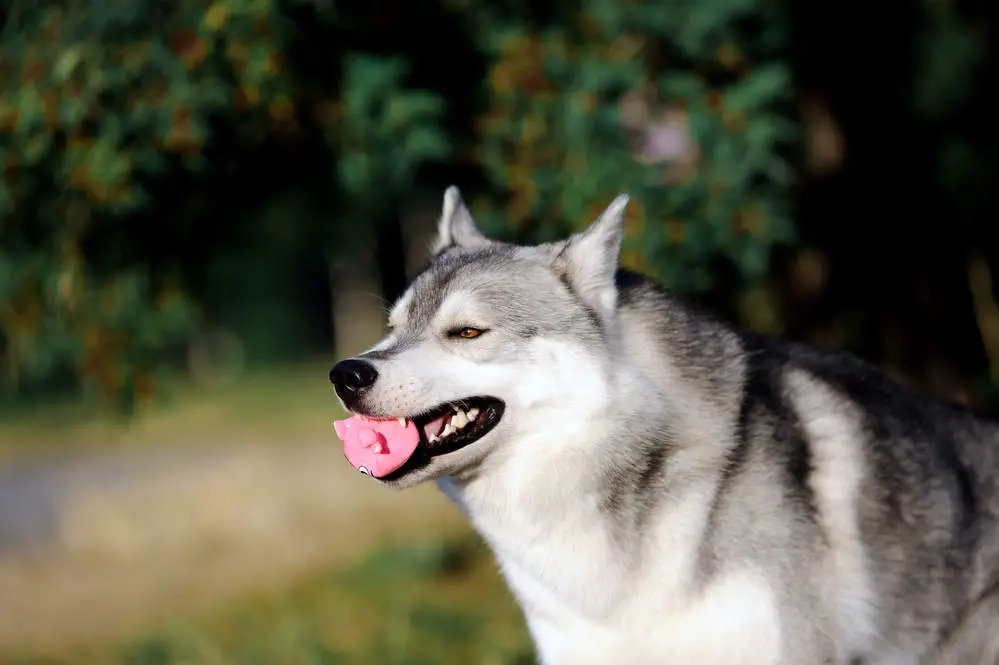 Meaning "spirit of wolf" in Chinook Indian, the Utonagan breed is a mix of the Siberian Husky, German Shepherd and Alaskan Malamute. Similar to the Husky in terms of its temperament, Utonagans have loads of personality and are playful, affectionate and loyal dogs.
Appearance
Utonagans are large-sized dogs and have a wolf-like appearance. They are strong and muscular dogs with a beautiful, lush and dense coat. The Utonagan grows to a height of around 23 to 30 inches and weighs around 55 to 110 lb. They come in a variety of colors like black, white, gray, gray and black and black and white.
Temperament
Utonagans are affectionate, loyal and playful dogs that are loving and gentle and make excellent family pets. They are friendly and sociable and get along with people of all ages. They are energetic dogs that need daily exercise and training. They are sweet, gentle and even-tempered dogs and thrive well in a loving home environment. Utonagans need plenty of open space to run around and may not be well suited for apartment living.
Samoyed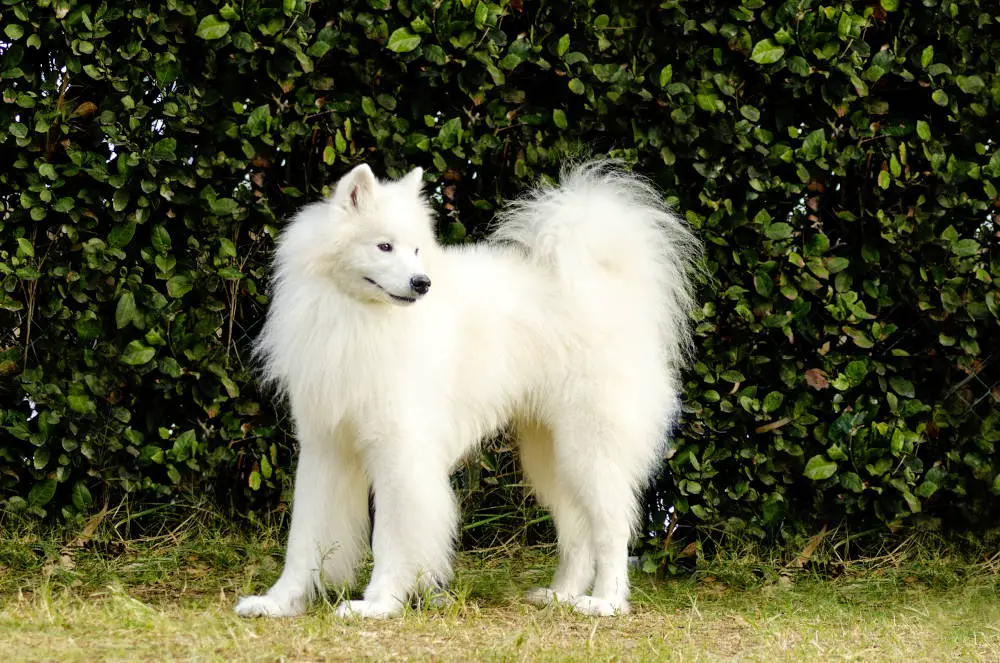 Often compared to the Husky, the Samoyed breed was bred by the Samoyed tribe of northern Siberia. They were bred as hunting dogs and also for pulling sleds and herding reindeer. These white, fluffy dogs are friendly and make good family companions.
Appearance
With a happy, smiling face, the Samoyed has a thick coat and powerful build and shared several characteristics with the husky. These fluffy coat dogs usually have a white or cream-colored coat minus the black or brown facial markings of the Husky. Samoyeds grow to around 19 to 24 inches in height and weight around 40 to 60 lb.
Temperament
The hard-working Samoyeds are very friendly and loyal companions. They are very alert and make good watchdogs and protect their territory from intruders. These dogs love being around people and playing with them and if left alone can develop destructive behaviors. Samoyeds like being active and enjoy long walks, jogging and hikes.
Tamaskan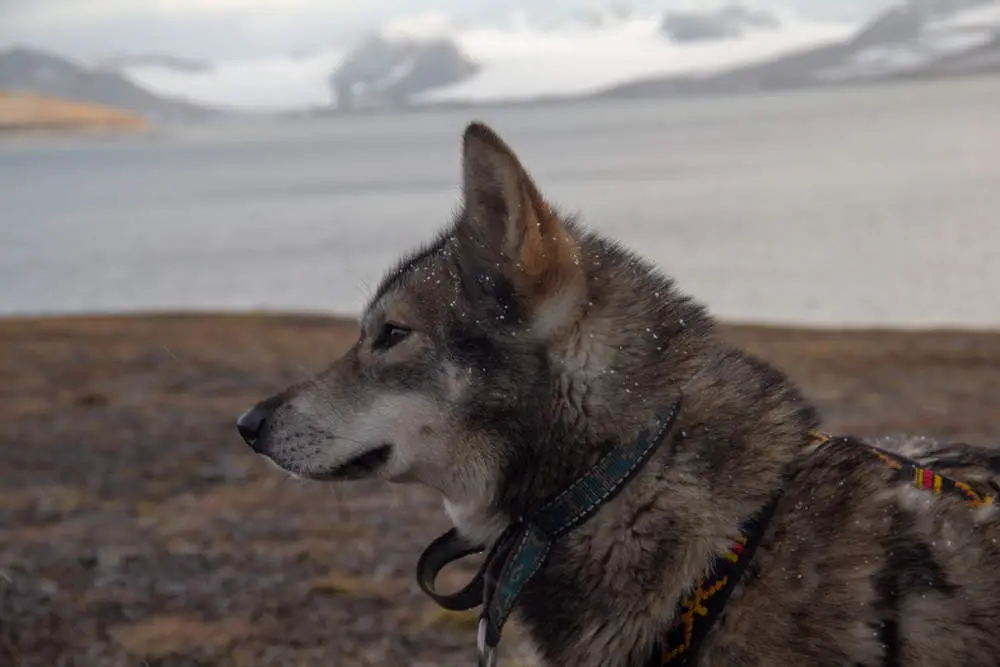 A mixture of many arctic dog breeds like Alaskan Malamute, Siberian Husky, Canadian Eskimo and German Shepherd, the Tamaskan is a wolf-like canine. This large-size working dog has athletic looks. The breed is extremely gentle with kids and gets along with other dogs, making it a good family pet.
Appearance
The Tamaskan has a straight, thick coat, a bushy tail and a wolf-like appearance. They primarily come in 3 colors—black-gray, wolf gray and red-gray—the Tamaskan has brown- or amber-colored eyes and erect ears. Larger than a Siberian Husky, Tamaskans are alert and graceful dogs and are excellent athletes.
Temperament
Highly intelligent, the Tamaskan is a working dog and excels in sled racing and agility activities. The pack dog loves the company of humans and other dogs and does not like to be left alone for long periods and can suffer from separation anxiety. The energetic dog does not like to sit around and requires plenty of physical, as well as mental exercise to keep them active and happy.
American Eskimo Dog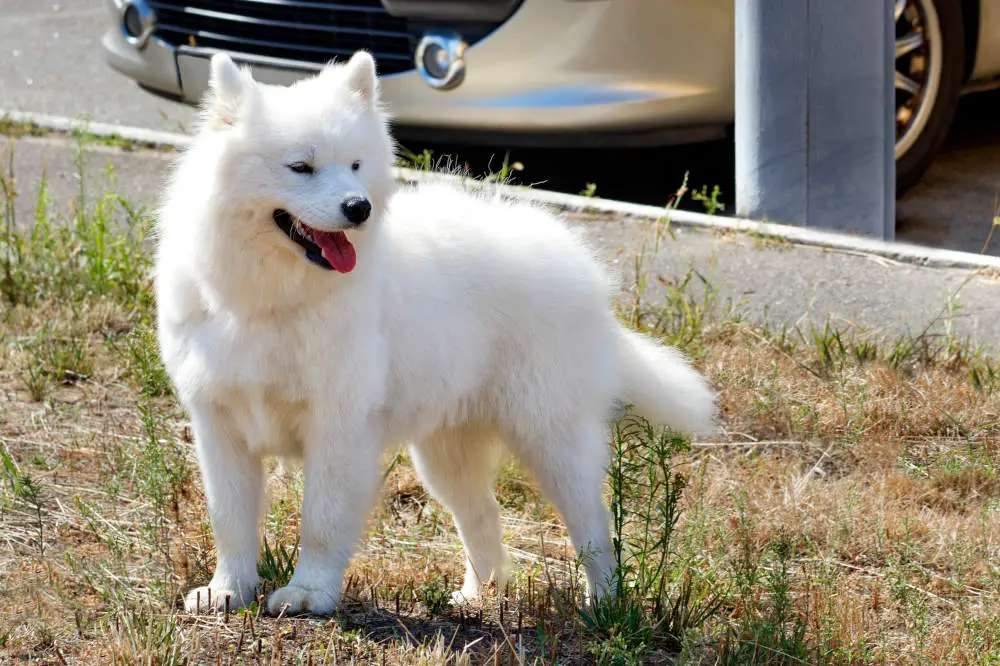 The American Eskimo Dog is a combination of beautiful looks and a quick, intelligent mind and is truly a "beauty with brains." They are affectionate and friendly and love life, making them the perfect family pet.
Appearance
Available in 3 sizes, standard, toy and miniature, the American Eskimo Dog can be 19 inches tall or as short as 9 inches. The breed is characterized by its distinctive sparkling and dense white-colored coat and it has a ruff around the shoulder and chest like a lion. The American Eskimo Dog has a smiling face, black eye rims, nose and lips and a plumed tail.
Temperament
American Eskimo Dogs are neither aggressive nor shy and are friendly and alert although they are a bit shy when making friends. Energetic and curious, these dogs need challenges for mental and physical stimulation, without which they can get bored and indulge in destructive behaviors. Considered as "Velcro dogs" American Eskimo Dogs follow you around the entire day and hate to be left alone for long periods. Eager to please, these dogs are easy to train and kid friendly.
Keeshond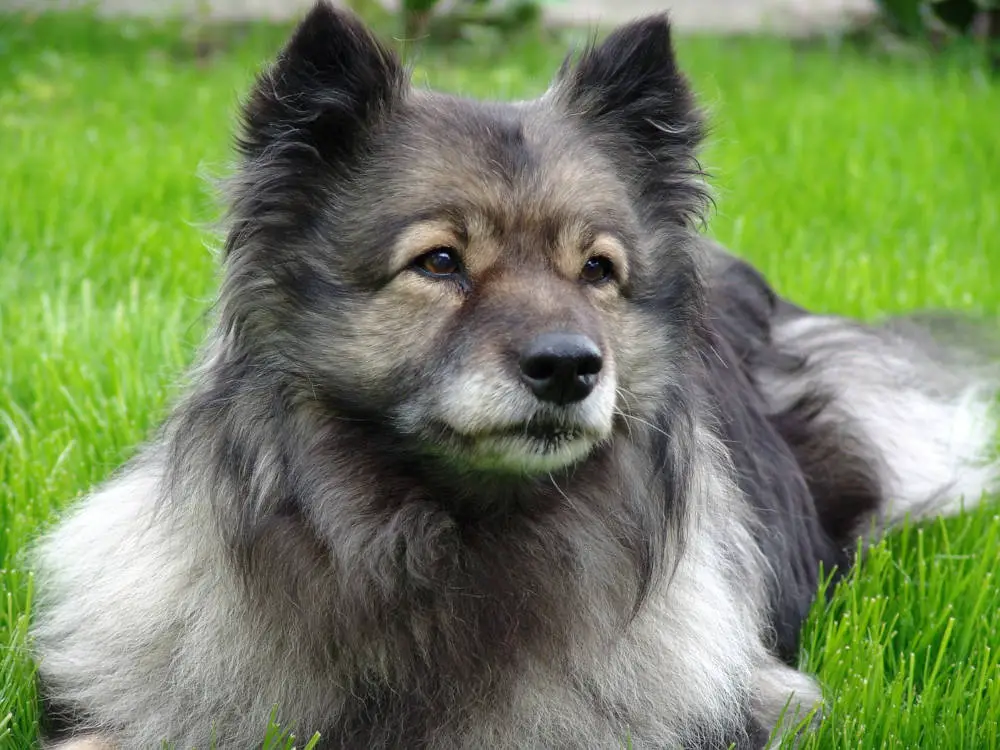 Keeshonds are spitz-type, medium-sized dogs. A native of Holland, they are also known as Dutch Barge Dogs and are extremely versatile pets.
Appearance
Keeshonds weigh around 35 to 45 lb and 17 to 18 inches tall. They have a cute fox-like face, dense, lush coat, pointy ears and a plumed tail. The dog breed has a unique spectacle-like marking around its eyes, which gives it an alert, intelligent expression. The dog has a sturdy build and a double black and silver coat with a soft and downy undercoat and a long, straight and harsh outercoat.
Temperament
Quite friendly by nature, Keeshonds get along very well with other dogs and humans. They are outgoing, energetic and playful. They are quick to learn and are alert, which makes them excellent watchdogs. These dogs love being a part of the family, are affectionate by nature and get along very well with kids, making them excellent family pets.
Related: 24 of the Best Outdoor Dog Breeds
Akita Inu
Also known as the Japanese Akita, Akita-ken and Great Japanese Dog the Akita Inu breed originated in the North Japan mountains and are the oldest native dogs of Japan. Bred originally as guard dogs for the royalty of Japan, these dogs were also used for hunting and tracking.
Appearance
Belonging to the same family as the husky and German Shepherd, Akita Inus have pointy ears and wolf-like features. These are large and powerful dogs with a noble stature and grow to around 24 to 28 inches in height and weight of around 70 to 110 lb. These dogs have a short, double coat and are available in different colors such as fawn, white, brindle, sesame and red.
Personality
Akita Inus are an intelligent and courageous breed of dogs. They have a quiet and calm disposition. Because they are bred to work and live alone, they are quite reserved around strangers and not friendly towards other animals. Akita Inu dogs have a complex personality that makes them quite a challenge for first-time owners.
Swedish Vallhund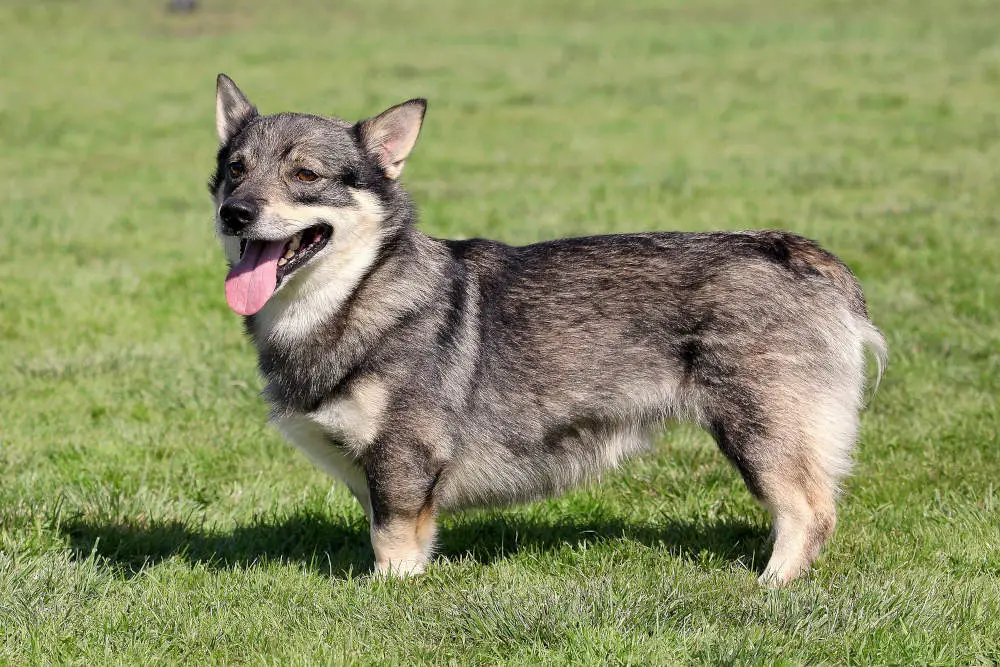 The Swedish Vallhund is an ancient dog breed whose origins can be traced way back to 8th century Sweden. This small-sized dog breed is a combination of a Corgi and a Siberian Husky, although it does not have a relation to either breed. Originally bred for herding, these dogs are good watching and guarding dogs. Energetic and extremely sociable, Swedish Vallhunds make wonderful family companions.
Appearance
The rugged and solid Swedish Vallhunds are small-sized cattle dogs with a small stature and short and stubby legs. They have wedged-shaped heads with pointy, erect ears and oval eyes. Built low to the ground, Swedish Vallhunds have a long body and a dense sable coat.
Temperament
Known for their zest for life and cheerful disposition, Swedish Vallhunds are extremely energetic dogs. They have loads of personality and love to play games, which stimulate them mentally. Easy to train, Swedish Vallhunds are great family companions if you can match their energetic lifestyle.
Related: 18 Dog Breeds With Pointed Ears
Saarloos Wolfdog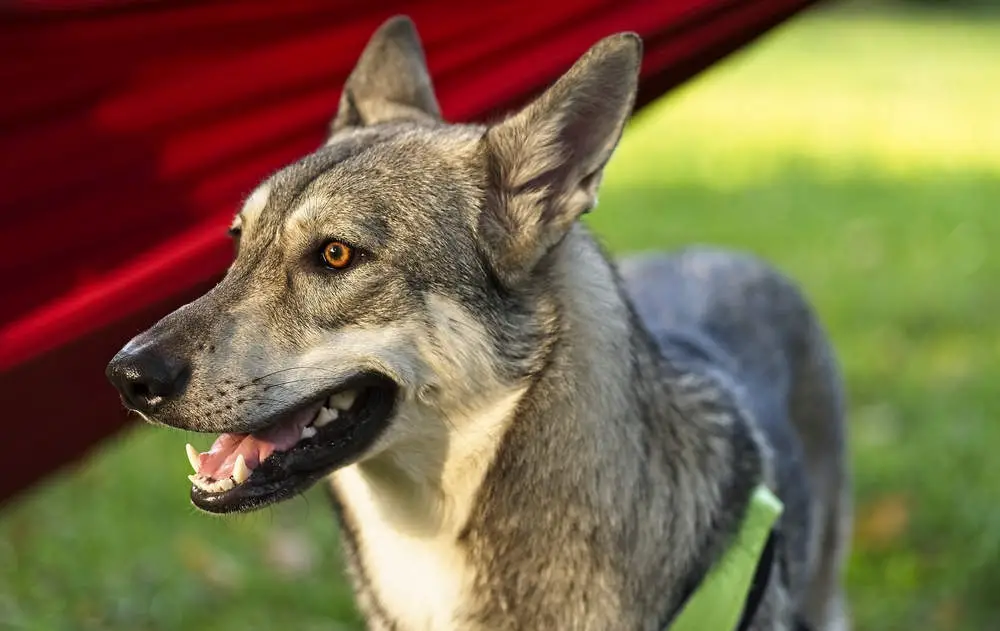 The Saarloos Wolfdog is a mix of German Shepherd and Siberian wolf and tends to have more wolf-like characteristics. This dog breed is highly energetic and independent and needs to be trained when they are very young.
Appearance
The Saarloos Wolfdog is a large and powerful canine and grows to around 24 to 29.5 inches in height and 79 to 90 lb. Despite having a muscular physique, Saarloos Wolfdogs are swift and agile. The dog has a broad and powerful neck, erect ears and brown or yellow almond-shaped eyes. The coat of the Saarloos Wolfdog is short, coarse and harsh and has a dense undercoat. The breed comes in various colors including wolf-brown, wolf-gray and agouti with a few white markings.
Temperament
Saarloos Wolfdogs are energetic and are independent in nature. They are wary of strangers but loyal and devoted to their owners. While these dogs are non-aggressive, they tend to be cautious, shy and even stubborn. They are very protective of their territory and need to be supervised around other animals and kids. Saarloos Wolfdogs do well in families without children and require plenty of outdoor space to roam around.
Finnish Spitz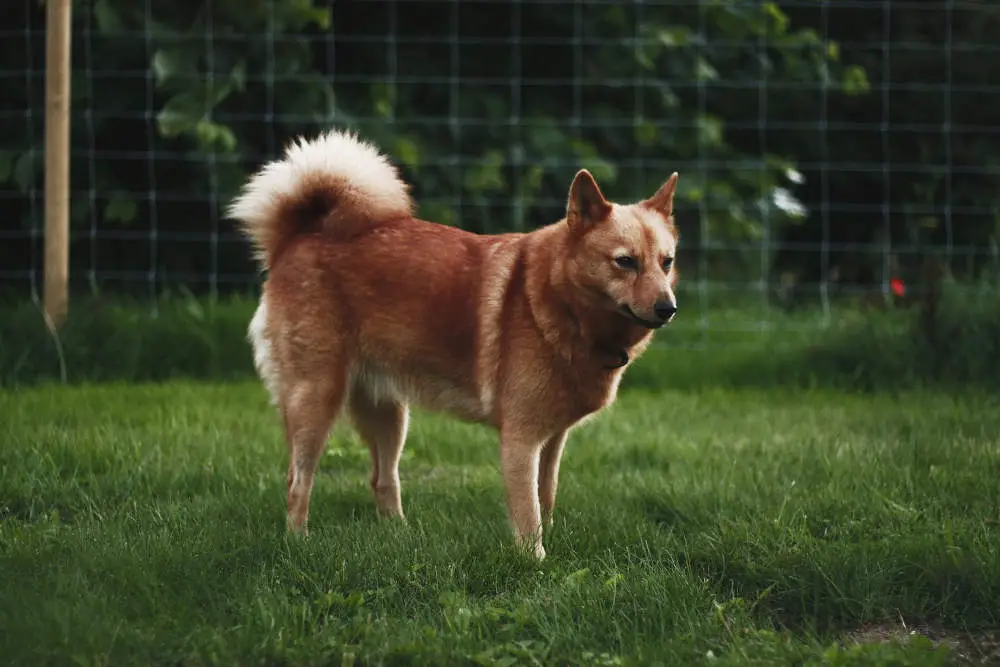 Very similar to the Siberian Husky, the Finnish Spitz is considered the national dog of Finland. Originally bred for hunting wild game, they are a very alert and active breed and make excellent guard dogs.
Appearance
The Finnish Spitz has a squarely symmetrical and balanced look and is around 20 inches tall. Characterized by its pointy ears, foxy face, lively expression and curving plumed tail, the Finnish Spitz has a gorgeous golden-red dense coat and moves with a brisk and bold gait.
Temperament
Described as a very "talkative" breed, the Finnish Spitz love to bark and if they are not trained properly, they will bark at all the things they see. These dogs are non-aggressive, very friendly and extremely loyal. They are friendly with new people they meet and gentle with kids, making them great family pets. The intelligent and lively dogs are very energetic and love to take part in sporting activities.
Czech Wolfdog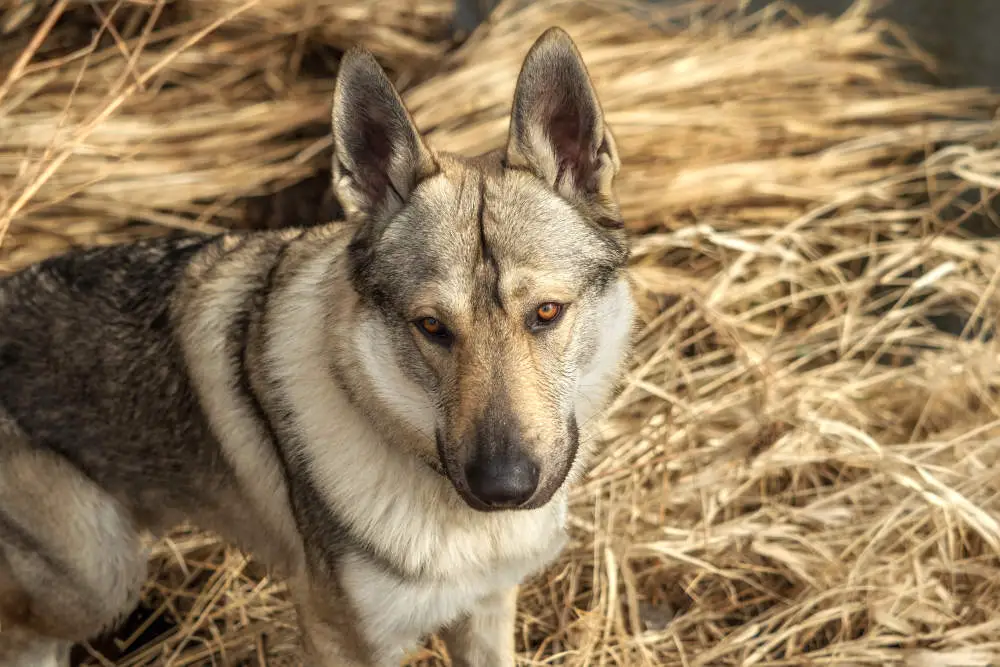 The Czech Wolfdog is a breed that has the strength of a Carpathian Wolf but the disposition of a German Shepherd. Bred in Czechoslovakia originally as attack dogs, these dogs are now used as tracking, search and rescue, agility, obedience, herding, drafting and working dogs.
Appearance
The primitive dog breed has a wolf-like appearance. It has a height of 23.5 to 25.5 inches and weighs around 44 to 57 lb. With a superior sense of smell, eyesight and hearing, the Czech Wolfdog is renowned for its endurance and stamina.
Temperament
The Czech Wolfdog is a highly intelligent breed and is devoted and loyal to its owner. Bred for its hardiness and versatility, the Czech Wolfdog is very independent in nature. They are energetic dogs and love spending time outdoors and are great companions for active owners. These dogs are suspicious of strangers and require strong leadership and training, which is why they may not be suitable for first-time owners.
Shikoku Dog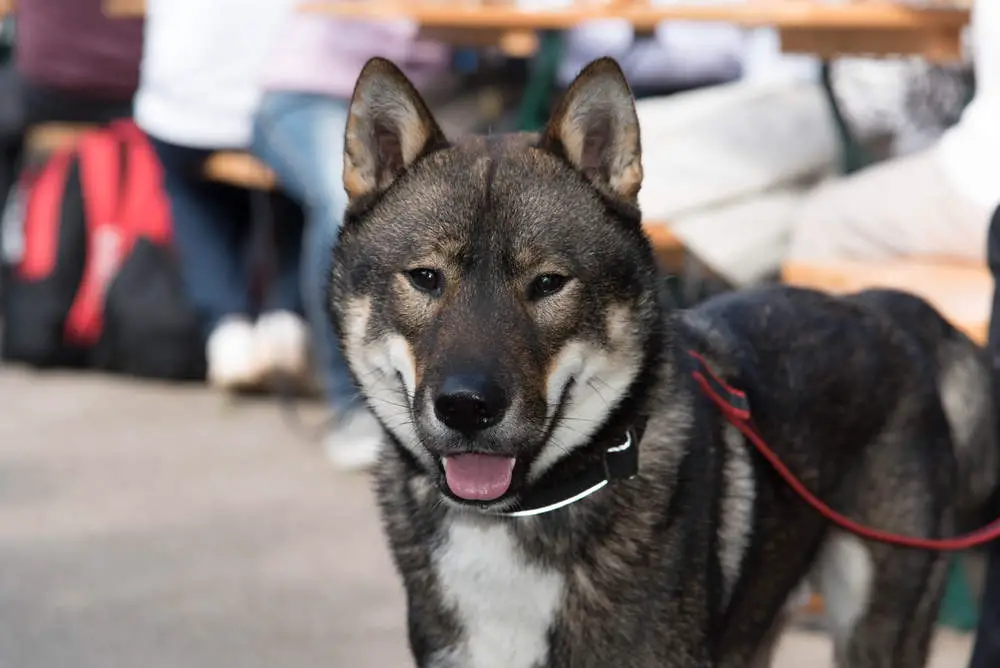 The Shikoku Dog, also known as Kochi-ken is a Japanese dog breed originally from the Shikoku island. These dogs were valued highly by the Matagi or Japanese hunters as a tracker, especially wild boar. These sociable dogs are extremely enthusiastic and make great family pets.
Appearance
The Shizoku Dog is a medium-sized dog having well-developed and well-balanced muscles. It has a sickle or curled tail with long hairs and pointy ears. The breed has a straight, harsh outer coat and a soft, dense undercoat. The breed comes in varying colors such as black and tan, red or sesame (consisting of red, black and white hair).
Temperament
The Shizoku Dog is a working breed and enthusiastic hunter. Because it has a high prey drive, the Shizoku Dog will chase small animals. Very good natured in terms of its disposition, the breed is quite docile towards his owner. These dogs need a lot of exercise and mental stimulation every day otherwise, they become bored, frustrated and quite destructive.
Icelandic Sheepdog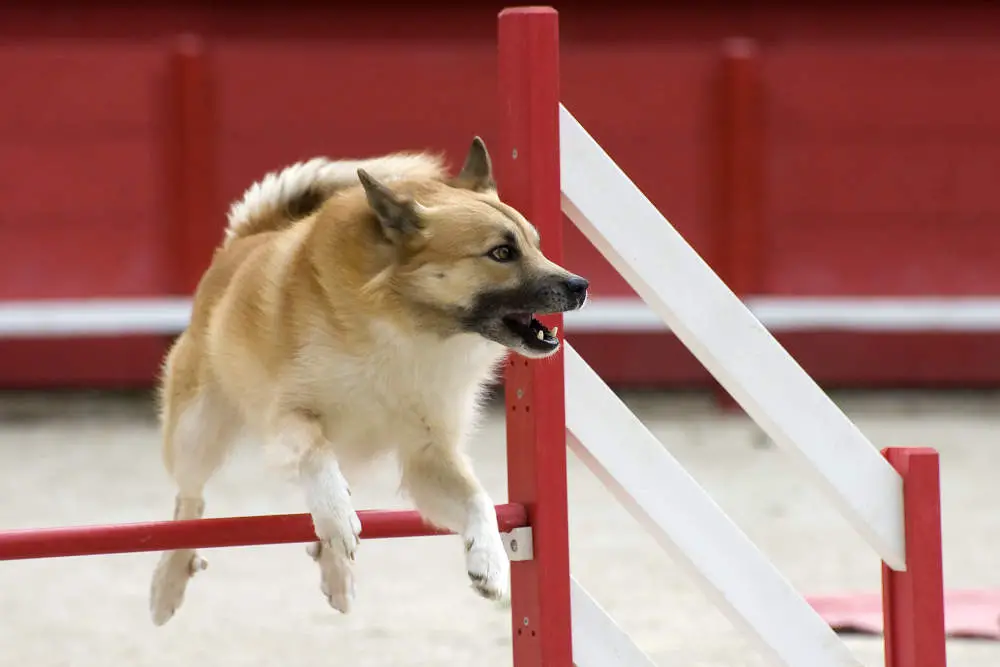 Belonging to the Spitz family, the Icelandic Sheepdog is the only native dog breed of Iceland. The charming dog is a faithful herder and is devoted to humans.
Appearance
Icelandic Sheepdogs are small to medium-sized dogs. They have a cute foxy face, thick coat, almond-shaped eyes, pointy ears and a curly, bushy tail with a happy and friendly expression. These dogs have a dense coat and come in various colors with white markings. Icelandic Sheepdogs weigh around 25 to 30 lb and are around 16.5 to 18 inches tall.
Temperament
Icelandic Sheepdogs are very active and energetic dogs that love to work and exercise. Plenty of activity and running around keeps these dogs happy and healthy. Icelandic Sheepdogs are very intelligent; however, they can get bored easily and so must be kept occupied. These dogs are loving, caring and compassionate and thrive being the center of all attention.
Northern Inuit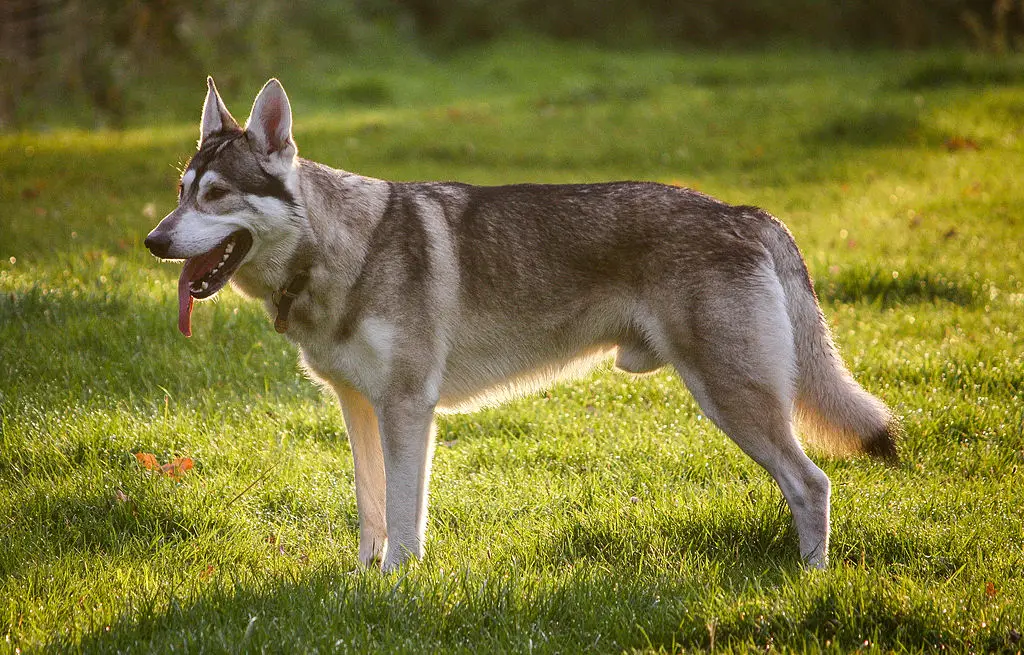 Popularized by the TV show, Game of Thrones, the Northern Inuit is a hybrid breed with Alaskan Malamute, Siberian Husky and German Shepherd in its ancestry. Intelligent, friendly and calm natured, a Northern Inuit can be an excellent addition to your family.
Appearance
This large-size dog with its black and white coloring looks just like a wolf, which gives it its nickname, "Wolfdog". They usually weigh around 79 to 84 lb and 32 to 32 inches tall. The dog breed has a majestic and impressive appearance. However, despite its wolf-like appearance, the Northern Inuit is a friendly, non-aggressive breed.
Temperament
Northern Inuit dogs are loyal and friendly and make friends very easily with strangers. If trained and socialized early, they can make excellent family pets. These dogs are intelligent and strong willed, which make them difficult to train and not recommended for first-time owners. Like wolves, Northern Inuits tend to howl rather than bark. These are energetic and active dogs that love spending time outdoors. They are social and playful dogs and if left alone for long periods, may suffer from separation anxiety.
Final Thoughts
Whether the dog is a Siberian Husky or not, it is definite that these wolf-like, wild-looking dogs are stunning and captivating. With their intelligent eyes, regal coats, stunning coloring and noble bearing, all the breeds we have discussed in our article are sure to steal your heart.