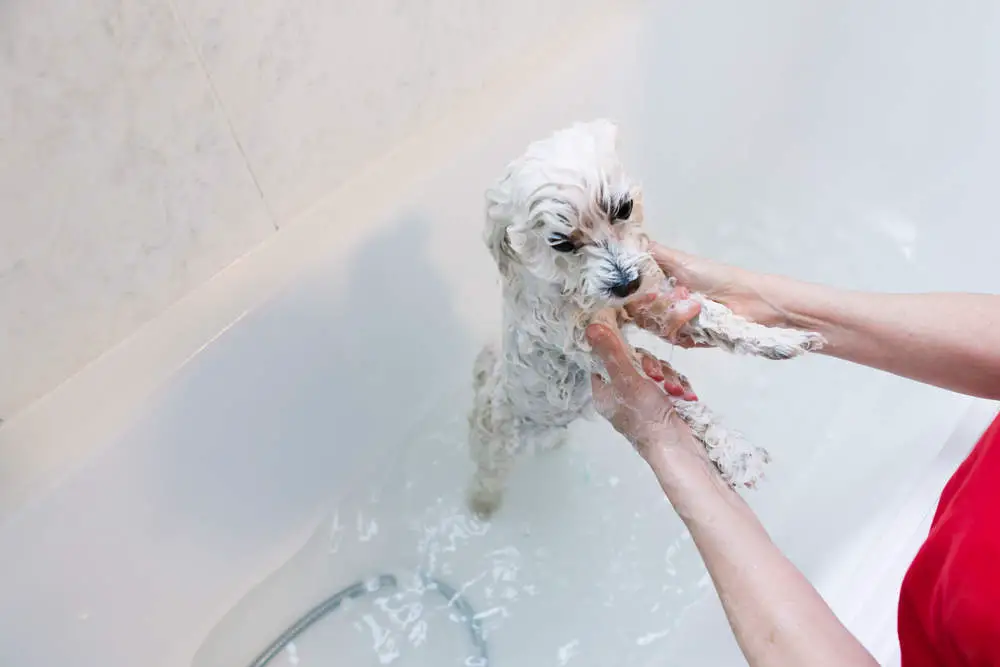 Maltese dogs are small and cute. But that cuteness doesn't happen by magic.
They have a long, silky and luxurious coat that demands a certain level of grooming and maintenance. Otherwise, your dog's fur will succumb to matting and knotting.
And it's not just about good looks. This is bad for their skin and overall health.
Hopefully, you have figured out the kind of combs and grooming oils you need for their fur. And we will help you with the kind of shampoo that is best for your dog.
We Recommend These Products...
(As an affiliate, we may earn commissions from qualifying purchases.)
Healthy Breeds Bright Whitening Maltese Shampoo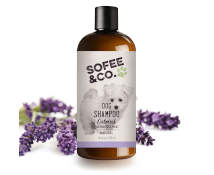 Sofee & Co. Oatmeal Dog Shampoo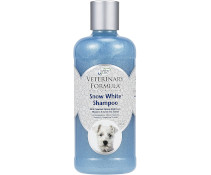 Veterinary Formula Solutions Snow White Shampoo
Things to Know before Buying a Shampoo for Your Maltese
When we talk about bathing and grooming the Maltese dog, we are looking at the fur and the skin. Some pet owners like to cut the hair short to make it look curly.
This is quite helpful if you're all about easy maintenance. And there's nothing wrong with that.
But if you retain their long coat, you need to take care of a few things to keep it clean and free from tangles. Take a look.
Dematting is the first of the factors to consider. A lot of brands say that they resist matting but you must pay attention to their ingredients to verify this. Oatmeal, aloe vera and shea keep the fur smooth and silky. You must also make sure the shampoo does not have any artificial ingredients. These dry out the hair and make it stiff which is the opposite of what we want. This is helpful whether or not your dog has a long coat.
Whitening is the next factor. Not all shampoos that guarantee to whiten the fur are made of healthy ingredients. If you are really committed to whitening, you must be fine with shampoos that have some dye in them. Keep an eye out for shampoos with a blue or violet brightening formula.

Don't worry, this won't be the color of your pup's fur. But ideally, you must look for brands that are medically backed and use natural ingredients to brighten the coat. Remember that as the pups age, the coat gets a yellow tint and that can look messy and undesirable.
Hypoallergenic shampoos are the next order of business. Maltese dogs are not particularly known to have allergies or health issues. But they have tender skin and it can pick allergens from anywhere. And it is up to you to keep it from getting irritated.

That's why it is a good idea to choose hypoallergenic shampoos. It takes care of their skin and you will succeed in keeping your pup's skin from getting itchy. The more they scratch, the more matting and entangling happens.
Conditioners are also an important part of the regimen. Try to get a shampoo that already has a conditioner to make life easy for yourself. This keeps the silky texture of your dog's coat intact and retains the soft feeling on the surface. You won't have to deal with matting or dry fur if you add a conditioner to the wash.
You could also choose to condition the hair separately after the wash. That helps in keeping it smooth and losing the frizz.
Related: Do Maltese Shed?
What Not to Do
If your dog has fleas, it is best to consult your vet before picking up something from the store and experimenting.
Since Maltese dogs get washed more than some other breeds, it is very important that you find shampoos that mention that they are made for sensitive skin.
You must also try and get shampoos that are tear-free so that there you can avoid eye irritation during the wash.
Alarmingly, some dog owners are known to use human shampoos for their canines. This is a terrible mistake and might lead to allergies.
These are some of the things to keep in mind even if you cut your pup's hair short. You still need it to be fluffy and soft, don't you?
Related: See Our Top 5 Maltese Brush Picks
Our Top 5 Picks for Best Shampoos for Maltese Dogs
Now that we broadly know what to look for in each shampoo, let's take a look at some of the best ones available in the market.
This is a great tearless shampoo that is enriched with protein and leads to a beautiful white coat. Your pup will look bright and feel smooth after a wash.
It is made with natural colloidal oatmeal for conditioning. It will even ease any existing irritation while leaving the hair shiny and smooth.
The shampoo promises to clean the pet's body and add luster without any bleaching elements. It is also good for controlling matting and tangling.
The lather is rich, helps in cleaning and leaves a lovely tropical scent. It also works well with any flea control products you might want to use.
What Other Dog Parents Think
One buyer said this shampoo was gentle and "it worked beautifully". They also said it produces thick lather and the cleaning is a lot deeper than other shampoos. Their pup looked fresh and was glimmering in sunlight.
Another dog owner called this an "amazing shampoo" and their pets were "so white and clean". They also said the shampoo took out the yellow and smell on their dogs.
A third patron said they always had trouble finding a good shampoo for their dog but this one really worked for them. They said it turned their dog "snowy white and I love it". They said it also helped in detangling.
Pawesome Things about This Product
Controls matting and tangling
Leaves a delicious scent
Free of toxic bleach elements
pH balanced
Made in federally-regulated facilities
Great customer service
Not-So-Pawesome Things about This Product
Contains some artificial ingredients
A bit pricey

The manufacturer claims it is a product that will cleanse, moisturize and brighten the fur of your dog without using harsh ingredients. They admit that it is a challenge but this shampoo is specially formulated for dogs with white coats.
It is good to remove stains and yellow coatings without using bleach or peroxide. This shampoo is made with patented optical brighteners that eliminate yellow and dingy fur safely.
The product is also made in a way that it brings out your Maltese dog's natural white out. The cleansers are coconut-oil based and keep the coat clean, fresh and shiny.
It is a mild shampoo with vitamin E and green tea extracts.
What Other Dog Parents Think
One buyer said the other brands "don't compare to this stuff". They said they "couldn't believe" how bright, soft and shiny their dog was after a bath. They were also able to use it on the face without any problem to the eyes.
Another dog parent said their dog is white as a snowflake and this shampoo "exceeded their expectations". They started by applying a little on the paw and took it from there. They said they could "actually see" the whitening effect. They used another conditioner afterward and their dog was white and fluffy.
A third buyer highly recommended it saying it "really took the dirt off". She said the dog needed multiple washes with other shampoos but this one did the trick right away. The patron added that it "smells pretty good" and made her dog "extremely white, clean and soft". It also drew her husband's attention who is usually oblivious to this stuff, apparently.
Pawesome Things about This Product
Works for dogs, cats and horses too
Brings out the pet's original white instead of bleaching it
Contains no peroxide or bleach
Uses natural ingredients
pH is balanced to protect the skin
Has a lovely blue coral citrus scent
Affordable
Not-So-Pawesome Things about This Product
Has small parts that are a choking hazard for kids under three years of age
Does not have a conditioner in the shampoo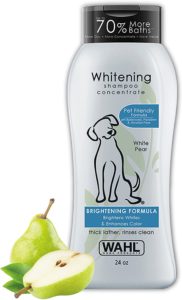 This is a pH-balanced shampoo that is recommended for dirty animal coats.
It is free of alcohol and paraben with a coconut-derived sodding agent. So, using just a little is enough.
It produces a rich lather and is easy to rinse off the dog. It has the scent of white pear and is good for cleaning dirty and dull fur on short and long coats.
It is made to clean, brighten and enhance the coat color of your dog. This is also used by some professionals, vets and is allergy friendly.
But it is recommended that you test it on your dog's paw or something before using it.
What Other Dog Parents Think
One buyer said their dog looked like a marshmallow after one bath. They liked the bright purple color of the shampoo and the lather it produced.
Another dog parent also liked the lather and called the smell divine. They needed a pump to use it which was uncomfortable but otherwise liked it.
Another pet owner loved it and said their dog was "REALLY white" after using this shampoo along with being sparkly clean. They also liked the smell of the shampoo and the thick lather.
Pawesome Things about This Product
Good amount of lather
Contains natural pigments
Helps clean and leaves a great scent
Not-So-Pawesome Things about This Product
An allergic reaction is possible
Avoid contact with eyes
This is a great shampoo free of toxins and paraben. It is best for dry hair but can be used for others too.
It works beautifully in softening, detangling and moisturizing the dry skin of your Maltese. It also soothes their sensitive skin and leaves the coat silky smooth.
No sulfates or parabens or artificial dyes are used in making this shampoo. It is also cruelty-free as it's made by a small family-owned business that just wants to make good products for dogs.
What Other Dog Parents Think
One buyer said they loved this shampoo because it made their dog's coat fluffy and soft. They also said it was pleasant to use and "smells amazing". The foam, they said, came out quick and easily covered all parts of the dog's body.
Another patron said even their groomer was pleased with this shampoo and wanted one in gallon size. Their dog had dandruff and now they don't see any. They also said the dog's coat looks great now.
Another dog parents said it is "not harsh and smells great". They used it on all their dogs and found out that the coat is smooth now.
Pawesome Things about This Product
Made of natural ingredients to clean and deodorize the dog.
Leaves a soft and smooth coat along with a fresh scent.
Good for dry, itchy, flaky and sensitive skin.
Has no parabens, sulfates, phthalates or artificial dyes
Non-toxic and cruelty-free
Not-So-Pawesome Things about This Product
Does not have a conditioner
Relatively expensive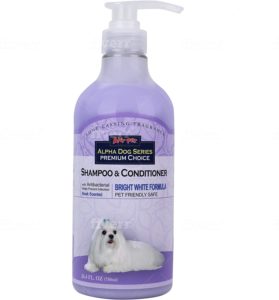 This is a two-in-one shampoo that is meant to soothe and whiten your dog's fur and coat. It is made of natural ingredients, it's hypoallergenic, anti-bacterial, tear-free and eliminates odor too.
This is a shampoo and conditioner that cleanses the dog while being gentle on their skin. The formula is pH balanced and has aloe vera to stop the skin from getting dry.
The formula is also meant to bring out the natural color of the coat and not bleach it using harmful chemicals or whitening agents. It also leaves a long-lasting scent after removing unwanted odors.
What Other Dog Parents Think
One buyer totally recommended it and said they were very happy with the product. It saved time and avoided clutter in the bathroom since it is an all-in-one shampoo. The pet owner also liked the scent and packing of the shampoo.
Another Maltese owner said they will "never buy anything else" for their dog. This shampoo made their dog's coat "soft, silky, extra white" and left a fabulous smell for days after the bath. They also appreciated the pump on the bottle.
A third patron called it "amazing" and said their dog's fur was stained before using this shampoo. The product lathered well and rinsed really easily. The dog's eyes were not irritated and it "greatly minimized" the tear stains. It is not heavily perfumed and they loved that too.
Pawesome Things about This Product
Clean musk
Gentle on the skin
Natural ingredients
Hypoallergenic
Tear-free
Anti-bacterial
Removed odor and leaves a fragrance for days
Not-So-Pawesome Things about This Product
A little expensive
Some customers received badly packed products.