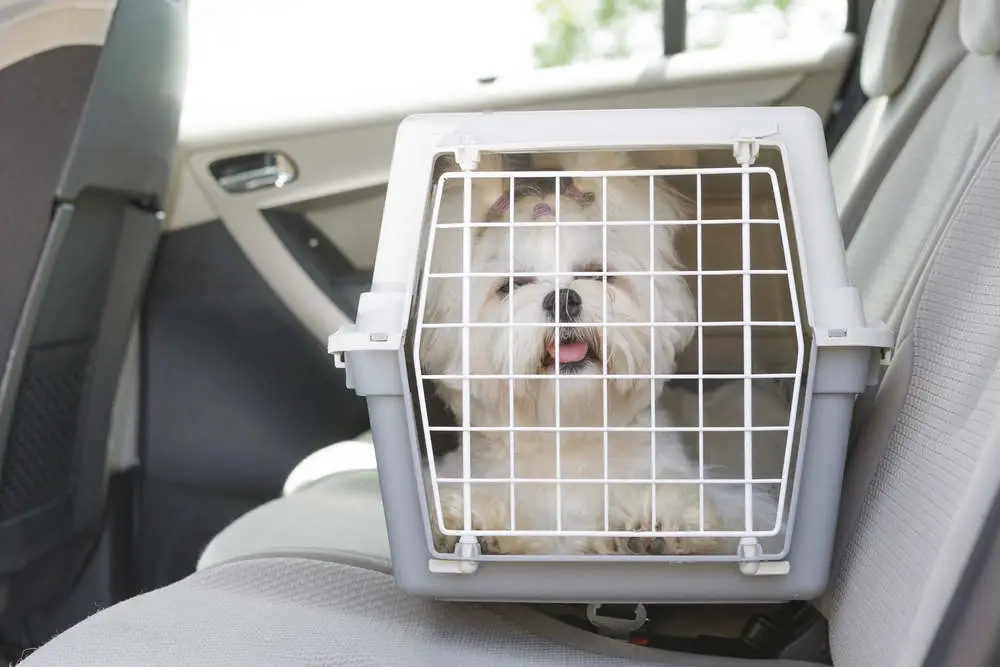 Buying a crate for Maltese dogs is no puzzle. But you do need to keep a few things in mind and that's what we are here to help you with. Let's get right to it, shall we?
Quick Comparison of the Top 5 Picks
(As an affiliate, we may earn commissions from qualifying purchases.)
Image

Product

Frisco Fold & Carry Double Door Collapsible Wire Crate

Best Overall

Plastic Pan Makes It Easy to Clean

Well-Constructed & Has Adjustable Handles

Divider for Growing Dogs

Frisco Indoor/Outdoor Collapsible Soft-Sided Dog Crate

Best Soft-Sided Crate

Looks Good & Easy to Handle

Lightweight & Easy Construction

Good Ventilation With Mesh Panels

Best Crate for Travel

Great for Training & Traveling

Meets IATA & USDA Travel Specs

Well-Placed Strap Holes

Merry Products Slide Aside Furniture Style Dog Crate

Best Furniture Crate for Maltese

Good for Pets Up to 300 Pounds

Function and Fashionable

Easy to Assemble and Looks Great

MidWest iCrate Fold & Carry Single Door Collapsible Crate

Best for All Lifestages

Sturdy Construction

Easy to Fold

Durable Plastic Pan Makes Easy Cleaning
Our Top 5 Recommendations
Frisco Fold & Carry Double Door Collapsible Wire Dog Crate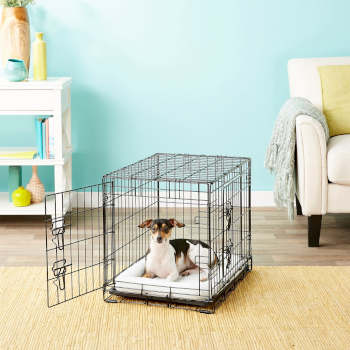 The first option is a crate that is durable and strong. You want your dog to be comfortable and secure which is exactly what this crate does. It is a wire crate which is a highly recommended material. And if you measured your dog before buying it, you're good on that front too.
It has two big doors one each on the side and front. They are both securely locked with two latches if you get a large crate and no matter the size, the doors are easy to close and open. This crate also comes with a plastic base which means the dog is comfortable and you will still be able to clean it easily.
The crate also has a divider panel which is useful as you watch your pooch grow. It can be assembled easily without any tools which is another load off your mind.
The crate also has a finish of protective electro-coat which makes it durable and long lasting. And finally, the folding is quite easy and it has handles that can be adjusted. That takes care of your travel needs.
Other Dog Parents Say
One customer said that their dog feels like he has his own apartment with this crate. That's a glowing recommendation. Another one said that they loved the two doors and the handle which are all easy to operate. They found it easy to assemble and take it apart along with the ease of carrying it around. Sounds, perfect, doesn't it?
What We Like
Has two doors which make it easy to use and secure to keep the dog in
The divider makes it convenient for growing dogs
You won't need any tools to put the crate together
The plastic pan makes it easy to clean the crate and it's durable too
The crate is constructed well and the handles are adjustable which makes travel a breeze
The instruction manual has crate training tips which is helpful
What We Don't Like
You will have to remember not to take your dog off the leash before they are in the crate
You will need to do some crate training before you start using this particular crate
Monitoring the pooch, at least in the beginning, is recommended which doesn't always inspire a lot of confidence
Frisco Indoor & Outdoor 3-Door Collapsible Soft-Sided Dog Crate
Our second option is also from Frisco. They have good crates, what can we say! Even for this, you should measure your Maltese but after you do, you will find that this is a great travel crate.
It is small, soft-sided and collapsible. You can assemble it easily without needing any tools which is always good news. It has three doors that can be opened and shut with zippers. That makes it even better, doesn't it?
You can access the dog easily and it can be placed anywhere with ease whether it's inside the house or a car. The zippers have clips for locks which keeps them secure, in case you had any doubts. The side doors are made of mesh and they have straps to make it easy for you to hold the door while you roll it up.
The crate is made of a nice steel frame that is durable. The base is water resistant and made of a fabric that is easy to wash but not in a washing machine. This is a soft crate that is available in different sizes meaning it can be used for dogs that are not Maltese. In fact, you can use it for hamsters, mice, guinea pigs and whatnot as long as the pet isn't heavier than 85 pounds.
The crate itself is lightweight and in all sizes, it comes with a handle. So, that's nice. If you buy the smallest size, you will get a shoulder strap which makes travel very easy.
Other Dog Parents Say
One user said that this is a great crate for families with two dogs. Their pups are comfortable and assembling it was as easy as promised. They recommended it.
Another user said that this crate is of good size and might be a bit too spacious for their 75-pound pup. They said the crate looks good and is easy to handle and endorsed the product.
What We Like
Great design for those who want a travel crate
Folding and storing this crate is very convenient and the pet is also comfortable
It's lightweight and is constructed such that assembling it is easy and doesn't require any tools
Mesh panels make ventilation a non-issue which is always good to hear
Zippers on the doors make entering the crate easy and it's secure too as promised
Has rounded corners which keep the pet safe and also the crate's surroundings
What We Don't Like
Not great if your dog is a biter or chews heavily
Dogs cannot be left in the crate without supervision at the beginning
Petmate Vari Dog & Cat Kennel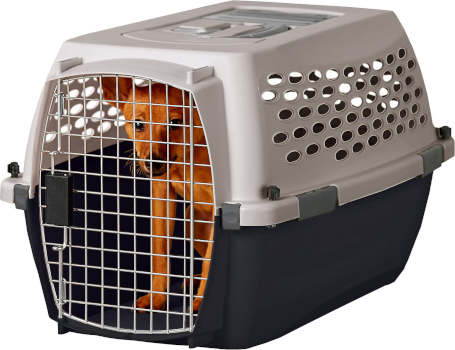 The third one on our list is from Petmate. This is a good crate for those who want to travel with their dog and would like to add a tinge of style to the whole shindig. It's pretty much like a kennel except you can use this for cats too.
This crate comes in different sizes which means you will need to measure your Maltese but it also means that you have choices. It stands out also because you can use this for crate training which is not something you get with every manufacturer.
If you buy the XS or S crates, you have the option of locking them from all directions and together. If you buy the M, intermediate, L and XL, you will get a nut/bolt assembly with secure wings.
But no matter the size, you will find the crate to be durable. They are all made of eco-friendly plastic that is also heavy duty. The door is made of durable wire and there is plenty of ventilation which makes it a good choice. And there is a moat inside to keep your buddy dry should you need it.
Other Dog Parents Say
One customer verified that it was easy to assemble and comfortable for their dog. They mentioned a couple of design flaws but said they weren't big enough for them to discourage a purchase.
Another customer said this is a lightweight crate that is easy when you have to travel. They like the handle very much and said it was easy to attach and detach. So, this is a winner too.
What We Like
Comes in different sizes and features
Great for training and traveling
Strap holes are well placed and make installation easy and extra safe, especially for air travel
The moat is a cool and useful feature
Meets IATA and USDA travel specs
Don't need any tools to put it together
What We Don't Like
Side latches aren't the strongest
Merry Products Slide Aside Single Door Furniture Style Dog Crate & End Table
If you are looking for a place where your Maltese will be safe and comfortable, this is a great pick. As the name suggests, this is both a crate and an end table which means it will become your dog's den in no time. It is both fashionable and utilitarian. You're also going to like the fact that it will fit right in with your decor.
There is a hinged door that can be slid open. It is also durable and camouflages easily. The bottom panel is made of metal wires which makes it strong.
Other Dog Parents Say
One buyer said this crate was easy to assemble and it looked good in their home. Another one said their pup loves it and it's almost like a penthouse for their small dog.
What We Like
It has function and fashion
The door is multifunctioning thanks to the hinges and the option to slide it open
Bottom panel makes it extra strong
Is good for a heavy pet that weighs up to 300 pounds
What We Don't Like
Not for dogs that haven't been crate-trained
MidWest iCrate Fold & Carry Single Door Collapsible Wire Dog Crate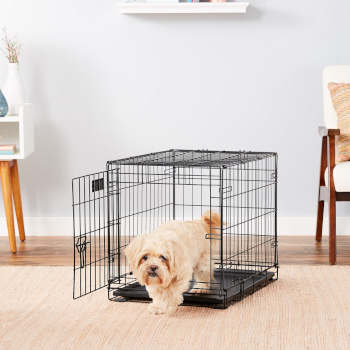 Our final recommendation is from a manufacturer called MidWest. This is a collapsible crate with a single door. It will keep your dog comfortable and secure. You can easily assemble it and need no tools. You can carry it around if you want because it is lightweight too.
There is a pan made of composite plastic which makes clean up easy. The handle is also made of plastic and makes travel easy. There are bolt latches for safety and there's a divider which means a growing pup won't be an issue.
Other Dog Parents Say
One dog parent said this was a great crate but it didn't fit their dog (which is why we highly recommend measuring your Maltese).
Another dog parent said their 65-pound lab is enjoying the crate quite a bit and gave it a thumbs up for travel too.
What We Like
Sturdy construction makes it safe
Easy to fold and travel with
Divider panel is a nice feature
Durable plastic pan makes cleaning easy
What We Don't Like
Not recommended for dogs that are not crate trained
Need human supervision in the beginning
Also Read: Best Harness for Maltese (Top Picks with Buying Guide)
Types of Crates
There are four main types of crates for Maltese dogs. Here are the options.
Metal Wire
These are some of the most popular options for Maltese dogs. They are strong, can be folded and stored easily. You can set them up quickly, clean them with ease which makes them travel friendly. And they are affordable too.
Soft
These crates are about being portable and lightweight. So, they are good for outdoor and indoor use. You don't have to worry about vacations or camping trips if you've got one of these. They are made with soft fabrics and have a frame made of metal.
Plastic
These are a favorite among those who travel a lot short or long distances. They are also approved by airlines which makes them a good choice. There are some design problems but not major ones.
Wooden
These crates are like furniture which is why they are only for indoor use. On the bright side, you can pick something to match the decor.
Also Read: Best Brushes for Maltese
How to Measure Your Maltese for a Crate
Before we go into our favorite choices for a crate for your little one, we want you to take a look at the way you measure your dog for the crate. This will help you pick the right product and completely eliminate any worries about having size problems after the fact.
You need to get the height and length of the dog for this. The height is measured from the paws to the tip of their heads. The length is measured from the tip of their noses to the end of their tails.
And, of course, you must consider the weight.
What Size to Pick for a Maltese?
The best crates for Maltese dogs are 24 inches because that is a small size and works well for this breed. And it is convenient whether you are buying one for a pup or an adult dog because the size doesn't vary all that much. You can get 22-inch crates but that's why you should measure your pooch first.
Also Read: Best Shampoo for Your Maltese
Factors to Consider Before Buying a Crate
There are four things you want to consider apart from the size of the crate. Here's what they are.
Material: We've already looked at the options and guess what, you want to go for metal wire because those are easy to clean and they work well for Maltese dogs.

You also don't have to worry about visibility or airflow with metal wire crates because it checks out. You can also look into plastic crates for travel purposes. Their visibility isn't as great and airflow is a little less but it's not problematic. And some dogs do like the less visibility. So, it's a personal choice.
Ease of Cleaning: You will need to do this frequently for health and hygiene reasons. So, you don't want it to be a chore. That means metal wire and plastic still stay in the running.
Bedding: Sometimes, the crate can get cold in which case you will need to add a crate pad, towel or a dog bed. These items provide good insulation which is also, frankly necessary. And then, there's the matter of comfort. Adding bedding makes them comfortable if the crate feels too hard.
Mobility and Storage: You might not want to carry the crate all the time which means it should be easy to store. Metal wires and plastic crates are a good choice for that reason.

And they are both good for travel too. Plus, they don't take up too much space which is something you will appreciate at some point if not right away.
Final Thoughts
There are lots of crates in the market but these are our favorites for Maltese dogs. Individuals with other breeds also buy them because they are well made. That should be a testament to the quality, safety and durability. Hope you found what you were looking for from this list we shared with you.