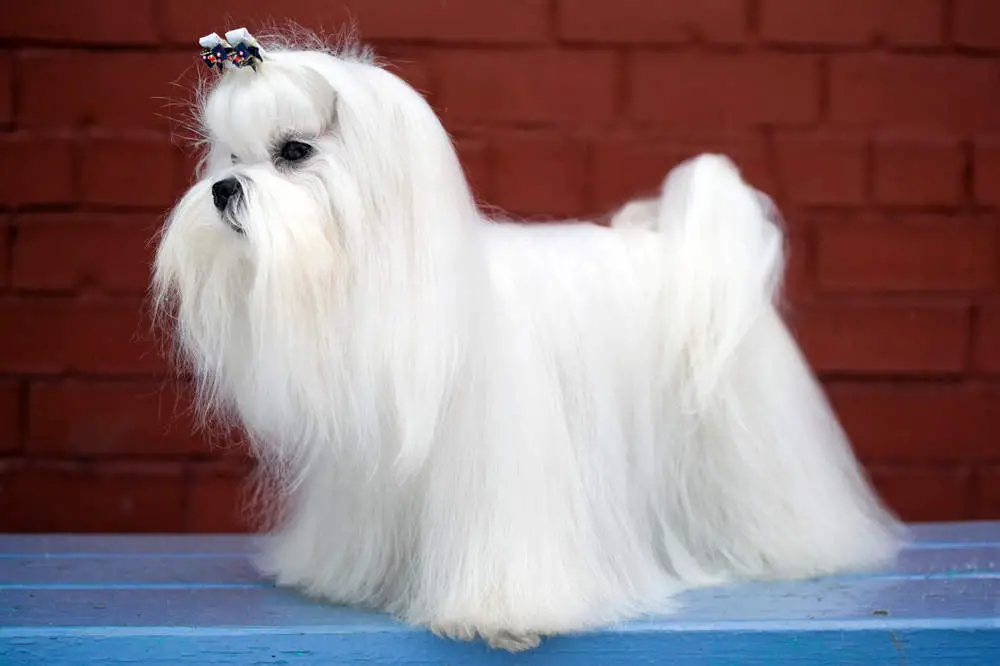 Maltese dogs are small and cuddly dogs with a silky, white coat. Some dog owners like to cut them short so that the dog looks like a puppy.
These are sweet dogs that bond well with families. But the long hair needs a little bit of maintenance. For that, you must have the right equipment.
Let's look at the factors to keep in mind before scouring the internet for the best brush manufacturers.
We Recommend These Products...
(As an affiliate, we may earn commissions from qualifying purchases.)
Poodle Pet Round Bristle Brush
Shiny Pet Dog Comb for Detangling
Hartz Groomer's Combo Dog Brush
Buying Guide for the Best Brushes for Maltese
Maltese dogs don't have an undercoat and shed a little. They need a brush that can keep their hair from getting tangled and also remove mats before they turn into a problem.
Grooming their hair is also a great way to bond with these little canines. A good brushing session helps them calm down after an active day and gets them ready for the other grooming exercises you have lined up for them.
It's a comfort activity. That being the case, the market is full of many kinds of brushes to keep these precious little things looking pretty as ever.
Rakes are made for dogs with a double coat. They have a single row of teeth and loosen the top coat gently while raking out the undercoat. See where the name comes from? Since, Maltese dogs have a single coat, this is a bit much for them. But some of them are good to detangle mats. So, think about your pup's specific needs before buying one. You could get a small one for their untangling needs.
Bristle brushes are good for the finishing of a coat but not to remove mats. So, they can help settle the coat and redistribute the oils which will make your dog look pretty. Even if your Maltese has short hair, this brush can help keep the coat clean. And they love the feel of these brushes.
Slicker brushes are said to irritate the skin of some Maltese dogs. They are typically good for dogs with a double coat. So, they can be painful on your Maltese. Get it only if you have a huge fur entangling problem.
Grooming gloves are not really useful in removing loose hair but you can use them to massage their skin and distribute oil across the fur. They are also easy to use and you don't have to worry about brushing too hard. Grooming gloves are pretty good to remove shedding hair from your pup's body.
Our Top 5 Picks for the Best Brush for Maltese
To help you in your quest for a really great brush for a really great pet, we have found the top five brushes for Maltese dogs. Take a look.
This is a bristle brush made of plastic and rubber. It is meant to enhance shining, detangle and smooth out the fur.
The plastic is strong and meant to resist wear and tear. The sides are made of rubber and provide a comfortable and sturdy grip. This is helpful if your Maltese is fidgety.
There is a hanger hole which makes storage easy and also a thumb rest so that you can apply just the right amount of pressure.
The bristles are soft and have round edges which make stroking your dog easy. Remember that bristle brushes are not great to remove mats.
Use it accordingly. On the bright side, it is good for brushing your dog's face and paws too.
What Other Dog Parents Think
One buyer said that their dog had itchy skin and it was difficult to find the right comb. But the round bristles on this brush were helpful and covered all areas without hurting their skin.
Another buyer said they used this on their kitten's really long hair and it worked. It was helpful in removing the mats from the little one's hair. This is interesting because it demonstrates how soft the bristles are.
A third buyer called this an "excellent brush" and said it was great for their poodle. They said the brush was gentle and easy on their dog's curled but soft and wooly hair. The buyer also said the brush was quite big and will work for short-haired dogs.
Pawesome Things about This Brush
Sturdy, strong and gentle bristles.
Smooth, comfortable handle with a rubber grip.
It is lightweight and doesn't strain your wrist.
The hanger hole is great for storing the brush in a garage or shed.
Not-So-Pawesome Things about This Brush
Price could be better for what it offers.
The size can make it tough to maneuver around curvy areas like the face.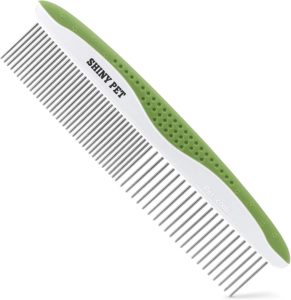 This one is a metallic brush from Shiny Pet. It has round and gentle teeth which is good for detangling.
And it's effective in removing loose hair, dander and dirt under the fur but not so much if you are looking for a comb to remove mats.
The handle is ergonomic and has a rubbery grip which makes it safe and easy to use. There is a coating on it which prevents it from slipping.
This brush is good for gentle massages and has anti-scratch teeth that can boost circulation. It also comes with a free e-book on pet grooming.
The product is made of solid metal and the teeth can handle some tugging. As specified in the name, it is a dependable brush for detangling pets like dogs, cats and even rabbits.
The manufacturer is pretty confident in the quality of this product and offers refund and replacements if you are not satisfied, for whatever reason.
What Other Dog Parents Think
One of the buyers said their pet never liked to be combed and had matted hair. So, they got this brush with a detangling conditioner and it worked like a charm.
Another dog parent said this was recommended by their vet and it "works great". They said they use it frequently to keep their pet's hair fluffy and free of mats and tangles. The buyer said the brush made them realise how beautiful their dog's hair was.
A third buyer said the comb is "excellent" and helped remove several mats their pet developed. They also used this along with a detangling spray and it worked wonders.
Pawesome Things about This Brush
It has an ergonomic handle.
There is an e-book to guide you.
The manufacturer gives lifetime guarantee.
Not-So-Pawesome Things about This Brush
Needs to be combined with detangling sprays and conditioners to work.
Not made to remove mats.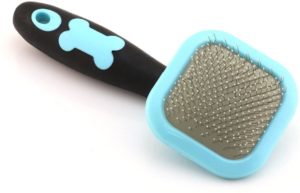 This is a beautiful blue-colored slicker brush. It is great for dogs (and cats) with a loose undercoat.
But it is generally good to detangle, remove dander and trapped dirt. It works well on long and short fur.
The dog grooming brush pins can also be used for massaging once you turn them. This helps prevent skin disease and improves circulation.
The brush also has a comfortable grip and an anti-skid handle which makes it easy to hold it while managing a fidgety pet.
The round, white tips of the brush do not scratch your pet's skin which is always a welcome feature. The manufacturer specifically says this is a brush that is practical for Maltese dogs.
What Other Dog Parents Think
One buyer loved the size of the brush and that the metal bristles are covered. Their pet has short to medium length fur and fell asleep the first time they used this brush. The dog also had fluffy fur after they were done. They said it was greatly helpful in removing knots.
Another buyer said this is the "best pet brush" they ever used. They loved the fact that the handle can be rotated and slanted in different directions. The pet owner said the teeth are coated and were gentle on their pet's skin and that "they couldn't recommend this brush enough".
A third buyer said they were "so happy" with the brush's size and coated wires. They liked that it was gentle and had smooth and rounded corners. This was helpful when their dog tried to wiggle away.
Pawesome Things about This Brush
It is rotatable.
Safe and effective.
Can be used for brushing and massaging.
Not-So-Pawesome Things about This Brush
It has small parts that are a choking hazard.
Can be rough on dogs with sensitive skin.
This was developed for professional groomers but is extremely affordable. So, it is great for everyday detangling and dematting.
The brush has two brushing and grooming actions. It has steep tips on one side to detangle the coat and nylon bristles on the other to distribute oils.
You can also remove excess loose fur and soften the coat at the same time using this product.
The handle is ergonomically designed and is meant for comfort and maximum control. It is multicolored and comes in just the right size.
What Other Dog Parents Think
One dog parent called this brush a "life saver". Their pet has curly hair and never liked to be brushed. But this brush was so effective, the pet owner bought another one to keep as a spare. This brush made their pet sit steady and allowed them to groom her. So, that's victory.
Another dog parent called it a "great brush" because it has two heads. They said it removed any debris in the fur and their dog loves it. In fact, the dog sleeps on it.
A third buyer said this brush was very useful in getting all the knots out and made their dog's fur shiny and soft.
Their dog has thick fur so it worked. You might want to pace yourself.
Pawesome Things about This Brush
It has the standards that you expect from professional groomers.
The two heads make cleaning and massaging a joy.
The steel tips have a protective coating for effectiveness.
Not-So-Pawesome Things about This Brush
The metal legs might break.
It might be harsh on your dog if they have sensitive skin.
The last choice is an affordable slicker brush. So, it is for Maltese dogs with a lot of entangling and matting problems.
This one is kind of an extreme problem solver. The brush is made of metal and rubber, especially for dogs with thick fur.
It is also very helpful if you are dealing with severe matting. The brush is great for dogs with long and short fur (but a lot of tangle and mat problems).
The brush has a rotatable head and reaches difficult areas on your pet's body. It also acts as a massage brush.
The product is comfortable and strong. It has a comfort grip and an anti-slip handle which means your wrist will not be strained while grooming your dog.
What Other Dog Parents Think
One dog owner said it was very effective in deshedding their dog. They also liked the design and said it helped with matting. But they don't have a Maltese dog. So remember that.
Another buyer said they use it for deshedding their Pomeranian + husky dog. They said the brush "does wonders" and it did not hurt their dog either.
A third buyer said this is the "best brush" they found for their dogs. The dog owner highly recommended it saying their dogs now come running to them when it is time for grooming. According to them, the brush has great design and gets all tangles out without hassle. They also said it did not hurt their dog.
Pawesome Things about This Brush
It can be used on dogs and cats.
There is a 90-day money-back policy.
The brush is comfortable, strong and durable.
It's designed with a great grip and an anti-slip handle.
Not-So-Pawesome Things about This Brush
The size can be a bit small.
Does not work for all Maltese furs. Depends on the amount of detangling and dematting you want to do.