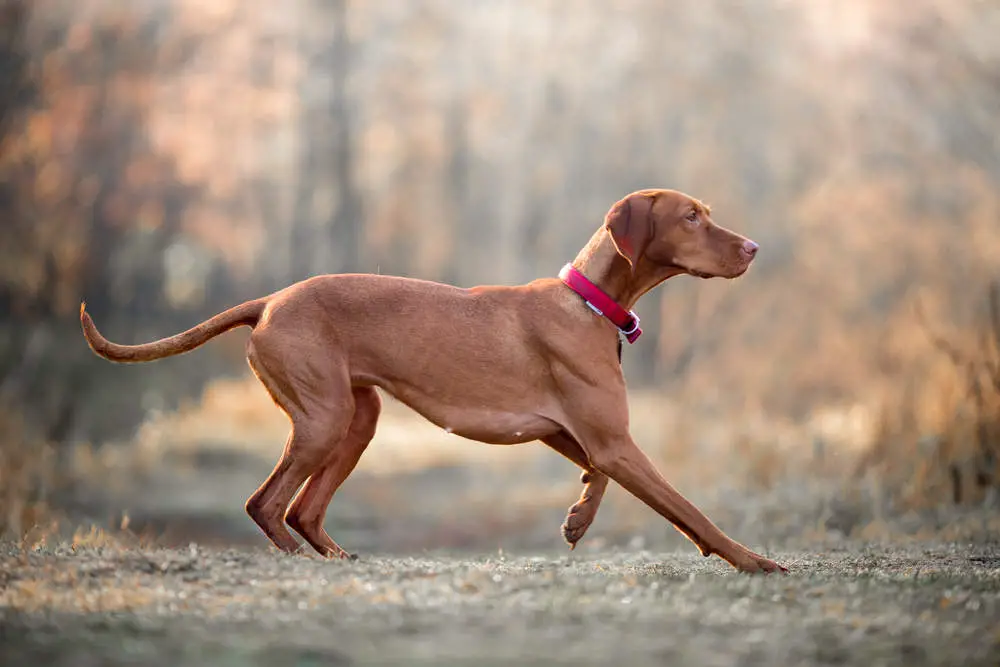 Vizslas have short-haired coats, making them easy to groom. They do not shed as much as most other dog breeds and are very low maintenance.
Vizslas do not have an undercoat, so they shed less. But they do shed, which is why proper grooming is important.
You need to brush them regularly with a suitable brush to eliminate pesky pests and other hair issues. Here are some grooming tips for your Vizsla and our top 5 grooming brush choices.
We Recommend These Products...
(As an affiliate, we may earn commissions from qualifying purchases.)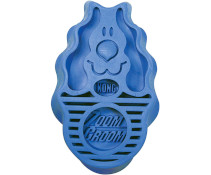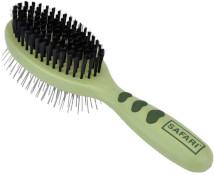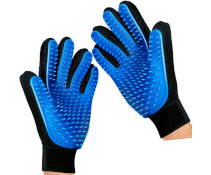 Mr. Peanut's Grooming Gloves
Grooming Tips for Your Vizsla
Vizslas should be brushed at least once a week. As they have fairly short hair, this task would take hardly ten minutes of your time.
Daily brushing is recommended if your Vizsla tends to get dirty during outdoor walks.
Vizslas do not have an undercoat and hence, do not need rigorous brushing.
While brushing, go along the direction of the fur.
After brushing, wipe their body down with a damp cloth.
Do a more thorough grooming every 4-8 weeks to clean their ears and tear ducts. Clip their nails, check anal glands for infections and check the skin for bites.
While bathing them, first use a hypoallergenic shampoo, wash thoroughly and follow it up with a bath using medicated shampoo. You can also use a conditioner at the end to keep the coat healthy.
Types of Grooming Brushes
With so many choices of brushes available, choosing the correct grooming brush for your Vizsla can be an overwhelming task. To find the right grooming brush, you need to learn about your dog's coat, shedding pattern and fur issues.
Dog grooming brushes come with different brush ends that work on different fur lengths or problem areas. Here are the commonly available types of grooming brushes that you should consider.
Slicker Brush
This type of brush has a flat or curved head with thin wire pins. It helps to detangle mats and knots as well as remove loose fur.
Slicker brushes are great to use before grooming. It works well with all coat types.
Pin Brush
This is quite similar to a slicker brush but has tips on the pins. The tips make the brushing process gentler and less painful.
Pin brushes are also great for detangling. They are more suited for long and silky coats.
Bristle Brush
This kind of brush, as the name suggests, has bristles on the head. Bristle brushes are ideal for removing dust and debris from the fur.
Bristle brushes are more suitable for short or curly coats. The brushing leaves the coat with a lovely shine.
Rubber/Curry Brush
Rubber brushes are similar to bristle brushes but with short rubber tips. Are perfect for using while bathing your dog are the rubber grips do not slip even while wet.
Curry brushes are perfect to soap up and lather while bathing your dog. They help to spread the soap conveniently all over the body.
Grooming Glove
The rubber brushes also come in the form of gloves. These can be worn on your hand while grooming.
As they are rubber, these too can be used while bathing your dog. It provides enough grip to hold on to your dogs while rubbing their body.
A lot of dogs like grooming gloves, as it feels similar to you petting them. This makes them an ideal choice for dogs that don't generally like being brushed.
Shedding Blade
This is a small, horseshoe-shaped comb with small teeth. These remove matted fur and loose fur easily.
They can be simply dragged along the direction of the fur and they catch onto any loose fur and remove them.
Flea Comb
These are narrow tooth combs that are ideal to comb through and remove fleas. The teeth remove dirt and fleas very easily as they are tightly spaced.
Standard Rake
These look quite similar to standard garden rakes, with wide-spaced pins on a single row. They are used to remove knots and tangles from fur.
Undercoat Rake
These have small, curved blades that cut through tougher mats and tangles in the undercoat. They are ideal for thick, long furs as they get deep into the coats.
Many dog breeds, including Vizslas, do not have an undercoat and don't need this.
De-shedding Tools
De-shedding tools have a toothed metal comb that removes loose fur from the topcoat as well as dead fur from the undercoat in a single motion. There are several de-shedding tools, the most popular of which is the Furminator.
Top 5 Picks for the Best Brush for Vizslas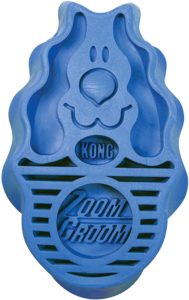 The Kong ZoomGroom brush is a 2-in-1 tool that can be used on wet as well as dry fur. By brushing your dog's fur gently in a circular motion, it creates a great massaging effect that stimulates the skin.
It comes in two sizes, that are suited for different fur lengths. The brush attracts loose hair and dirt swiftly and is also a great bath scrubber.
What Other Dog Parents Think
One customer said that she bought this brush on the recommendation from a volunteer at her local animal shelter. Her dog is usually nervous, anxious and hates new products. But as soon as she tried this brush on her dog, she and the dog instantly fell in love with the product.
Another user, who is a professional dog groomer, said that he uses the Kong ZoomGroom all the time at work and the dogs love it.
Yet another customer, who always had a hard time brushing her dog, said that her dog enjoys this brush and lets her brush him for over 10 minutes!
Pawesome Things about This Product
The rubber nubs on this brush mimic a massaging motion that dogs love.
The brush stimulates the capillaries, hence enhancing oil production in the skiing that gives your dog healthy skin and a shiny coat.
It is designed like a toy to keep your pet engaged during a bath.
Not-So-Pawesome Things about This Product
It does not remove too much hair.
Getting the hair off the brush is difficult.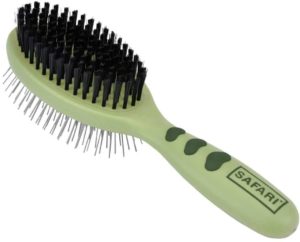 The Safari combo brush has a two-faced head with pins on one side and bristles on the other. To use, first, detangle your dog's fur with a wide-toothed comb, and then use the bristle side and make long strokes.
After brushing, use the pin side and brush against the direction of fur growth to fluff the coat. Thus, this brush works for removing the shedding hair as well as smoothing the coat after grooming.
What Other Dog Parents Think
One buyer says that the teeth between the bristles are perfectly distanced to work on her dog. This brush didn't pull on the dog's fur like her previous brush.
Another user liked the sturdiness of this brush and claims that it will hold up well even with frequent use.
A third buyer said that this brush is very easy to use and is gentle on her dog. It worked very well on her Malamute and the brushing process was relaxing and pain-free.
Pawesome Things about This Product
This brush loosens the fur without tugging.
The handle is comfortable and easy to use.
It works well for removing knots and mats.
It can be used on any fur length.
Not-So-Pawesome Things about This Product
The pin side has very stiff pins and should be used gently.
It might not be ideal for shorter fur.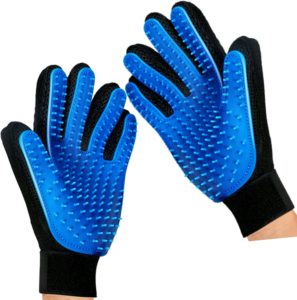 Mr. Peanut's is an eco-friendly and cruelty-free brand that has a lot of pet grooming products to offer. These grooming gloves are an excellent way to bond with your furry friend while grooming them.
It has soft rubber tips that gently untangle matted fur and remove loose fur. The gloves are easy to use and can be used on any fur length.
What Other Dog Parents Think
A customer said that the Mr. Peanut's grooming glove removes loose, dead fur easily while her dog enjoys the massage from the rubber tips.
Another satisfied customer was happy to see that her dog truly enjoyed being brushed with these grooming gloves, an activity where several other brushes failed to pass the test. Her dog gets excited by just spotting the gloves in the closet.
A third buyer uses these gloves with shampoo to bathe his dog. He said that it is very easy to clean as well.
Pawesome Things about This Product
The Velcro strap on the glove can be adjusted to fit most wrist sizes.
The brand offers excellent customer service a lifetime satisfaction guarantee.
The profits from this product are donated to various animal welfare organizations.
Not-So-Pawesome Things about This Product
A lot of times, the fur might not cling to the glove, leaving fur all over the floor.
The glove size might be too big for people with small hands.
The Hartz Groomer's Best combo dog brush is yet another 2-in-1 brush with pins on one side and bristles on the other. The two sides serve separate purposes by detangling and removing excess fur with the bristles side and fluffing the coat with the pin side.
The brush has an ergonomic handle that lets you use it for longer periods of time without strain. The pins are 18 mm long and the bristles are 20 mm long.
What Other Dog Parents Think
One user said that her two dogs love being brushed with this and even compete among themselves to get brushed first. She's already getting another brush so she can brush them both at the same time.
Another buyer said that her dog was so relaxed the first time she brushed him with this brush that he fell asleep! She also said that this is very easy to clean and use.
Another user used this brush on two different dogs with different fur lengths and was pleasantly surprised to see that it worked well on both of them.
Pawesome Things about This Product
The bristles on this brush are very soft and perfect for long or curly fur.
This can be used daily without any issues.
The pin side has protectors on the tips for safety.
Not-So-Pawesome Things about This Product
It might not work well with tight, curly fur.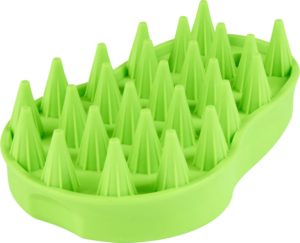 The Frisco bone dog curry brush might be the perfect accessory that gets your dog excited for baths. It can also be used before bath to clear away loose fur.
The brush has soft rubber tips that help in lathering and spreading soap while bathing. It also removes loose hair, thus reducing the shedding in your house.
What Other Dog Parents Think
One buyer was delighted to use this curry brush while bathing her dog as it seemed to calm him down and relax him. She noticed that this removed more loose fur than other brushes she had previously tried.
Another buyer said that this curry brush is easy to hold even while wet. It removes loose fur easily and helps distribute soap while bathing.
A third customer was happy to see that such a small product worked so well to groom her dog. It helped with controlling shedding a lot and her dog loved the bonding moments while grooming.
Pawesome Things about This Product
The brush is soft and gentle on the skin.
It works very well while lathering and scrubbing.
It gets into the fur easily without causing any pain.
Not-So-Pawesome Things about This Product
It does not detangle mats and knots.