Having been around the media block, I've amassed a large collection of acquaintances who work at a variety of publications, one of those being the esteemed Cat Fancy.
As is the case with many magazines these days, the feline-friendly journal has been having a tough time selling advertising due to both the recession and a not-so-friendly print climate. Staff at Cat Fancy have been fighting hard to keep the publication going, but early last week employees were told that things were looking dire. Then Stephen Colbert showed up.
As posted earlier, the late night comedian is a big Cat Fancy fan, but we had no idea how big until a friend at the publication gave us this scoop. Upon hearing that the magazine was nearing its financial demise, Stephen Colbert has decided to take the U.S. Speedskating route to save the troubled magazine.
Back in November, the US Speedskating team lost one of its major sponsors, leaving the team to watch their Olympic dreams melt away. Patriotic show host, Colbert, came to the rescue, asking his obedient followers to chip in. In essence, the Colbert crowd sourced the team's sponsorship. Now he's hoping to do the same for Cat Fancy.
Colbert will announce on tonight's show his buyout of the magazine, with the help from the Colbert Nation. The magazine's name will be changed to the Colbert's Cat Nation, with all funding for the magazine coming from Colbert Report viewers, along with traditional advertising revenue. According to our source, each issue of Cat Fancy will feature Colbert and a feline on its cover, perhaps taking a cue from the big O?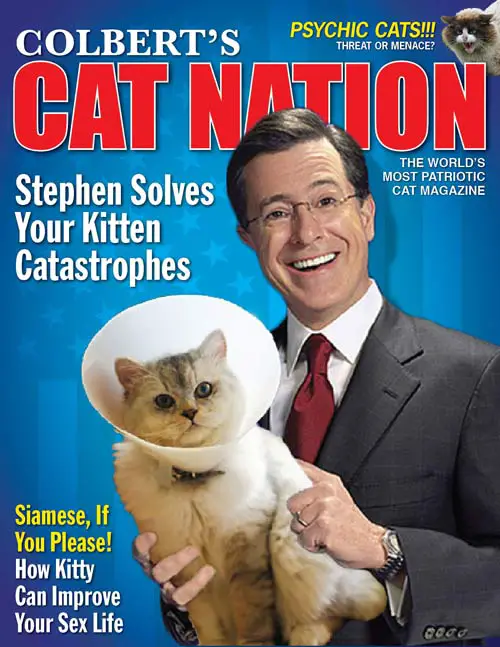 To help inspire viewers to chip in, the famous soaring bald eagle during the show's intro will be swapped out for a cat. The new opening credits will debut during tonight's show. Below is how we envision it.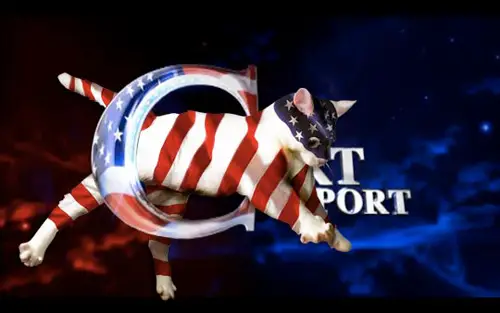 We wonder if the rivalry between the Daily Show and the Colbert Report will lead Jon Stewart to sponsor Dog Fancy?