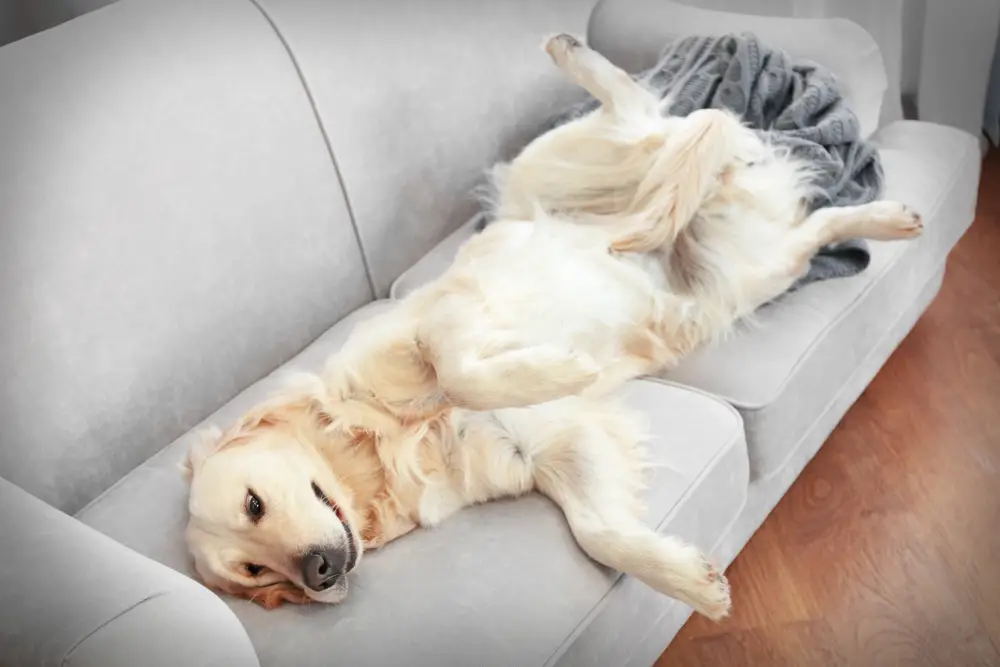 Your pets may love your furniture, and you may love them on it, but you don't love the fur that gets stuck all over your couch. The pet couch covers that stay in place can help to alleviate this problem, but you'll quickly realize that there are hundreds to compare and pick between.
This makes it extremely confusing for anyone who is shopping for the first time or trying to upgrade their current couch cover, and this is where our top five couch cover reviews come in. We'll also give you a comprehensive outline of what you should look for during your shopping venture.
We Recommend These Products...
(As an affiliate, we may earn commissions from qualifying purchases.)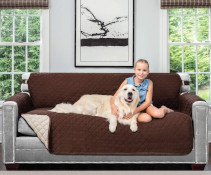 Sofa Shield Original Reversible Sofa Slipcover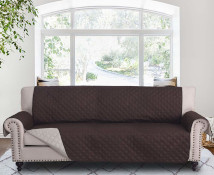 RHF Couch Protectors for Dogs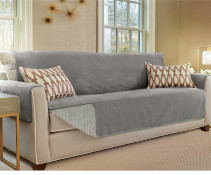 Gorilla Grip Original Slip Resistant Sofa Slipcover
What is a Couch Cover for Dogs?
A pet couch cover is a layer of specially cut fabric that goes over your couch or furniture to form a protective barrier. This barrier helps to keep your furniture clean and free of pet hair, and it helps your couch withstand wear and tear much better than it would if you didn't have one.
They typically have a sticky backing or a strap that wraps around the back of your couch to anchor it in place, so it doesn't move once you get it in place. Pet couch covers usually have a waterproof or water-repellent coating that protects your couch from accidents.
Why Should You Use a Dog Couch Cover?
There are several great reasons why you'd want to buy a couch cover if you have pets. They're also great for people who don't have pets but what a way to protect their furniture. These reasons include:
Accidents – If your pets spend time on the furniture, there's a chance that they'll have an accident sooner or later. A couch cover can prevent their urine or waste from coming into contact with your furniture, and this makes it easier to clean up.
Allergies – Since as much as 3 in 10 people have allergies to pet dander, a couch cover can help reduce them. You can run a lint roller over your couch cover to get rid of most of the hair, and this can help your allergies.
Cleanliness – The last thing you want on your couch is muddy paw prints, hair, and drool, and this is common with pets. A couch cover stops these common things from getting directly on your furniture's fabric, and you can clean the couch cover much quicker than you can clean the couch itself.
Nails – If your dog has longer nails, they can dig into your couch and cause tears or holes. They're less likely to do this to a couch cover, and it's easier to fix or replace a couch cover than it is the piece of furniture itself.
Wear and Tear – Your couches go through a lot of abuse, especially if you have younger dogs in the house. A couch cover is an excellent way to discourage general wear an tear, chewing, digging, or any other destructive behavior your do may partake in.
What to Look For When Buying a Quality Couch Cover For Your Pet
There are several important factors that come into play when you shop for a couch cover. The goal is to get the best couch cover possible, and keeping the following buying considerations in mind can help.
Does It Attach To Your Couch?
You want to take a good look at how your couch cover actually adheres and attaches to your couch because this will directly impact how well it stays in place every day. A lot of couch covers come with straps that wrap around the back of the couch, but a sticky backing is also a good thing to have.
Is It Durable?
Any furniture cover you have will go through a lot of wear and tear, and it has to be durable enough to withstand without tearing, ripping, fraying, or wearing out. Look for diamond stitches going across the entire cover, reinforced seams, and double stitching around the edges of the couch cover.
Is It Easy to Clean?
No matter how careful you are, you'll eventually need to deep clean your couch cover to get rid of any spots, stains, debris, drool, or pet hair. While you may be able to spot clean it, you should be able to put it in the washer and dryer to give in a thorough clean.
Does It Have a Variety of Fabric Choices?
Couch covers come in a variety of fabric choices with some being easier to clean than others, and some fabrics also show stains or hair much easier. The most popular choices are polyester, microfiber, faux suede, cotton, denim, wool, or a mix of several other fabrics.
Is It Reversible?
Although this isn't a deal breaker, it's nice to have the choice of using either side of your couch cover. The only downside to this is that both sides will be plush, and you won't get an anti-slip or sticky coating on one side to help hold your couch cover in place.
Does It Have a Snug Fit To Your Couch?
No matter which type of couch cover you choose, it should have a secure and snug fit that completely covers your couch. It should provide full coverage as well that goes up the back of your couch and slightly over the top, covers the seat and slightly down the front, and one that over the arms.
Is It Waterproof?
You most likely won't find a completely waterproof couch cover unless you pick a plastic one, but it should have a water-resistant coating on one or both sides of the couch cover. This coating will help to protect your furniture if your dog has an accident.
5 of the Best Dog Couch Covers We Found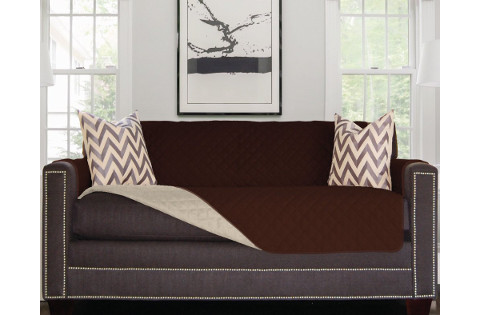 This couch cover comes in nine different sizes and 18 different color combinations that make it easy to pick out the best cover to suit your decor and couch size. The thick and durable cover features dual layers of fabric with double stitching along the edges and throughout the cover.
It's also reversible, and this allows you to quickly and easily flip it over if you want to refresh your colors without having to buy another one. This couch cover anchors to your furniture by a thick strap that is two inches wide and hooks with an adjustable buckle.
You'll get a couch cover that is very easy to clean because you can simply toss it into your washer and dryer whenever you notice that it needs a cleaning. The couch cover comes with a full lifetime warranty against damage or defects that allows you to return it if something happens to it.
Dog parents who purchased this couch cover liked that it came with a thicker attachment strap that anchored the cover straight to the couch. Dog parents did say that this couch cover does not have a waterproof layer on it, and this lack of a waterproof layer allows urine to soak through.
Pawesome Things About This Product
Comes in nine different sizes for a great fit
Has a thicker and more durable attachment strap
Very plush look and feel
Not-So-Pawesome Things
Does not have a waterproof backing
Not designed to stay in place on leather furniture
Straps can be difficult to tighten or adjust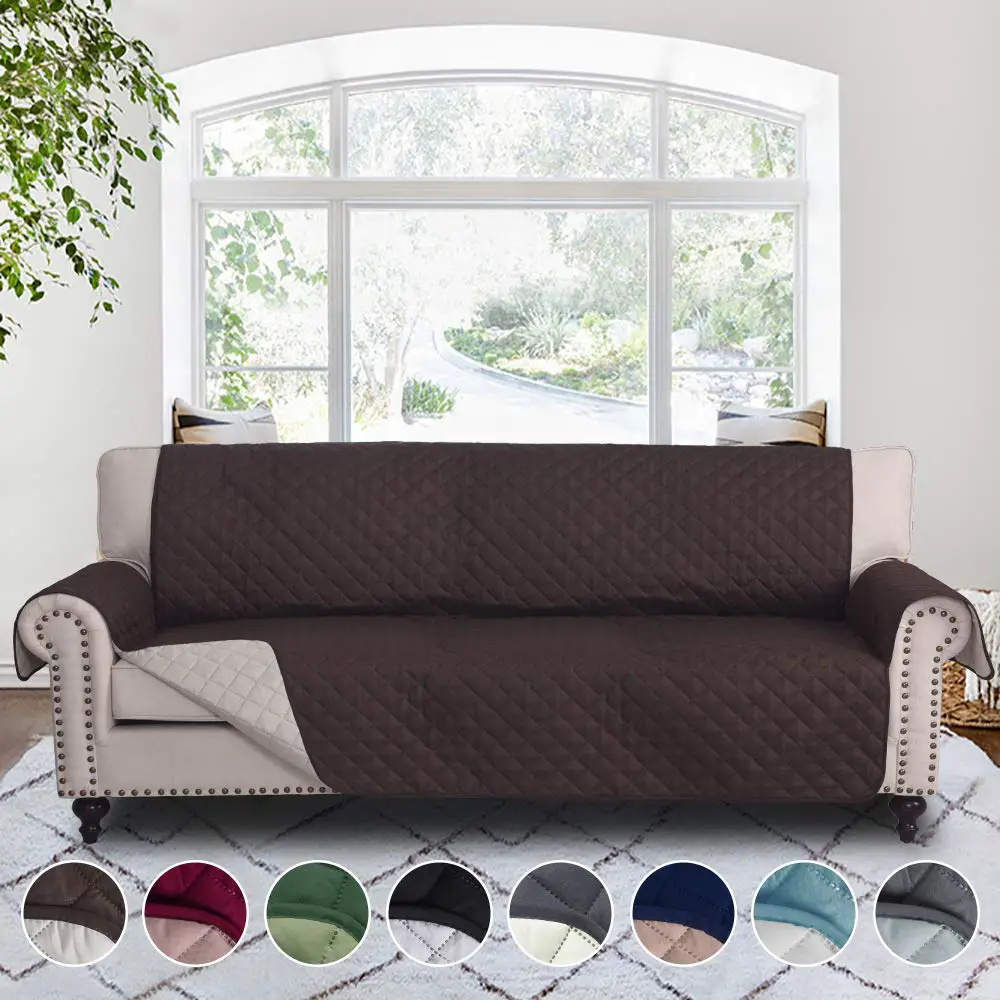 This couch cover by Rose Home Fashion comes in eight different color combinations and seven different sizes that cover everything from a sofa or futon to a chair and an oversized recliner. The attachment strap hooks around the back of your couch, and it features a secure attachment point to hold your cover in place.
You'll get a durable couch cover when you order this product, and it also has a light waterproof coating applied to both sides that makes it a great option for pet households. The filling is an eco-friendly material that lends to the plush look and feel of this couch cover.
The edges and throughout this couch cover feature double stitching that makes this more resistant to wear and tear or breakage from use. You can toss it into your washing machine and dryer to keep when it starts to look dingy.
People who had dogs and purchased this couch cover liked that it came with a light waterproof coating that protected their furniture without making the couch cover stiff. They did say that the hooking mechanism on this couch cover isn't the best quality.
Pawesome Things About This Product
Comes in several different reversible color combinations
Features a light waterproof layer on both sides
Available in several sizes and shapes for different furniture pieces
Not-So-Pawesome Things
Strap and hooking mechanism are less durable
Can run small to size for sofas and futons
Waterproof layer may break down with repeated washing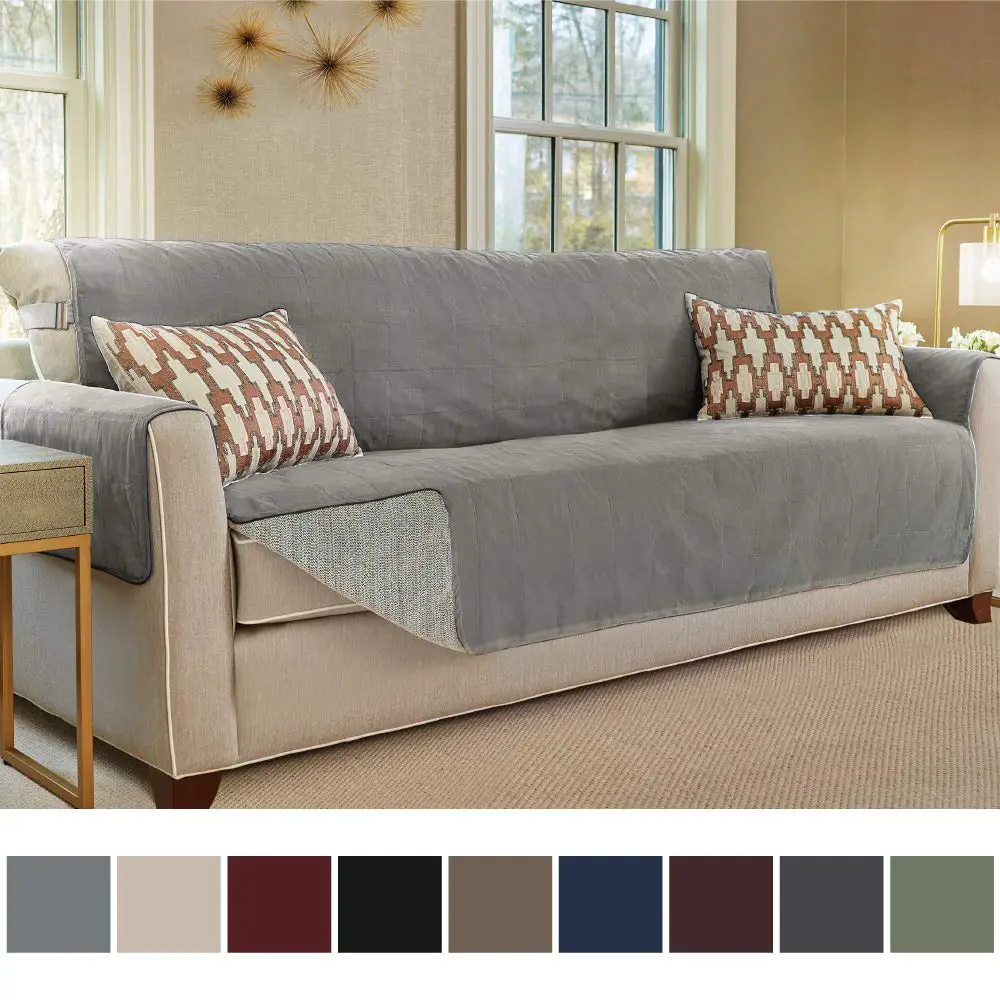 This luxurious couch cover looks and feels like a soft suede material, and you can buy it in five different sizes with nine different color options. The backing of this couch cover features Gorilla Grip backing to help hold it in place.
You can safely use this couch cover on both fabric and leather furniture without damaging the furniture, and you can a strap that ensures that your couch cover stays where you put it. You get a 10-year warranty each time you purchase this couch cover, and this allows you to exchange or return it for a refund if you have problems.
The material of this couch cover is resistant to both hair and stains, and this means that you're able to easily wipe them clean between washings. You can toss it in your washing machine on cold, and air dry it to keep it clean.
People who had dogs and bought this couch cover were happy that it had both a sticky back with seat anchors and a secure strap to hold the cover in place. They did say that not being able to dry it in the dryer meant that it took much longer for it to dry when they cleaned it.
Pawesome Things About This Product
Can use it on fabric and leather furniture
Has seat anchors, adjustable straps, and a sticky backing
Available in several different sizes
Not-So-Pawesome Things
Can't dry it in the dryer
May leave little sticky particles on your furniture
Metal brackets may catch on furniture
This couch cover features a soft and plus faux suede material that has double quilting throughout the length of the cover for added durability. It's free of chemicals to make it an eco-friendly couch cover that's safe to have around your kids, pets, and family.
Both sides feature a light water repellent layer that helps to keep any accidents on the cover and off of your furniture without making it stiff. You can pick from six different colors with lighter colored reversible sides, and it also comes in seven different sizes.
You'll get a plush and soft fabric that adds an additional layer of comfort to your furniture, and it can fit both traditional and oversized pieces. You can wipe it with a damp rag to get rid of the hair, and you're able to toss it in the washing machine on cold to clean it.
People who purchased this product because they had dogs liked that it had a reversible side that they could switch out when they needed a lighter color. People did comment and say that this cover isn't completely waterproof, and you should remove it as soon as you notice it got wet.
Pawesome Things About This Product
Features diamond stitching for durability
Has a light waterproof coating
Able to spot clean it and toss it in the washing machine
Not-So-Pawesome Things
Not completely waterproof
May not cover the couch's entire arm or back
Might be too small for oversized furniture
This furniture cover has options for chairs, futons, loveseats, recliners, sofas, and oversized sofas, and you also get the choice of 18 different colors that include patterns or solids. The polyester fabric has a diamond stitch pattern that adds to the durability of this cover.
You get elastic straps that stretch to fit snugly on your furniture, and the arm coverings are extra-long to help hold the couch cover in place. There are also two anti-slip foam blocks that fit between your couch cover and the cushions on the couch for more traction.
The fabric on this couch cover works to repel water, fur, crumbs, and debris to help keep your furniture looking and feeling like new when you remove it. You get a plus foam layer that adds another comfort layer in your furniture as well.
Dog parents who purchased this couch cover liked that it came with so many options to help anchor it in place like the wedges and extra-long arm covers. Dog parents did say that this couch cover tended to shrink slightly when they washed it, and this shrinkage impacted how well it fit.
Pawesome Things About This Product
Features several ways to anchor the cover to your furniture
Works to repel water, debris, and pet hair
Has a soft look and feel
Not-So-Pawesome Things
Only repels water – not totally waterproof
Can shrink if you wash it in anything but cold water
May run short or small to size
Final Thoughts
Our pick for the pet couch covers that stay in place is the Sofa Shield Original Reversible Sofa Slipcover because it's a thicker cover with diamond stitching to combine comfort with durability. You can pick from nine sizes and 18 different color combinations to truly customize it to suit your decor and needs.
We also liked that it had one of the more durable straps that helped to anchor the couch cover in place after you got it where you wanted it. Finally, we picked this cover because it has a long warranty that allows you to return or exchange it if you're not satisfied.