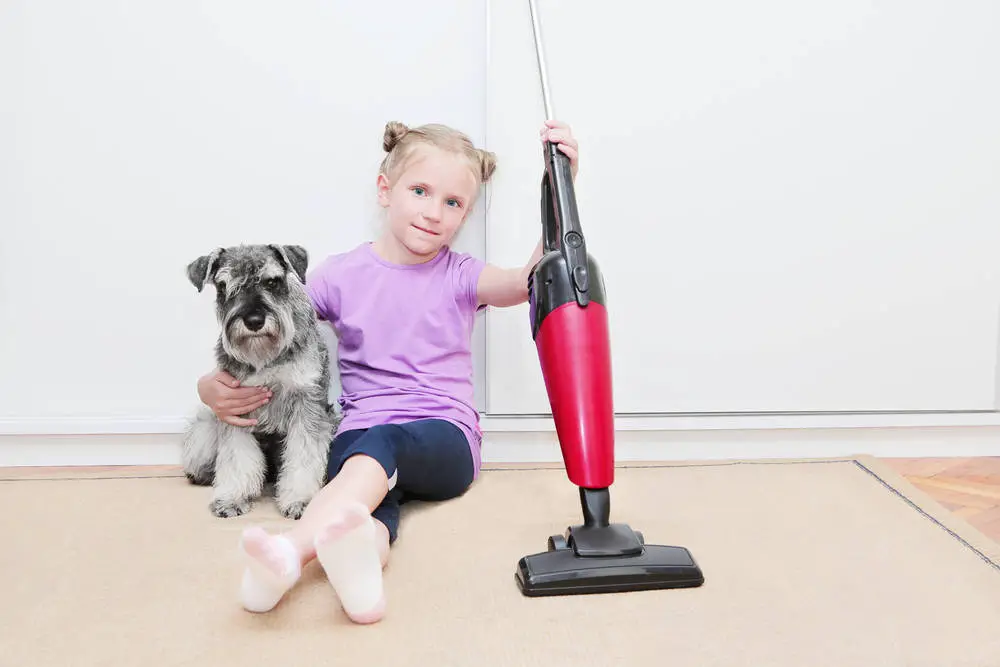 You adore your pets, but you may not adore all of the hair and pet dander that gets stuck in your carpet and furniture. This can lead you to search for the best cordless vacuum for pet hair, and we want to help you find the best option available on the current market.
We've rounded up and reviewed five different cordless vacuums in both handheld and stick form to give you great options to compare and contrast. We've also put together a buying guide that will fill you in on everything you need to know about these vacuums, so you're able to shop with confidence when you start browsing the different brands.
We Recommend These Products...
(As an affiliate, we may earn commissions from qualifying purchases.)
Hoover Linx Cordless Stick Vacuum
Shark Pet-Perfect II Cordless Hand Vacuum
Dyson V7 Animal Cordless Stick Vacuum
Why Buy a Cordless Pet Vacuum
Did you know that in the United States alone, every 30 out of 100 people have allergies to pet dander, and there is no such thing as a hypoallergenic pet because your immune system reacts strongly to your pet's saliva, hair, and urine proteins. What's more, people are two times more allergic to cats than they are to dogs.
A high-quality cordless or handheld vacuum that is specially designed for pets can help to drastically reduce the amount of pet dander that gets stuck in your carpets, upholstery, or other fabrics. It gets deep into your carpets and pulls out common allergens to help reduce your allergy symptoms, and this is great news for both your pet and everyone in your home.
Types of Cordless Pet Vacuums
There are two types of cordless pet vacuums you can choose from when you start to shop, and both types of vacuums have their own benefits and drawbacks associated with them. The two types of cordless pet vacuums include:
Handheld – First up is the handheld cordless pet vacuum, and it's exactly what it sounds like. This vacuum is very lightweight and easy to fit into tight spaces, but you sacrifice power because there's only so much you can pack into the smaller design.

Stick – If you have larger areas in your home that you want to pick up pet hair and debris, the lightweight stick vacuum can get the job done. The larger and slightly bulkier size makes them more difficult to maneuver, but you'll get more power overall.
Buying Considerations for a Cordless Pet Hair Vacuum
Your vacuum is essential for reducing the volume of pet hair and debris that scatter around your home, and this means that it's extremely important that you find the best vacuum for your needs that suits your home, budget, and any limitations. Although your vacuum most likely won't end up with all of the following features or considerations, the more it has, the better off you'll be.
Attachments
Attachments can add a layer of convenience to your vacuum because they allow you to get in crevices in your furniture, on your steps, and up in the corners of your rooms. Look for a vacuum that offers at least one or two other attachments like an upholstery attachment and a smaller brush.
Battery Longevity
Since you have a cordless vacuum, your battery's longevity on a single charge will have a huge impact on how much of your home you manage to finish before you have to stop and switch batteries or charge it. You will get a shorter run time with these vacuums, but your vacuum should run for at least 20 minutes up to an hour before you drain the battery.
Budget
Cordless vacuums range in price from around $50 up to well over $200, and it can be a good investment to pay more upfront. Just make sure that you don't break your budget doing so, and make sure that your vacuum comes rated by pet owners as being a good choice.
Capacity
The capacity of your vacuum refers to how large the collection canister is, and they range slightly in size from the stick vacuums to the handheld vacuums. Make sure that whichever one you choose gives you ample collection capacity or you'll spend a lot of time running and dumping it out when you use it.
Filter
Ideally, any vacuum that combats allergies should have a HEPA filtration system installed because this type of filter can trap and lock in the widest range of allergens from pet dander to dust and mold. They're 99.97% effective, and you can routinely clean them out to improve your vacuum's suction power.
Motor-Powered Brush Head
This type of brush head will ensure that your vacuum can dig down into your carpet or fabric to loosen up the pet hair and bring it closer to the surface of your carpet. In turn, your vacuum will be able to suck up the loose hair, and it's a good idea to look for a vacuum that has stiff bristles and a few settings.
Suction Power
Your vacuum's suction power should be on the top of your list for important considerations because this will directly influence how effective your vacuum is in helping your allergies. With new technology, you can find both stick and handheld units with excellent suction power, and some even seal to the floor to prevent allergens from becoming airborne.
Weight
Although most of these vacuums are lighter than traditional units, the weight will still play a critical role in how easy it is for you to carry your vacuum around your home. Handheld units are usually lighter than stick vacuums, but you pay for it with less power overall.
Our Top Five Picks for the Best Cordless Vacuums for Pet Hair
This stick vacuum by Hoover comes with extremely strong WindTunnel technology that allows you to quickly and easily vacuum up ground-in pet hair and debris from your carpets. The vacuum comes with interchangeable batteries that allow you to vacuum without the restriction of a cord.
The bristles on the vacuum head run from the center right to the edges to help you effectively clean any hair or debris in hard to reach places, and the handle folds for an extremely recline to help you get under your furniture. You'll be able to monitor your battery life with the built-in fuel gauge as well.
You can clean both carpets and hardwood or vinyl flooring with this vacuum without switching settings, and the debris cup releases at the bottom for a mess-free experience each time you empty it. You'll get a warranty that lasts for a full two years against damage or defects when you purchase this vacuum.
Pet parents liked that this vacuum came with WindTunnel technology that allowed them to clean layers of pet hair out of their carpets with ease. Pet parents did say that the head of the vacuum is slightly smaller than other stick vacuums.
Pawesome Things About This Product
Comes with an easy dump debris container
Has bristles way out to the end of the vacuum head
Features powerful WindTunnel technology
Not-So-Pawesome Things
Has a slightly smaller brush head
Batteries may not last long
Handle joint tends to wear out quickly
This cordless hand vacuum by Shark features a powerful 18-volt battery with an extra-large detachable motorized brush that helps you get to the bottom layers of your carpet when you use it. Additionally, the longer bristles rotate to pull stuck hair or debris out of your carpet.
You can use this vacuum on both carpet and hard flooring without having to switch out the settings, and this is a very lightweight vacuum that's easy to carry from room to room in your home. The thinner head design allows you to get into all of those tight spaces where debris and hair like to sit and collect.
The filter on this vacuum easily detaches from the chamber for easy cleaning and regular washing, and the semi-clear collection canister makes it easy to tell when you need to dump it. Finally, it comes with a larger hand grip with a centrally located power button that's easy to switch on and off.
People who had pets and bought this vacuum like that it came with a detachable motorized brush head that allowed them to get into all of the smaller spaces in their home when they cleaned. Pet parents did say that a lot of hair at once tended to clog the nozzle and make it difficult to use.
Pawesome Things About This Product
Very lightweight and durable
Comes with a larger hand grip
Has a detachable motorized brush head that rotates
Not-So-Pawesome Things
Can clog with large amounts of hair
Tends to run hotter than other vacuums
May not have enough suction power
This stick vacuum cleaner by Tineco comes in three different color combinations, and it has a 350-watt digital motor that provides enough power to suck up pet hair and debris from hardwood and carpet. It has four times the suction power or ordinary stick vacuums.
This lightweight vacuum is perfect for covering the whole house from floor to ceiling as it weighs in at just under three pounds. You can detach the battery to swap it out for a new one after a few years of use to rejuvenate your vacuum's performance, and the mini power brush helps you vacuum your stairs or upholstery.
You'll get a four-stage fully sealed filtration system with this vacuum that locks in all of the small particles you pick up while you vacuum. You also get a power mode switch lock, full-sized LED power brush, simple dust canister, mini power brush, two-in-one dusting brush, charging adapter, crevice tool, and much more.
Pet parents liked that this slender and lightweight vacuum came with a full guarantee that lasted two years from the date of purchase. Pet parents did say that this vacuum takes over three hours to fully charge between uses.
Pawesome Things About This Product
Comes with a host of accessories and features
Seals to the floor to prevent allergens from going airborne
Very lightweight and user-friendly design
Not-So-Pawesome Things
Takes over three hours to fully charge
Only lasts for around 20 minutes on maximum mode
Can be difficult to get in touch with the company
This Dyson cordless stick vacuum runs up to 30 minutes on a single charge that allows you to give your floors a good once-over, and it comes with an instant release trigger that helps to conserve your battery life when you use it.
The direct dive cleaner head works to pull up any ground-in pet hair, dirt, or debris from your carpet or flooring, and the stiff nylon bristles scrub your carpet when you use it. The Dyson Digital Motor V7 powers this vacuum, and it gives it just enough power to be very effective at picking up both large and small debris.
The bin allows for hygienic dumping, and you'll be able to take a peek and quickly and easily tell when the bin is full and ready to empty. You can remove the upper portion of the vacuum and use it to clean tight areas like the stairs, and it also works very well on your upholstery and drapes.
People who had pets and bought this vacuum liked that the bristles were a very stiff nylon material that dug down into their carpets to extract the pet hair. They did say that this stick vacuum only runs for 30 minutes at the maximum, and this period may not be long enough to vacuum the entire house.
Pawesome Things About This Product
Features several different settings
Has a clear dust bin that is easy to change
Bristles are very stiff
Not-So-Pawesome Things
Only runs 30 minutes on a charge
Has to charge for three and a half hours
Have to hold the power button down for it to run on maximum mode
Bissell's cordless hand vacuum comes with a sleek and compact profile that is very lightweight and easy to maneuver around your home when you use it. The motorized brush tool allows you to get any hair or dirt that is stuck deep in your carpet or flooring.
You'll get a larger clear collection canister that shows you exactly when you need to clean it to keep your suction power at peak performance. It comes with a triple filtration system that helps to track and lock allergens, pet hair, dust, mold, and pet dander to keep them out of your indoor air.
You get three different tools when you order this vacuum including the motorized brush head, crevice tool, and the upholstery tool that makes cleaning fast and easy. Finally, the Lithium-Ion battery provides an extended run time for this vacuum that is convenient for larger houses or projects.
People who bought this vacuum to minimize the pet hair liked that it came with a triple filtration system that not only removed pet hair, but it also worked to trap and lock allergens. People who bought this vacuum did mention that the filters can be more expensive to purchase.
Pawesome Things About This Product
Very lightweight and sleek design
Comes with several different tools
Battery gives it an extended run time
Not-So-Pawesome Things
Filters can be expensive to replace
Batteries may not last long between charges
Dust bin can be difficult to empty
Our pick for the best cordless vacuum for pet hair is the Hoover Linx Cordless Stick Vacuum Cleaner because it features powerful WindTunnel technology that sucks up and traps old pet hair that's stuck in your carpet. We also liked the fact that you got interchangeable batteries with this vacuum for a longer run time.
The bristles run along the vacuum's head right to the outer edges to help you trap debris from tight corners or under things. Finally, the handle folds to make it fast and easy for you to get under your furniture without having to move it or bend down.