Maltese dogs are tiny and a harness is better than a leash because it holds the dog's body without damaging their frame. This is important because their anatomy is fragile and you need to be gentle while handling them.
Maltese dogs are popular for their energy and impatience. When they are running around, a harness provides good support.
You also need to find a harness that can be put on them easily. Something that does not snap or open easily.
We will help you find one of those. But first, a look at the factors to keep in mind while picking the right harness.
We Recommend These Products...
(As an affiliate, we may earn commissions from qualifying purchases.)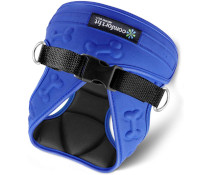 Metric USA Comfort Fit No Pull Harness
Didog Soft Dog Vest Harness with Leash Set
Easiest to Take Off/Put On
All You Need to Know Before Buying a Harness for Your Maltese
Your first choice has to be the type of harness. You can pick between an overhead harness and a step in harness.
This decision depends on how patient your dog is when you are placing the harness. There are a ton of patterns and vests to choose from in the market.
Types of Harnesses
There are five basic designs of harnesses for these dogs.
Walking harnesses are made to control your dog while walking. They make sure there is no pressure on the dog's neck because they have a chest strap with a leash attached at the back.
No-pull harnesses are also great to keep Maltese dogs under control without putting pressure on the neck. These products are similar to walking harnesses in design but cover more of the dog's body. They have a chest strap which keeps the canine from pulling persistently.
No-escape harnesses have a simple design that is created from a continuous rope or similar material. There sort of loop around the body of the dog which keeps the harness intact despite how silky your dog's fur is. These products keep the dog at the center of the knot while you walk.
Reflective harnesses look like little vests that you can buckle them into or get them to step into. They are very useful with toy breed dogs like Maltese and keep your dog visible when you're walking in the dark.
Front-clip harnesses have a clip in the front that gives you more control without risking damage. They are often used during training to teach the pup not to pull while walking. They are not a great idea for long-term use.
Harnesses typically have two places for clips. The ones with O-ring attachments are in the front and the ones with D-ring attachments are in the back.
If you get a harness with a back clip, you can control your dog quite easily without straining their neck. That is why they are preferred for Maltese dogs.
Related: Top 5 Best Shampoos for Maltese Dogs
How to Measure Your Dog for a Harness
The harness must fit well but not be too tight. Maltese dogs are about 8 to 10 inches tall. So, get an extra small or small harness for them.
But it is always good to measure the dog for a good fit. To do just that, get the dog to stand up.
Measure the thickest part of their chest using a soft measuring tape. Then measure the thickest part of their neck with the same tape.
Finally, measure the length between the neck and the chest on top of the dog so that you know the length. A good fit is one that is snug when you place your two fingers between the dog and the harness.
It is best to get a harness made of a soft nylon mesh because it is easy to clean and is breathable. Soft cotton or polyester are also good options but they don't resist moisture as well.
A little padding on the chest and back panels is a good idea to prevent chafing. A harness with double-stitching is a bonus feature.
Related: Best Brushes for Maltese
Our Top 5 Picks for the Best Harness for Maltese Dogs
Taking all those factors into consideration, we put together the best harnesses for small toy dog breeds like Maltese. Take your pick.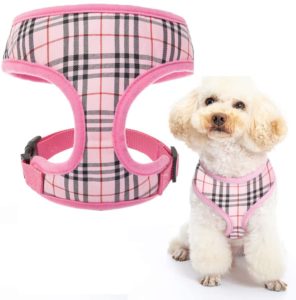 This is a nice no-pull harness with neck girth of 8.5 inches and an adjustable chest girth of 11.7 to 15 inches. Measuring your dog's head and chest is crucial to make sure this fits your little one well.
The harness has strong Velcro and a heavy metal D-ring attachment at the back. It has no decoration and is purely about performance.
It is made of breathable mesh and is warm and comfortable in almost any season. The product is easy to put on and take off thanks to its unique belt design and the adjustability factor.
What Do Other Dog Parents Think
One buyer called it "adorable" and said it was of good quality and was very sturdy. In their experience, the size chart did not quite work and yet they got a good harness. It ended up being a bit stiff around the neck but the chest area was adjustable so it gave them no trouble.
Another dog owner said this is the best harness they found. They used it on both their dogs and found the back strap to be secure. Their dogs stopped coughing and were no longer out of breath.
A third pet parent confirmed that it helps to measure the chest and neck girth first. They said it was inexpensive and worth the value.
Pawesome Things about This Product
Soft fabric and strong built
Offers environmental protection
Has the highest standard of professional safety buckles
Not-So-Pawesome Things about This Product
Fitting can be a problem if you don't measure your dog
Not great for dogs with a big head since the harness is not adjustable
This is a soft-patterned harness with plush edges and padding on the inside. It is made of breathable mesh fabric and is quite comfortable for small dogs.
It has a D-ring attachment on the back. And the leash has a cute bag which you can use to pack garbage bags or other small accessories.
It is easy to put on and remove from the dog thanks to the buckle on the back. The hooks on the back make it easy to wear the harness and remove it too.
This is an adjustable harness with many size options. But the manufacturer insists that you measure your pet's neck and chest.
What Do Other Dog Parents Think
One pet owner said this was the right fit for their mom's eight-pound dog which is good for Maltese. They said it was "overall a great harness".
Another buyer said they loved the look, which is not surprising. They also said it was the Small size that did not fit their 10-pound dog. Another reason to measure your pet before placing the order.
A third patron said it fit great for their small dog and recommended it for other dogs which don't have a wide chest. The dog found the inner lining to be comfortable and the owner said the leash was good too. They found the additional bag helpful and "definitely recommended" the product.
Pawesome Things about This Product
Breathable mesh
Soft padding
Leash comes with a bag
Lightweight and good fit
Easy on and off
Not-So-Pawesome Things about This Product
Fit is an issue if you don't measure your pet
The bag that comes along does not fit too many items.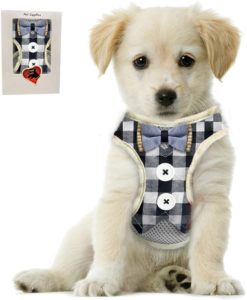 This is a cute little harness with a bowtie that will look great on a toy dog. But you must measure your pet for size before buying it.
The size chart is helpful but the small size harness has a neck girth of 5.5 to 10.5 inches and chest girth is 8 to 13 inches. If your dog measures somewhere in between the sizes, you must pick the next size.
The product is made of 100 percent high-quality polyester with a velvet exterior. This is a moisture and sweat-resistant harness that is said to keep your dog cool and dry.
It is easy to put on and remove from the dog with a simple design and a slide-down clip. It is also a great gift because of its stylish design and matching leash.
What Do Other Dog Parents Think
One dog owner said this was great for their two toy dogs. The construction is good and comfortable. They also found the collar and the bow and bell useful. This was a cute and unexpected gift which was great.
A second user said this is "the cutest harness". The colors are vibrant and the fit is adjustable. They did not like the metal clasp on the back but said it is fine if you walk the dog with a leash.
A third pet parent liked the quality and said their dog is never uncomfortable in it. They also said they were "very satisfied" with the purchase and found it easy to wash.
Pawesome Things about This Product
Choke-free design
Available in many sizes and colors
Has a great look
Made of high-quality materials
Not-So-Pawesome Things about This Product
Size can be an issue; some found it to be too small
Not for those who want a simple-looking harness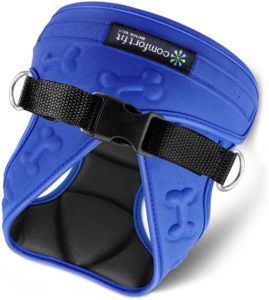 This is a great fitting no-pull harness for small dogs by Metric USA. It is soft, comfortable and easy to put on and take off from the dog thanks to a quick-release clip.
If your dog is quite the escape artist, this harness with two reinforced D-rings is going to get them under control quite securely. It is a lightweight harness that is easy to maintain.
The harness comes in many colors and you must pick a size up if your dog measures in between sizes.
The manufacturer offers a 100 percent guarantee and has said this is great for small dogs with chest girth of 13 to 18 inches.
What Do Other Dog Parents Think
One buyer said this is a great harness for small dogs. They have an extra-small dog but found the Velcro flap that allows adjustment helpful. The dog owner said they were "optimistic" and called it well made. So, they ordered a second one. Nice, huh? They also said it is good for dogs with long hair because there is no hair pulling into the Velcro flap.
The second dog parents said the "construction is great" and the straps were "very strong". They found the material soft and "loved the two hoops". They also found the loop "very cute" and said the customer service was the best. In the end they added that they researched products quite a bit and went through a lot of products and said, "buy this one!"
The third reviewer said their dog "loves his harness" after hating many such products. The sizes were helpful to them but said measuring is a good idea. The fit was "perfect" and they have already recommended it to other dog owners they know.
Pawesome Things about This Product
Sturdy and durable
Easy to clean
Great for small dogs
Not-So-Pawesome Things about This Product
A bit expensive
Might not fit all dogs, so measuring is not optional
This harness is made of very soft cotton which is great for Maltese dogs. It causes no friction that will hurt your dogs.
The harness is made of breathable mesh fabric and does not cause any skin diseases. Even the edges are soft and wearable for puppies.
This is great for puppies from six to 16 pounds although you must measure your pup and check the sizes because weight is not a tangible parameter. You can contact them if you have any doubts before placing the order.
The pressure is evenly distributed and stops the dog from pulling or choking. There is a metal clip on the back to make this happen.
The clip is adjustable for tightness which makes walking, hiking and running an easy experience. Connect the leash to the metal ring and your dog will be closer to you.
This is a safe harness that is easy to control. Also, it is made of high-quality materials so that you have a good experience with the manufacturer.
What Do Other Dog Parents Think
One buyer said they loved the color and pattern. They found the harness "well made and sturdy". Their only issue was with the little strap hanging on the surface but it was tough only in the car.
Another dog parent bought it during training and said it was "perfect". They said it looked "very cute" on their dog and it was easy to put on a dog with a lot of fur. Calling it the "perfect" harness, they said it had padding but had room to breathe.
Another pet owner bought the large size for their 10-pound dog and said it fit him well. They too had a problem with the extended strap but said the "value is excellent". The quality is great according to them and said it made their dog look cute.
Pawesome Things about This Product
Made of soft materials
Has adjustable buckles
Is lightweight and has a breathable mesh
Not-So-Pawesome Things about This Product
Strap has extra length even when leash is not connected